At today's meeting, the Council:
held its first ever virtual meeting via Webex due to precautions related to COVID-19 (coronavirus). Council Members still chose to hold today's meeting in order to test the virtual meeting format to ensure the public had an additional way to engage with the Council and provide comments remotely, especially as the Council is preparing for its annual budget season processes. (Even when held electronically, meetings are still open to the public if anyone wishes to attend in person.)
---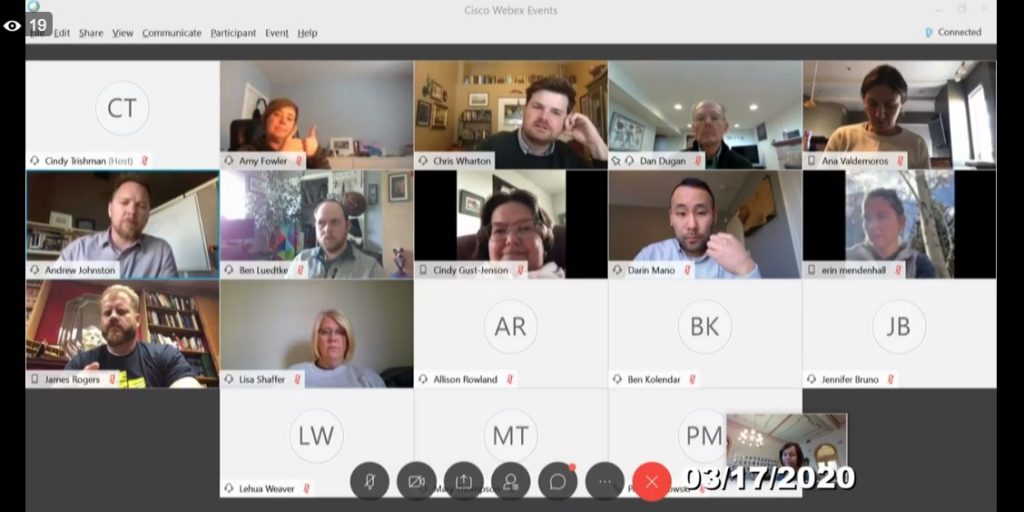 discussed a proposal, as part of Budget Amendment No. 5 for Fiscal Year 2019-20, to expedite $1 million to help Salt Lake City businesses affected by local and State emergency declarations to address the COVID-19 pandemic. The Council received the proposal from the City's Department of Economic Development which includes various funding options to help bridge financial gaps for local businesses while they await Federal and State aid. The City's emergency funding aims to help address needs that aren't always covered by Federal and State programs. The Council asked the Administration to begin outreach right away, and to finalize the loan application process, so funding could become available as soon as possible. The Department of Economic Development recently released a survey to help the City better understand the needs of local businesses during this time, which can be found here. The Council will accept public comment and consider formal action on the proposal at its March 24 meeting. Virtual meeting options will be made available for those who would like to give their comment remotely.
received a briefing from the City Attorney about the Separation of Powers in the Mayor–Council Form of Government. Discussion included the legislative versus executive branches tasks, roles and powers. This overview is an annual process for new Council Members and clarified some processes during emergency declarations. Discussion also included clarification on Council goals to streamline Council Office and City operations, as well as logistics associated with the Council's opportunity to serve as the board/members for the City's other legislative roles (the Local Building Authority, Redevelopment Agency Board and Board of Canvassers).
received a briefing about a rezone and master plan amendment proposal for a seven-unit row house development at 1430 South 400 East (Cleveland Court). The Council will accept public comment on the proposal at its April 7 meeting.
set the date for multiple public hearings in a limited formal meeting.
rescheduled several agenda items to accommodate budget and emergency funding discussions.
Today's Board of Directors of the Redevelopment Agency (RDA) meeting, including the public hearing for RDA Budget Amendment No. 3 for Fiscal Year 2019-20, was postponed pursuant to the state of emergency declared by the State of Utah and Mayor of Salt Lake City. The Board will notify the public of the rescheduled meeting date as soon as possible.
For more information about the City's continual work on community resources and information, please visit Mayor Mendenhall's COVID-19 resource page here.  
Visit the Council's agenda page for meeting documents and video or view an archive of prior meeting recaps.