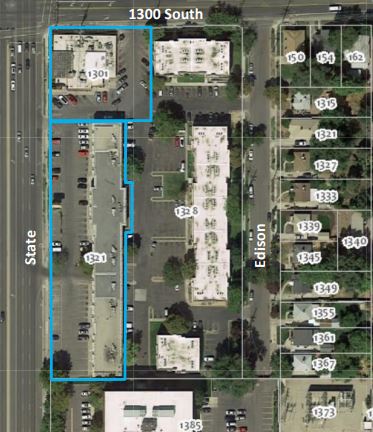 The Council adopted a request to change the zoning map for properties at 1301 and 1321 South State Street.
A representative for the property owner is asking to change the current zoning from Corridor Commercial (CC) to Form-Based Urban Neighborhood 2 ( FB-UN2 ). They are also asking for a change to the land use table to allow increased building height on the properties.
Currently, Coachman's Restaurant and a two-story office building are on the properties. Though no development plans have been submitted, the property owner has expressed interest in replacing the existing buildings with a new, mixed-use building including ground floor commercial space and owner-occupied condominiums.
March 16, 2021 Formal Meeting
The Council adopted the zoning map changes at its March 16, 2021 7 p.m. Formal Meeting.
Watch the March 16 adoption
Read the March 16 Council staff report
View the March 16 Motion Sheet
March 2, 2021 Public Hearing
The Council held a public hearing to accept comments on the proposal. After hearing from constituents, the Council closed the hearing.
Watch the March 2 public hearing
Read the March 2 Council staff report
View the March 2 Motion Sheet
February 2, 2021 Council Discussion
The Council was briefed about the proposal to rezone the properties at 1301 and 1321 South State Street. A public hearing will be held before the Council takes action on the proposal.
Watch the February 2 discussion
Read the February 2 Council staff report
Additonal Resources
Planning Division's Project Webpage
Planning Division's Info Sheet