At today's Council Meetings:
The Council reviewed a draft of an audit of police budget and operations. More here.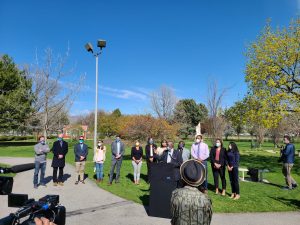 Council Members paused the meeting and joined with the Racial Equity in Policing Commission at a press conference on the Derek Chauvin trial verdict. See it here.
Council Work Session items
The Council received:
an informational update on recent efforts on various projects related to racial equity and policing in the City.
Auditors presented the Council-sponsored audit of the Police Department. The auditors' report is split in two parts: financial items and operational findings and recommendations.
This discussion was about operations, and the auditors said they hoped this would offer more details and transparency to PD processes.
Examples of auditor's suggestions: possibly adding civilian field responders to appropriate calls for service, more alternative responders in mental health calls, more transparency in public data for internal affairs, and more.
Council discussed interlinking the information with the Racial Equity in Policing (REP) Commission, overall next steps, a prioritized plan for implementation of the auditors suggestions, increased 'wellness' opportunities for officers, and other topics.
Some of the initial findings and key recommendations may inform the Council's annual budget deliberations in May and June.
The REP Commission, which also is reviewing the Police Department to make recommendations, continues to meet regularly, usually weekly. More on the Commission
Other Agenda items
The Council was:
briefed about the Mayor's recommended budget relating to the Department of Airports for Fiscal Year 2021-22. Federal dollars have helped with supporting the Airport in the last year. Airport construction is ahead of schedule by two years and to be finished in 2024. Passenger volumes are higher than most airports in the country. The Council will hold public hearings to accept public comment on the entire City budget proposal on Tuesday, May 18 and Tuesday, June 1 at 7 p.m.
was briefed about the Library Board's recommended Operation and Capital Budget for Fiscal Year 2021-22. The Council will hold public hearings to accept public comment on the entire City budget proposal on Tuesday, May 18 and Tuesday, June 1 at 7 p.m.
given an informational update on relieving the condition of people experiencing homelessness. The Mayor reports the encampments in the Fleet Block area were closed after weeks of assistance from community partners through the Community Commitment Program and the accompanying Resource Fairs. The Airport Inn also could be bought, with City assistance, to help with seniors and veterans experiencing homelessness.
given an informational update on the pandemic. The Mayor reported that Covid cases in SLC have plateaued. The Mayor also reports the Administration plans to send an ordinance change soon to Council for outdoor dining accommodations.
Note: due to agenda time constraints, a briefing about police officer training and promotions was pulled from the agenda and will be re-scheduled. Same for a briefing about Budget Amendment #8, which also be re-scheduled.
Council Formal Meeting:
Youth City Government, three members, presented their State of the Youth City addresses.
The Council held public hearings on two items and referred them to a future agenda for possible action.

Grant Application: 2022 Distracted Driving Prevention Program Grant
Grant Application: 2022 Bicycle and Pedestrian Safety Program
The scheduled comment periods for public hearings and the open comment section included more than a half dozen people who spoke about ranked choice voting, people experiencing homelessness, concerns about police services, and other topics.
The Council adopted:
Ordinance: Budget Amendment No. 7 for Fiscal Year 2020-21
Resolution: One-year Action Plan for Community Development Block Grant & Other Federal Grants for Fiscal Year 2021-22
Ordinance: Zoning Map Amendment located at approximately 706 to 740 West 900 South 710 to 739 West Genesee Avenue
Resolution: County Election Services Interlocal Agreement
Resolution: Interlocal Agreement for the 700 South Re-Construction Project Corridor Preservation Funds
Resolution: Ranked Choice Voting Overview and Pilot Project
Ordinance: Idling of Vehicles Ordinance Amendments
Resolution: Recycling Market Development Zone Program
Ordinance: Amending the Annual Compensation Plan for Non- Represented Employees
Board appointments:
Library Board – Ronald McClain
Library Board – Daniel Cairo
Parks, Natural Lands, Urban Forestry and Trails Advisory Board – Chad Whittaker
Parks, Natural Lands, Urban Forestry and Trails Advisory Board – Melanie Pehrson
Parks, Natural Lands, Urban Forestry, and Trails Advisory Board – Philip Carroll
Council Members expressed their gratitude for Council Member Andrew Johnston and his 5 years of service as a Member, representing District 2. This was his last meeting as he accepted a position in the Mayor's Administration. More on his vacancy here.
All agenda-related comments received through any source are shared with the Council and added to the Council public meeting record.

Visit the Council's agenda page for meeting documents and video or view an archive of prior meeting recaps.

Tags: Air Quality, City Budget, COVID-19, Equity, Homelessness, Public Safety, Zoning