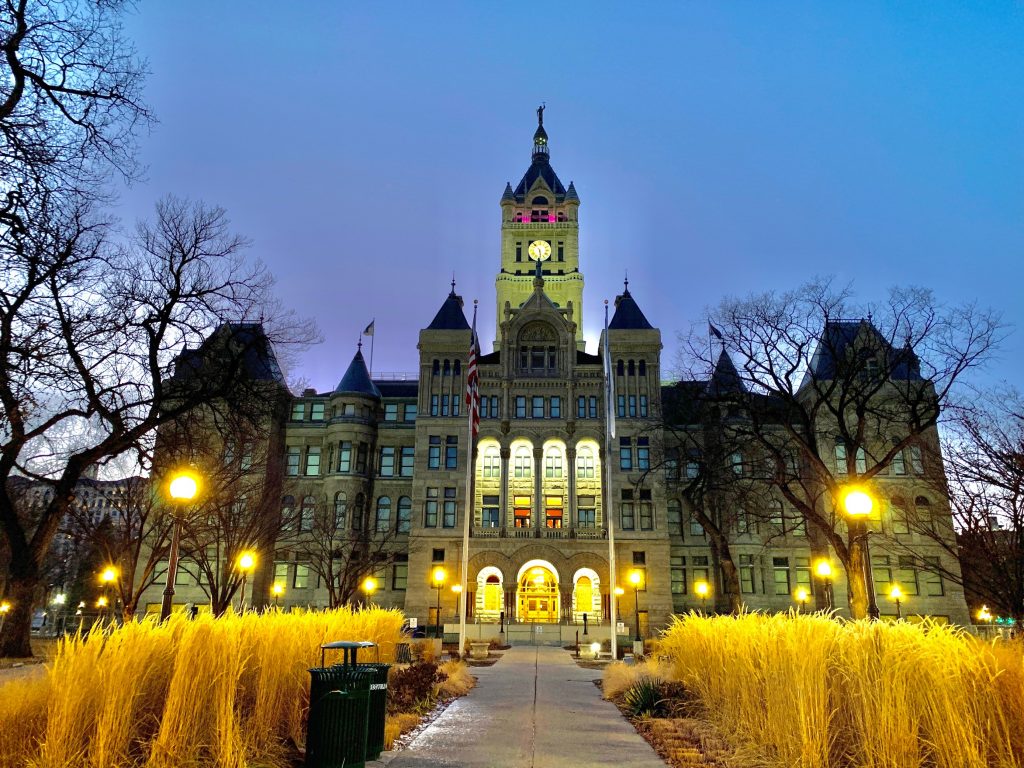 At today's Council Meetings:
The Council held a moment of recognition at 3:30 p.m. to honor the lives lost to COVID-19.
The Council noted that federal CARES Act funding is in the works; it could mean more than 7 million dollars in rental and housing assistance or other COVID related services for City residents.
The Council adopted a budget amendment that formally gave its support for the Mayor's Administration to hire a new police class to partially fill police vacancies.
Council Work Session items
The Council received:
an informational update from the Mayor, who noted SLC joined in the nationwide moment of silence at 3:30 for the people who have lost their lives to Covid; later in the evening, the City & County building was partially lit in amber for the same reason.
an informational update relating to the local emergencies including COVID-19: 

the Mayor's staff reports more than 70% of SLC's first responders have been vaccinated, including 911 employees.
federal CARES Act money is in the works; it could mean more than 7 million dollars in rental and housing assistance or other COVID related services for City residents. CORRECTION: Federal treasury dollars could be coming later (separate from the federal CARES HUD dollars) perhaps more than $5 million also in pandemic assistance.
It was noted by staff the City apprentice program is progressing; various job boards should have the positions posted.

an informational update on relieving the condition of people experiencing homelessness. The Mayor reported the annual "point in time" count of people experiencing homelessness is next week.
an update on recent efforts on various projects related to racial equity and policing in the City. It included:

auditors who are reviewing the police budget are moving forward, stakeholders being contacted as part of the audit process.
noted a public listening session is scheduled by the Racial Equity in Policing Commission for Jan. 28 at 6 pm.   
Other Agenda items
The Council was:
briefed about the City's Comprehensive Annual Financial Report for the previous fiscal year, and the Management Auditor's letters regarding internal controls and compliance. The 200-page report noted a 'clean' audit.
briefed about a proposal to close a small portion of a City-owned alley at approximately 740 West and 746 West 900 South. The proposal would allow the petitioner to square off the southwestern corner of his property for a proposed future multi-family residential and commercial development. A public hearing to accept public comment is Tuesday, March 2 at 7 p.m.
briefed about a bond resolution authorizing the establishment of a short-term borrowing program for the benefit of the Department of Airports. A hearing is to be held to accept public comment on Tuesday, February 16 at 7 p.m.
briefed about an ordinance amendment that would increase the ongoing annual Capital Improvement Program funding minimum for art from 1% to 1.5%. The proposal would also create a public art maintenance fund and adjust the Art Design Board powers and membership limits. The City has approximately 270 artworks valued at more than $9 million. Council action is scheduled for Tuesday, February 2, but a straw poll was taken this night showing the Council supported the ordinance.
briefed about funding recommendations from resident advisory boards and the Mayor and approving an interlocal agreement between the City and the U.S. Department of Housing and Urban Development. This agreement allocates and awards funding to those applicants. Community partners submitted applications for one-time pandemic response funding from Community Development Block Grant, Emergency Solutions Grant and Housing Opportunities for Persons with AIDS grants. Council and City staff talked about options to spend $1 million dollars that are still available for more projects. Council action on this item is tentatively set for Tuesday, February 2 or 16.
briefed about the Administration's progress on the Council's legislative intent statements for Fiscal Year 2020-21. Legislative intents are formal requests the Council makes of the Administration. This was the first of multiple briefings and will include updates on a variety of subjects as Council discussions progress on the 15 intents for this fiscal year.
Formal Meeting items
The Council held public hearings on two ordinances and three grants. 40 people commented on the hearing items, many on a police staffing request as part of budget amendment #6. The Council adopted the budget amendment, formally giving its support for the Mayor's Administration to hire a new police class to partially fill police vacancies.

The other items in the hearings included:

Ordinance: Amendment to Require Notice for Permits to Work in the Public Way. The Council deferred action to another meeting.
Grant Application: 2021 Jurisdictions with Halfway Houses and Parole Violator Centers Grant
Grant Application: Fiscal Year 2020 Paul Coverdell Forensic Science Improvement Grant
Grant Application: Fiscal Year 2021 Jordan River Vegetation Improvement Grants – 2100 South Oxbow Restoration Phase 1

The Council also approved:

Grant Holding Account Items (Batch No.3) Associated with Budget Amendment No. 6 for Fiscal Year 2020-21
BOARD APPOINTMENTS
Council approved members for the:
Parks, Natural Lands, Urban Forestry, and Trails (PNUT) Advisory Board – Ginger Cannon
Cultural Core Budget Committee – Durga Ekambaram
Arts Council Board – Sonali Loomba & Nico Dicou
Bicycle Advisory Committee – Stewart Soleman
All agenda-related comments received through any source are shared with the Council and added to the Council public meeting record.

Visit the Council's agenda page for meeting documents and video or view an archive of prior meeting recaps.

Tags: Arts, City Budget, Equity, Homelessness, Public Safety, Zoning