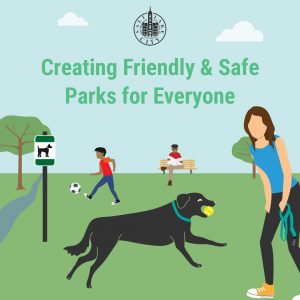 The Council will soon consider a proposal that would change the way the City designates off-leash dog areas. Current procedural guidelines (known as Resolution 52) would be replaced with a more streamlined approach that would be managed by the Administration, similar to the way the Administration manages other open space uses.
In the 15 years since Resolution 52 was adopted, the Administration has found that certain aspects of the process are challenging to implement, and this has limited the number of official new parks. For example, when off-leash test areas were recently created in Rotary Glen and Fairmont Parks the Administration was unable to find sponsors—a requirement of Resolution 52. This lack of sponsorship has prevented these test areas from becoming permanent.
The proposed ordinance changes also would allow the Public Services Department director to close parks and open space areas, temporarily or permanently, to domesticated animals to protect public safety or sensitive environmental resources. The proposed ordinance also would include a list of areas that are permanently closed to domesticated animals, like nature preserves and bike parks, which would allow Salt Lake County Animal Services to enforce compliance at these places.
Under the proposal, the Council would preserve their policy authority by having final approval for creating or closing off-leash areas.
A public hearing will be held on Tuesday, April 23 at 7 p.m. prior to the Council taking action.
We want to hear from you! Send your thoughts about the proposed changes to council.comments@slcgov.com or call the 24 hour comment line,
801-535-7654.
Sign up to be notified of any upcoming discussions.
Background Information
Tags: Parks & Open Space