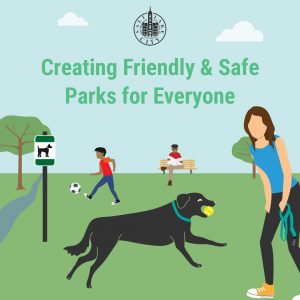 The City Council is considering a proposal to streamline the process for designating off-leash dog areas by repealing Resolution 52, (current designation guidelines) and delegating the process as administrative. Off-leash areas would be handled the same way as other significant recreational amenities or management changes—through discussion between parks and open space planners and appropriate stakeholders.
The proposal would also allow the Public Services Department director to temporarily close parks and open space areas to domesticated animals for reasons of public safety or the protection of sensitive environmental resources. These decisions would be on a case-by-case basis and communicated using on-site signage. The Council would maintain final approval of creating or closing any off-leash areas
The Council is tentatively scheduled to discuss the proposal at their March 19 work session meeting. Listen to the discussion on the Council's website (select March 19, 2019 "Web Agenda") or by attending the meeting.
A public hearing (date TBD) will be held before the Council takes action. Sign up to be notified of the public hearing date.
We want to hear from you! Send your thoughts about the proposed changes to council.comments@slcgov.com or call the 24 hour comment line,
801-535-7654.
Background Information
Tags: Parks & Open Space