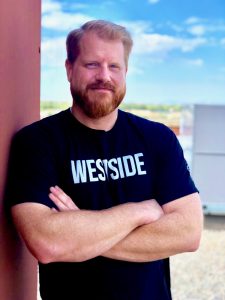 Hello District 1!
Tis' the season for giving, a time to give back with your time, talents and donations. Below is a list of volunteer opportunities within our community.
Happy Holidays,
James
Salt Lake City Library System
Books may be donated at any of The City Library's eight locations. Large donations (more than one box) should be taken to the Main Library. If you bring a large donation to the Main Library and need help unloading it, please call 801-524-8200 in advance to make arrangements.
For more information visit www.slcpl.org/supportlibrary.

Salt Lake City Trails and Natural Lands
The preserving of our city's trails and natural areas relies in large part to volunteers like you! Volunteer as a group or come along to meet individuals like yourself who care about conserving our natural lands. More information can be found at slc.gov/parks/trails-natural-lands/volunteer/

Salt Lake County Aging & Adult Services
Whether you're an older adult wanting to stay active and engaged or a younger individual hoping to give something back, Aging & Adult Services has a wide variety of options for you to participate. Additional information can be found at slco.org/aging-adult-services/volunteer.

Salt Lake County Animal Services
Animal Services is always in need of volunteers to help at the shelter and events in the community. On-going volunteer activities include; exercising and socializing animals, grooming and training, and more. Visit slco.org/animal-services/get-involved/volunteer for additional details.

Salt Lake Valley Habitat for Humanity
The Salt Lake Valley Habitat for Humanity helps families and individuals who are experiencing substandard housing. No construction skills are needed to help provide housing in our community. More information about volunteering can be found at habitatsaltlake.com/get-involved/volunteer/

Special Olympics Utah
Help make sure that Special Olympics Utah goes off without a hitch. Special Olympics Utah rely on volunteers to help empower individuals through competition and sport. More information can be found at sout.org/volunteer-opportunities/

TreeUtah
TreeUtah has been able to plant over 9,500 trees throughout the State with the help of volunteers like you. If you or a group would like to volunteer, please contact amy@treeutah.org or call 801-364-2122 for more information on how you can help.

The Utah Food Bank
The Utah Food Bank is always looking for volunteers. Last year, Utah Food Bank was able to distribute 32.7 million meals throughout the state, but they can't do that without your help. Volunteers must sign up at utahfoodbank.org/give-time/

Volunteers of America
The Volunteers of America provides breakfast, lunch, and dinner to homeless or at-risk youth ages 15-22 years of age at the Youth Resource Center. More information on how you may be able to cook, prepare, serve, or help clean can be found at voaut.org/volunteer-opportunities/provide-a-meal

Woman of the World
Women of the World is a trusted service and capacity building organization for refugee, asylee, and immigrant women and girls. Let us show you how we help our ladies achieve self-reliance. Learn more at https://womenofworld.org/our-work/.