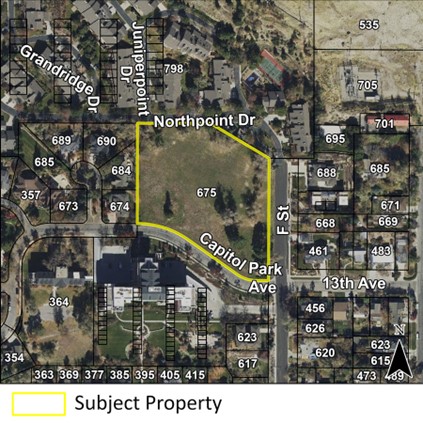 Rezone & Master Plan Amendment
675 North F Street
Capitol Park Cottages
The Council is reviewing a request to rezone property at 675 N F Street from Foothills Residential District zoning (FR-3/12,000) to Special Development Pattern zoning (SR-1). The property owner, Ivory Development, is also requesting an amendment to the "Future Land Use Map" in the Avenues Community Master Plan (1987) from "Very Low Density" to "Low Density" to correspond with their requested low-density zone.
A full description of the proposed SR-1 zone may be found in the Salt Lake City Code.
The property is currently vacant. The applicant has indicated their proposal is to construct 19 single-family homes, at least 14 of which would include Accessory Dwelling Units (ADUs).
The Council will also consider two recommendations provided by the City's Planning Commission:
Accessory buildings shall not be allowed in the rear yards located along the west-most property line of the subject property.
Where the west-most property line is a rear property line, the second level of any homes located along that rear property shall be setback at least 30' from the corresponding rear property line.
October 18, 2022, Council Discussion
At its Oct. 18 meeting, the Council held a briefing on this request. During the meeting, the Council talked about the impact on the surrounding neighborhoods of increasing the density of the property, how the ADUs would be incorporated into the project, as well as open space access.
November 10, 2022, Public Hearing
The Council held and closed a public hearing during which it heard comments in favor and in opposition to the proposed rezone.
Next Steps
The Council will potentially vote on this proposal at a later date. Have input to share? Comments may be shared any time online, by email at council.comments@slcgov.com, or by phone at 801-535-7654.
Please visit the Council's agenda page to confirm dates and times.
Additional Information
Tags: Land Use