Hello Neighbors,
This message is meant to address several points about Salt Lake City's role with the Parley's Pointe development. The property is privately owned. There are currently no authorized trails or public access. While the new developer is different from Romney Lumber Company and Honora Carson, the lawsuit and subsequent litigation settlement with Salt Lake City remains in effect. View the factsheet below for additional information.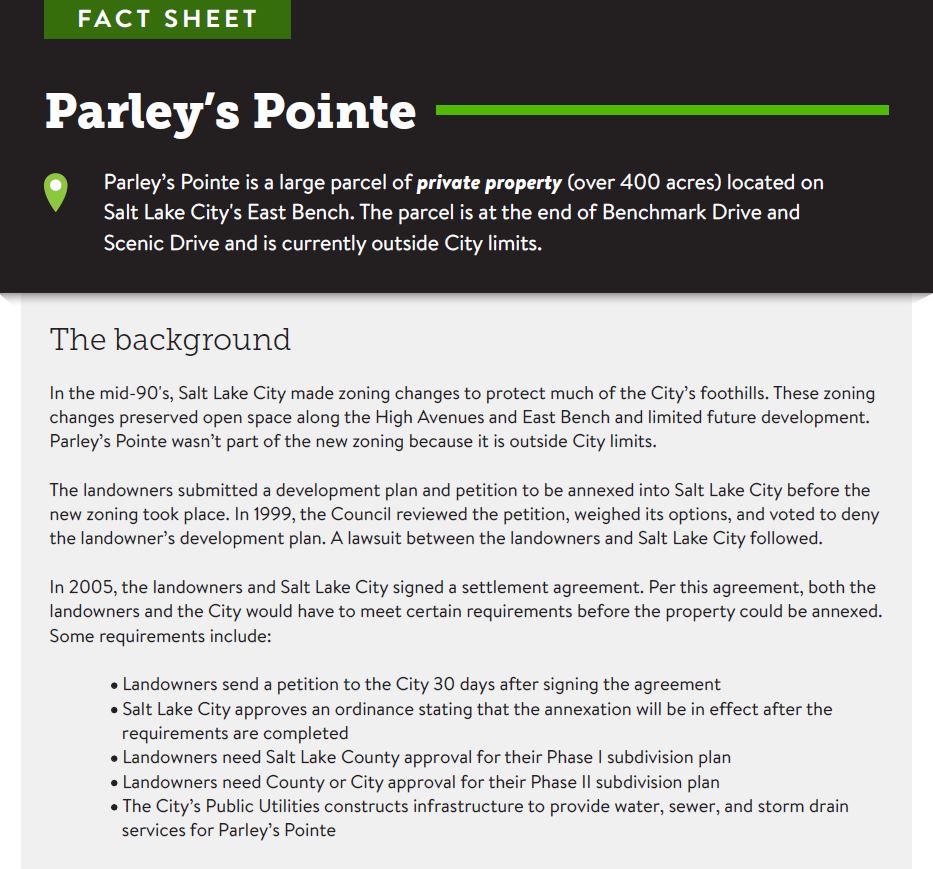 I do not support and would not vote for new development zones or annexation in the foothills, however, the settlement regarding this specific land binds the City and me as a City Council Member. While I would prefer to have all of the subject property as open space, the current plan at least calls for most of the property to be preserved and made public to the City.
I implore the developer to proceed with respect for the surrounding neighbors. They should work to mitigate construction dust and noise understanding that they're working near existing residents. Arcadia residents should know your concerns are understood even though few residents live as close as you do to the development.
The addition of nearly 298 acres to Salt Lake City's public open space and the legal southern extension of the Bonneville Shoreline Trail is a great public benefit, once the property is donated to Salt Lake City. Again, please know that I absolutely do not support development in the foothills. Unfortunately, it isn't possible for Salt Lake City to change this circumstance.