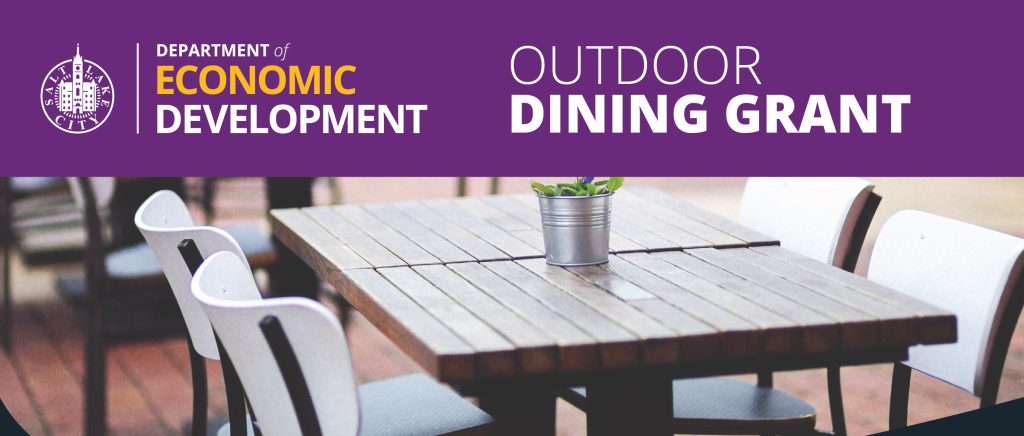 Who Is Eligible to Apply?
Businesses that:
• Are physically located within Salt Lake City limits;
• Have a current Salt Lake City Business License;
• Operate out of a fixed business location;
• Are defined as an in-person retail, restaurant, or bar;
• Request reimbursement/funding for costs related to outdoor dining (see Outdoor Dining Guide for City requirements)

How Much Funding is Available?
• Up to $5,000 is available to Salt Lake City businesses to either reimburse for upfront costs related to Outdoor Dining or to fund upcoming Outdoor Dining projects.
• Up to $10,000 is available to Salt Lake City businesses for costs related to Open Streets.
---
Eligible uses of grant funding (restrictions apply)
• Outdoor dining/retail furniture, fixtures and equipment (tables, chairs, barrier/patio building materials).
• Personal Protective Equipment (PPE).
• City fees related to outdoor dining
• Open Streets event costs (see Grant Guidelines)
*Reimbursement available for Outdoor Dining/Open Streets costs accrued as of April 1, 2021
Applications will be accepted from March 6 – May 30.
---
For more information, contact ed@slcgov.com
Looking to submit a physical application? Click here.
For documents in Spanish, click here.