Held every October, National Cybersecurity Awareness Month is a government and private sector partnership that raises awareness about cybersecurity and stresses the collective effort required to stop cyber crimes, online thefts, and scams.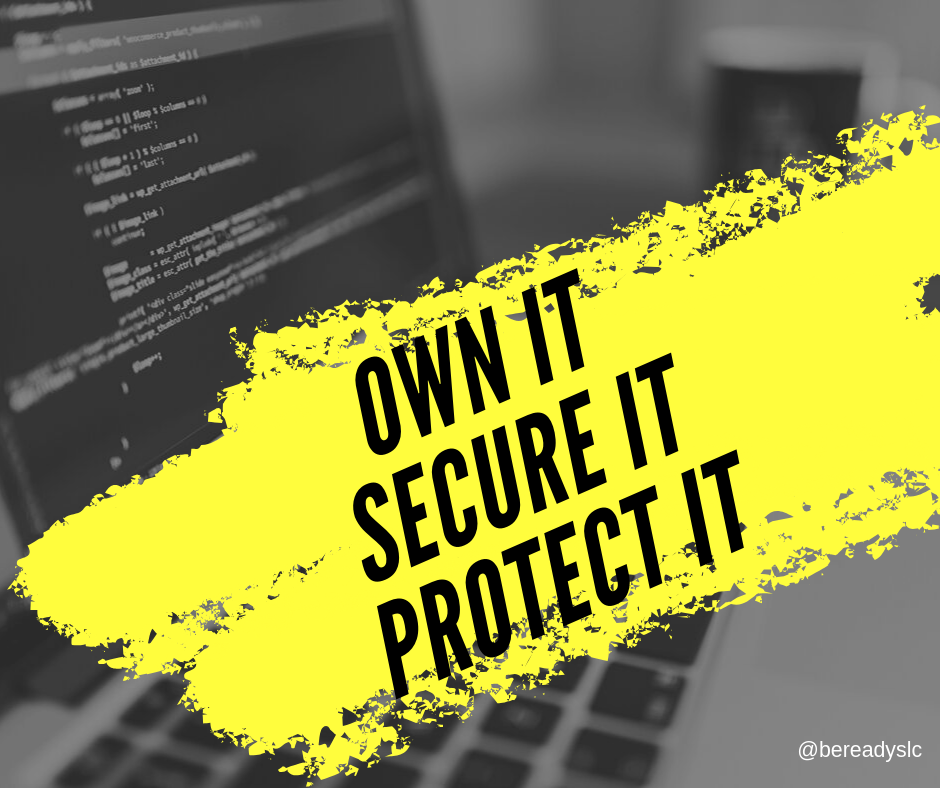 NCSAM will emphasize personal accountability and stress the importance of taking proactive steps to enhance cybersecurity at home and in the workplace. This year's overarching message – Own IT. Secure IT. Protect IT. – will focus on key areas including citizen privacy, consumer devices, and e-commerce security.
Visit: National Cybersecurity
Internet-enabled crimes and cyber intrusions are becoming increasingly sophisticated and preventing them requires each and every user of a connected device to be aware and on guard.
Cyber Safety Tips
Keep software systems up to date and use a good anti-virus program.
Examine the email address and URLs in all correspondence. Scammers often mimic a legitimate site or email address by using a slight variation in spelling.
If an unsolicited text message, email, or phone call asks you to update, check, or verify your account information, do not follow the link provided in the message itself or call the phone numbers provided in the message. Go to the company's website to log into your account or call the phone number listed on the official website to see if something does in fact need your attention.
Do not open any attachments unless you are expecting the file, document, or invoice and have verified the sender's email address.
Scrutinize all electronic requests for a payment or transfer of funds.
Be extra suspicious of any message that urges immediate action.
Confirm requests for wire transfers or payment in person or over the phone as part of a two-factor authentication process. Do not verify these requests using the phone number listed in the request for payment.
October also holds the FPW (Fire Prevention Week) campaign, by the National Fire Protection Association is "Not Every Hero Wears a Cape. Plan and Practice Your Escape!" works to educate everyone about the small but important actions they can take to keep themselves and those around them safe.
Did you know?
In a typical home fire, you may have as little as one to two minutes to escape safely from the time the smoke alarm sounds. Escape planning and practice can help you make the most of the time you have, giving everyone enough time to get out.
Plan ahead for your escape. Make your home escape plan and practice today.
This year's Fire Prevention Week campaign works to educate everyone about the small but important actions they can take to keep themselves and those around them safe from home fires. ( FEMA fire prevention week)
Fire is FAST!
In less than 30 seconds, a small flame can turn into a major fire.
Fire is HOT!
If you inhale the super-hot air in a home fire, it will scorch your lungs.
Fire is DARK!
If you wake up to a fire you may be blinded, disoriented and unable to find your way around your home.
Fire is DEADLY!
The odorless, colorless fumes from a home fire can lull you into a deep sleep. You may not wake up in time to escape.
Importance of fire prevention
In a fire, mere seconds can mean the difference between a safe escape and a tragedy. Fire safety education isn't just for school children. Teenagers, adults, and the elderly are also at risk in fires, making it important for every member of the community to take some time every October during Fire Prevention Week to make sure they understand how to stay safe in case of a fire.
On these sites ( FEMA and NFPA) , you'll find loads of educational resources to make sure that every person knows what to do in case of a fire. NFPA has everything from apps to videos to printables and much more, to make sure you have the resources you need to keep your family, your community, and your city safe.