This year FEMA (Federal Emergency Management Agency) is highly suggesting us to add as a 2020 resolution to be prepared. The Resolve to be Ready slogan offers you motivation to a practical emergency preparedness mindset. Individuals can practice each day leading up to the New Year 2021.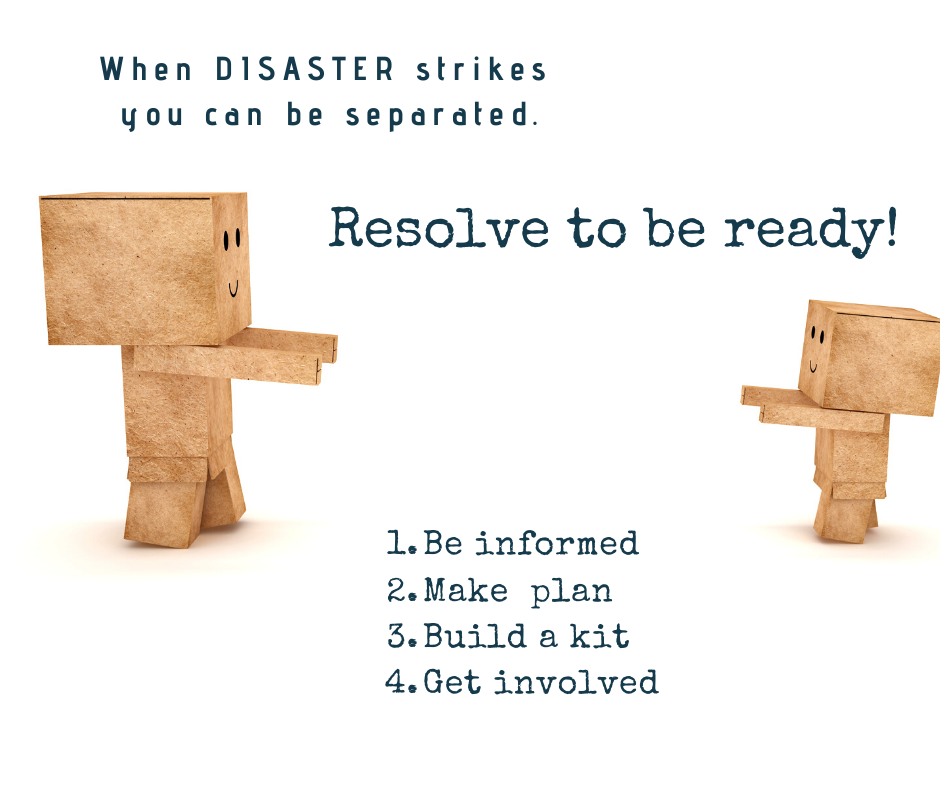 You can share these messages on your social media channels, with your family members, office colleagues, and other groups you attend.
Preparedness Tips
Include cash in your emergency supply kit. During an extended power outage, ATMs and credit card machines may not work.
Check-in with neighbors to see how you can help each other out before and after a storm.
Pick an out-of-town person for everyone to contact during an emergency.
Preparing your family for an emergency is as simple as having a conversation over dinner. Make a plan tonight.
As part of your family's emergency supply kit, including games and toys to keep children entertained.
Get prepared by having an emergency supply kit already stored. #ResolveToBeReady www.ready.gov/kit
Planning with Pets
If you live in an area that is prone to certain natural disasters, such as tornadoes, earthquakes or floods, you should plan accordingly.
Determine well in advance which rooms offer safe havens. These rooms should be clear or hazards such as windows, flying debris, etc.
Choose easy-to-clean areas such as utility rooms, bathrooms, and basements as safe zones
Access to a supply of fresh water is particularly important. In areas that may lose electricity, fill up bathtubs and sinks ahead of time to ensure that you have access to water during a power outage or other crises.
In the event of flooding, go to the highest location in your home, or a room that has access to counters or high shelves where your animals can take shelter.
visit ASPCA for more details
Get Tech Ready
Download the FEMA app to get real-time alerts, safety tips, and locate open shelters.
Sign up to receive text or email alerts about emergencies from your local Office of Emergency Management. https://www.slc.gov/em/alert-registry/
Snap photos of important documents and save them online or in a secure place you can access during an emergency.
Set up group text lists so you can communicate with friends and family at the same time during emergencies.
Download money-saving apps to help you save for a rainy day.
Have external power sources available to charge phones and other devices in case of a power outage.
Disasters happen everywhere, and every member of the family can prepare. Preparedness for the future starts today.
Whether you're a kid or teen yourself, a parent or loved one, or work with youth, Ready Kids has tools and information to help before, during and after disasters. Visit FEMA Educators
Prepare with Pedro
Hi! I'm Pedro the Penguin! I'm traveling around the United States to visit my friends and learn how they prepare. I'd like you to come. Emergencies and disasters can happen anywhere, but there are ways to help you stay safe. Follow along, and we can learn together! Visit Pedro!