To make sure we do not spread germs or viruses, Ready.gov gives us a couple of suggestions: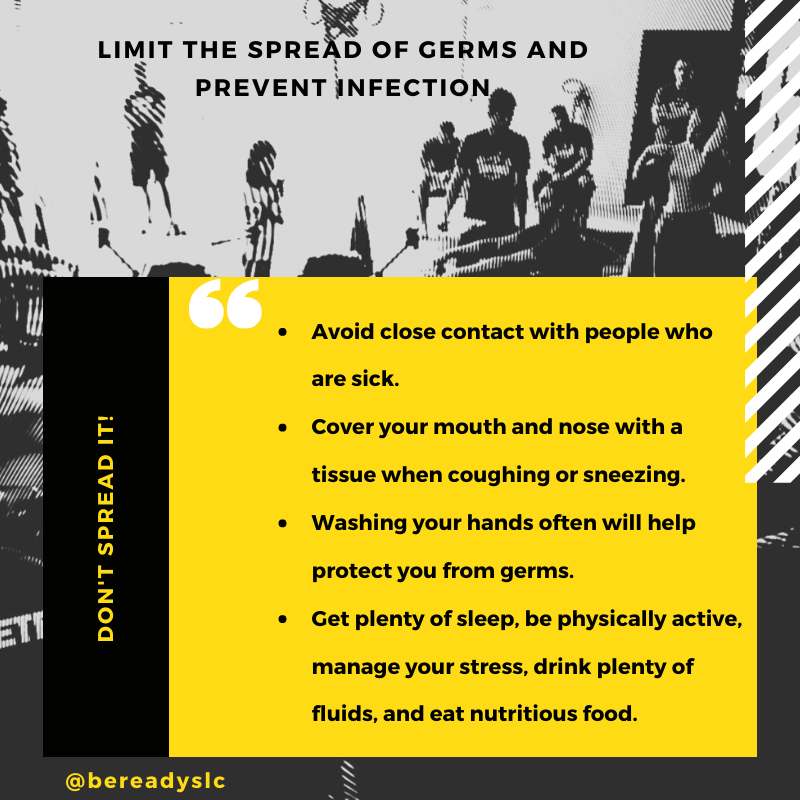 Avoid close contact with people who are sick.
When you are sick, keep your distance from others to protect them from getting sick too.
Cover your mouth and nose with a tissue when coughing or sneezing. It may prevent those around you from getting sick.
Washing your hands often will help protect you from germs.
Avoid touching your eyes, nose or mouth.
Practice other good health habits. Get plenty of sleep, be physically active, manage your stress, drink plenty of fluids, and eat nutritious food.
Clean and disinfect surfaces and objects that may be contaminated with germs like flu.
Many of the germs that cause respiratory (breathing) diseases are spread by droplets that come from coughing and sneezing. These germs usually spread from person to person when uninfected persons are in close contact with a sick person. Some people may become infected by touching something with these germs on it and then touching their mouth or nose.
Some respiratory illnesses, such as influenza, can be prevented with a vaccine. Check with local health officials to see if influenza vaccination is available at your evacuation center. Use the Flu Vaccine Finder to find the nearest clinic. The Vaccines and Preventable Diseases page also provides a detailed list of recommended and non-routine vaccines by disease in the U.S.
Regarding Coronavirus, the CDC is closely monitoring an outbreak of respiratory illness caused by a novel (new) coronavirus (named "2019-nCoV") that was first detected in Wuhan City, Hubei Province, China and which continues to expand. Chinese health officials have reported thousands of infections with 2019-nCoV in China, with the virus reportedly spreading from person-to-person in many parts of that country. Infections with 2019-nCoV, most of them associated with travel from Wuhan, also are being reported in a growing number of international locations, including the United States. The United States reported the first confirmed instance of person-to-person spread with this virus on January 30, 2020.
For more information please feel free to contact the National Center for Disease Control and Prevention at 1-800- 232-4636. Here is their website with the updated information about what they are doing regarding this evolving situation- https://www.cdc.gov/coronavirus/2019-ncov/summary.html
For our State, the Utah Health Department has a division of Disease Control and Prevention, their contact is 801-538-6129.
For the County, Salt Lake County Health Department, their phone number is 385-468-4100.
The city does not have a health department, we use the county's health department resources. We follow their lead regarding disease control and protocols. They are closely monitoring the situation while constantly connecting with the State health department, city officials and the CDC.