The Utah Department of Health is actively monitoring an outbreak caused by a novel (new) coronavirus (COVID-19) first identified in Wuhan, Hubei Province, China. This outbreak began in early December 2019 and continues to expand in China and other countries. Please feel free to visit the website which is updated with the latest information. – Utah Department Of Health COVID-19
The COVID-19 hotline is provided by Utah Poison Control who has the capability of about 150 different languages – 1800-456- 7707 is open 24/7.
Feel free to call if you have questions
The ongoing public health response strategy is to contain the outbreak and prevent sustained spread in the United States. States with confirmed COVID-19 cases include Arizona, California, Illinois, Massachusetts, Nebraska, Texas, Washington, and Wisconsin. Healthcare workers and close associates of anyone who is infected have an increased risk of infection.
The immediate health risk from COVID-19 is considered low for the general American public.
COVID-VID-1919 (Coronavirus)
What you need to know

COVID-19 is a new respiratory disease caused by a virus first detected in China in December 2019. The virus belongs to a family of viruses called coronaviruses, which causes respiratory illnesses ranging from the common cold to SARS.
COVID-19 is spread via respiratory droplets produced when a person coughs or sneezes. It is mainly spread through close personal contact with another person (within 6 feet). Effects of the virus range from mild symptoms to severe illness and death.
Symptoms include fever, cough, and shortness of breath and may appear between 2 and 14 days following exposure to the virus. People are thought to be most contagious when they are most symptomatic (the sickest), but it may be possible to spread the virus before symptoms appear. It may be possible for a person to get COVID-19 by touching a surface that has the virus on it and then touching their own mouth, nose, or eyes, but this is not thought to be the main way the virus spreads.
Preparing for COVID-19
While the immediate risk of this virus
to the American public is currently low, everyone can do their part to help prepare for this emerging public health threat: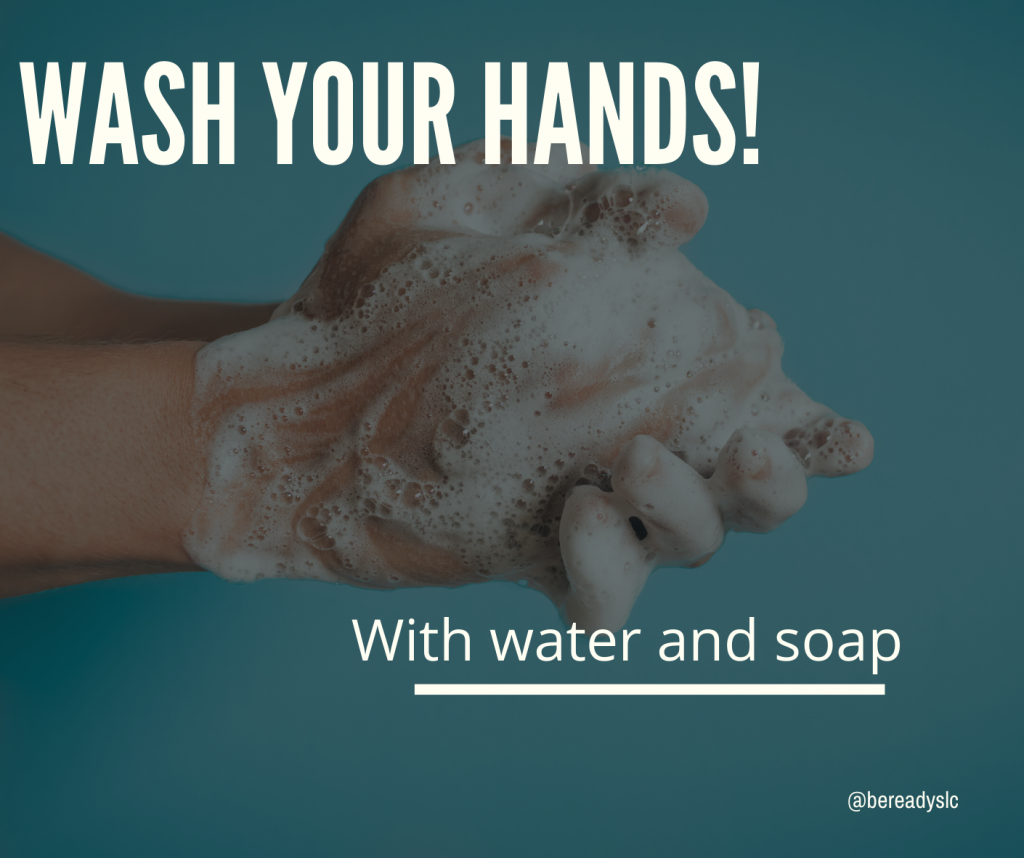 • Get an annual flu vaccine.
• Practice good health habits that help your immune system work effectively:
• Get appropriate sleep.
• Stay physically active.
• Manage stress.
• Drink plenty of fluids.
• Eat nutritiously.
• Keep on hand at least a two-week supply of food, as well as prescription and nonprescription drugs.
Take actions that help prevent the spread of all viruses:
The health and wellness of all our residents is our priority. As such, please make sure you follow these CDC recommendations to increase community resilience: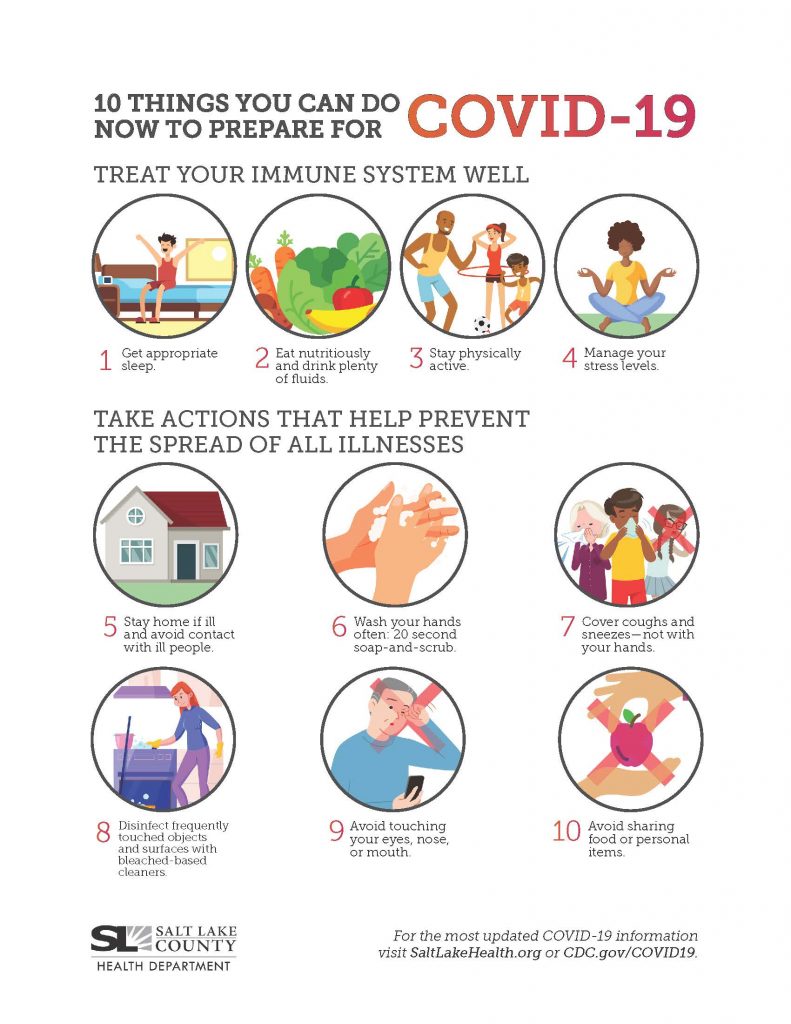 Voluntary home isolation: Stay home when you are sick with respiratory disease symptoms. At the present time, these symptoms are more likely due to influenza or other respiratory viruses than to the COVID-19-related virus. Call your health provider.
Stay home if you are ill.
Wash your hands frequently and thoroughly: scrub with soap and warm water for at least 20 seconds.
Avoid close contact with ill people.
Respiratory etiquette: Cover coughs and sneezes with a tissue, then throw it in the trash can.
Cover coughs and sneezes with a tissue or the inside of your elbow; do not cough or sneeze into your hands.
Avoid touching your eyes, nose, or mouth.
Avoid sharing food and personal items.
Hand hygiene: Wash hands often with soap and water for at least 20 seconds; especially after going to the bathroom; before eating; and after blowing your nose, coughing, or sneezing. If soap and water are not readily available, use an alcohol-based hand sanitizer with 60%-95% alcohol. Clean and disinfect frequently touched objects and surfaces using a bleach-based cleaning product.
Environmental health action: Routinely clean frequently touched surfaces and objects at home, work, and if possible, transportation.
Travel advisories: Make sure you visit the CDC and get informed regarding the safety preparation you must implement before traveling.
When COVID-19 Arrives in Our Community
• Separate yourself and stay in a room away from other people in your home.
• Stay home except to get medical care. Do not go to work, school, or any public place.
• Call your healthcare provider before arriving for medical care.
• Avoid public transit, ride-sharing, and taxis.
• If possible, wear a facemask when you are around other people.
To get the most updated information, please visit: CDC-COVId-19, the State Health Deptartment COVID-19 and the Salt Lake County Health Department COVID-19
Can pets at home spread the new coronavirus (2019-nCoV)?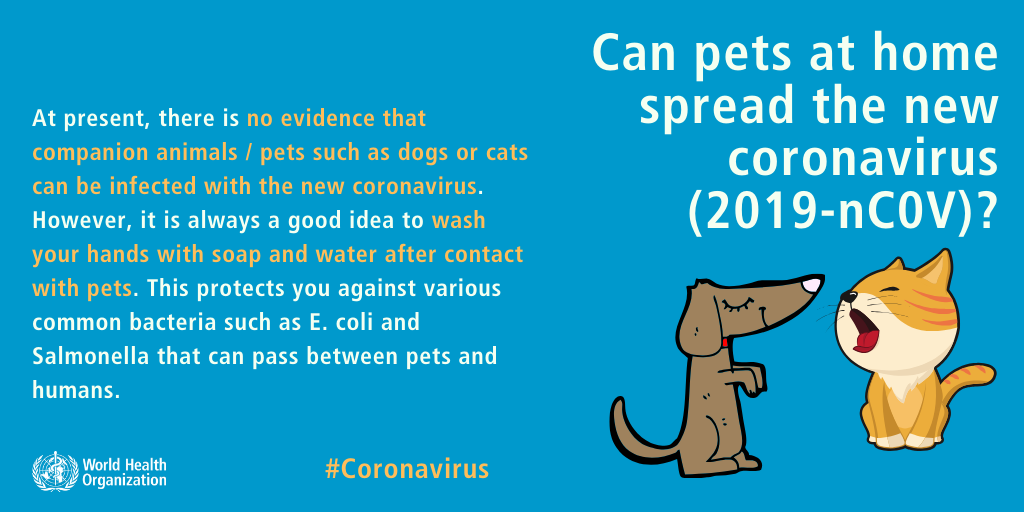 At present, there is no evidence that companion animals/pets such as dogs or cats can be infected with the new coronavirus. However, it is always a good idea to wash your hands with soap and water after contact with pets. This protects you against various common bacteria such as E.coli and Salmonella that can pass between pets and humans.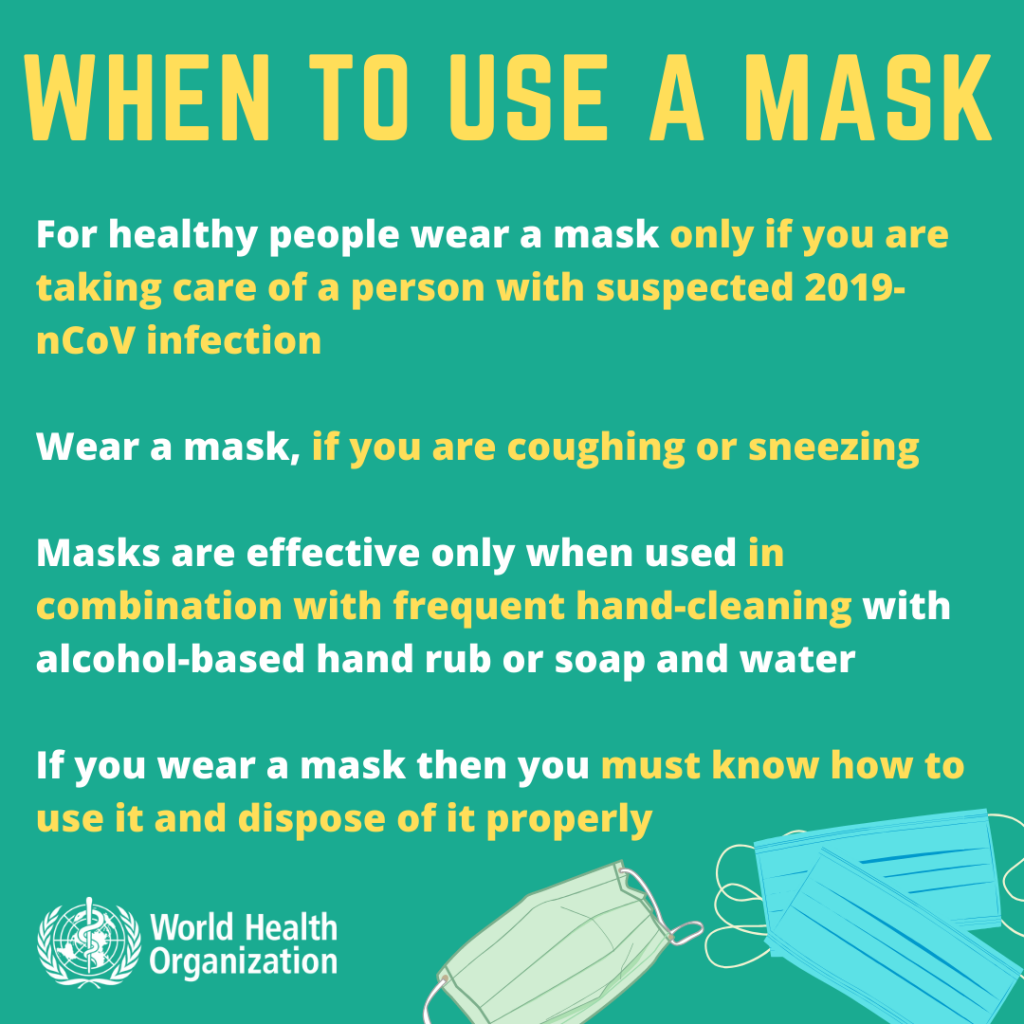 When to use a mask
If you are healthy, you only need to wear a mask if you are taking care of a person with the suspected 2019-nCoV infection.
Wear a mask if you are coughing or sneezing.
Masks are effective only when used in combination with frequent hand-cleaning with alcohol-based hand rub or soap and water.
If you wear a mask, then you must know how to use it and dispose of it properly.
How to use a mask
1- Before putting on a mask, clean hands with alcohol-based hand rub or soap and water.
2- Cover mouth and nose with mask and make sure there are no gaps between your face and the mask.
3- Avoid touching the mask while using it; if you do, clean your hands with alcohol-based hand rub or soap and water.
4- Replace the mask with a new one as soon as it is damp and do not re-use single-use masks.
5- To remove the mask: remove it from behind (do not touch the front of the mask); discard immediately in a closed bin; clean hands with alcohol-based hand rub or soap and water. Please feel free to visit The World Health Organization
Travel?
Current Outbreak of Coronavirus Disease 2019
See a list of embassy websites for additional Covid-19 information
The Department of State has no greater responsibility than the safety and security of U.S. citizens overseas, including providing information to help U.S. citizens make informed decisions about traveling abroad. The ongoing outbreak of COVID-19 (also known as the Novel Coronavirus) has impacted countries differently and prompted some governments to implement new travel restrictions and policies. On January 30, 2020, the World Health Organization determined the COVID-19 outbreak constitutes a Public Health Emergency of International Concern (PHEIC). Efforts to manage and contain the spread of COVID-19 have led to travel restrictions and interruptions overseas. President Trump continues to take decisive action to minimize the risk of spread in the United States. Please visit- Travel.State.GOV
Social Distancing- Physical Distance- Stay home!
Are you experiencing a Domestic Violence Situation? The National Domestic Violence Hotline is still here 24/7. Call 1-800-799-7233, or if you're unable to speak safely, you can log onto http://thehotline.org or text LOVEIS to 22522.
So what does "social distancing" mean? According to medical experts, social distancing is deliberately increasing the physical space between people to avoid spreading illness. Staying at least six feet away from other people lessens your chances of catching COVID-19. Examples include avoiding mass gatherings, working from home if possible, closing schools, visiting loved ones electronically instead of in-person and canceling or postponing conferences or large meetings. More are RED CROSS
Canceling events that are likely to draw crowds is an example of social distancing. Social distancing is deliberately increasing the physical space between people to avoid spreading illness. Staying at least six feet away from other people lessens your chances of catching COVID-19.
The John Hopkins web page offers examples of social distancing that allow you to avoid larger crowds or crowded spaces are:
Working from home instead of at the office
Closing schools or switching to online classes
Visiting loved ones by electronic devices instead of in person
What is self-quarantine?
People who have been exposed to the new coronavirus and who are at risk for coming down with COVID-19 might practice self-quarantine. Health experts recommend that self-quarantine lasts 14 days. Two weeks provides enough time for them to know whether or not they will become ill and be contagious to other people.
You might be asked to practice self-quarantine if you have recently returned from traveling to a part of the country or the world where COVID-19 is spreading rapidly, or if you have knowingly been exposed to an infected person.
Self-quarantine involves:
Using standard hygiene and washing hands frequently
Not sharing things like towels and utensils
Staying at home
Not having visitors
Staying at least 6 feet away from other people in your household
Once your quarantine period has ended, if you do not have symptoms, follow your doctor's instructions on how to return to your normal routine.
The last week or so hospitals have been swamped with people who have been given demands from their employer that go against the guidelines from the Utah Department of Health. The biggest problem is that they are requiring their employees to provide a negative test before allowing them to come back to work. This is a problem for two reasons:
The markers that flag a COVID infection can stay in someone's system for up to a couple of months after a person is no longer infectious. Meaning people can keep getting false positives.
These tests bog down the system and needlessly prolong the amount of time that someone has to stay in isolation. Probably 70% of calls to the covid-10 hotline of some health providers have been slowed down by some type of extra demand from an employer.
If you are an employer or your boss is demanding you provide a negative test, please refer them to the Utah Department of Health's COVID website. There is an entire manual for businesses educating them on how to handle all sorts of things relating to COVID. Page 10 specifically relates to how to determine when a person can return to work and gives explicit instruction that businesses should NOT require retesting for a negative result.
Here is a link to that document: https://coronavirus-download.utah.gov/business/COVID-19_Business_Packet_FIN.pdf
The CDC guidelines, which are the guidelines accepted by the state of Utah, are that a person must meet 3 criteria to be considered recovered:
At least 10 days since symptoms first appeared and
At least 24 hours with no fever without fever-reducing medication and
Symptoms have improved
If someone meets these above criteria then they are safe to return to work.
(source: https://www.cdc.gov/coronavirus/2019-ncov/if-you-are-sick/end-home-isolation.html?CDC_AA_refVal=https%3A%2F%2Fwww.cdc.gov%2Fcoronavirus%2F2019-ncov%2Fprevent-getting-sick%2Fwhen-its-safe.html )
Edit: Yes, 2 negative tests in 24 hours is an approved method of determining recovery but the CDC says that it should be used only if a physician prescribes it or resources permit. Neither of which are within an employer's power.
What is isolation?
For people who are confirmed to have COVID-19, isolation is appropriate. Isolation is a health care term that means keeping people who are infected with a contagious illness away from those who are not infected. Isolation can take place at home or at a hospital or care facility. Special personal protective equipment will be used to care for these patients in health care settings.
What is "flattening the curve?"
Flattening the curve refers to using protective practices to slow the rate of COVID-19 infection so hospitals have room, supplies and doctors for all of the patients who need care.
This image was adapted from the CDC.
A large number of people becoming very sick over the course of a few days could overwhelm a hospital or care facility. Too many people becoming severely ill with COVID-19 at roughly the same time could result in a shortage of hospital beds, equipment or doctors.
On a graph, a sudden surge in patients over a short time could be represented as a tall, narrow curve.
On the other hand, if that same large number of patients arrived at the hospital at a slower rate, for example, over the course of several weeks, the line of the graph would look like a longer, flatter curve.
In this situation, fewer patients would arrive at the hospital each day. There would be a better chance of the hospital being able to keep up with adequate supplies, beds and health care providers to care for them.
Lessening Coronavirus Impact
It's important to know what to do if you feel sick. The coronavirus pandemic is making everyone aware of handwashing and protecting others from coughs and sneezes. Along with those essential steps, practices such as social distancing, and self-quarantine and isolation when appropriate can slow the rate of infection in a city, town or community.
The pandemic can seem overwhelming, but in truth, every person can help slow down the spread of COVID-19. By doing your part, you can make a big difference to your health, and that of others around you.
RELATED
Coronavirus Disease 2019: Myth vs. Fact
Coronavirus: Practicing Wellness While You Stay at Home