May is Wildfire Awareness Month, camping and campfires come many times together as we crave the taste of a good smore, but we must be careful as a simple mistake can turn dangerous. Fire ecologist Melissa Forder says about 60 percent of fires in national parks are caused by humans: "intentionally set fires, buildings burning and spreading into the forest, smoking, equipment malfunctions, and campfires." NPR
Wildfires often begin unnoticed. They spread quickly, igniting brush, trees, and homes. If you live where urban development meets wildlands, or on a remote hillside, in a valley, prairie, forest, or brushland where flammable
vegetation is abundant, your residence could be vulnerable to wildfires. Wildland fires are usually triggered by lightning or accidents. FEMA
ACTIVE FIRE RESTRICTION DOCUMENTS
Prepare NOW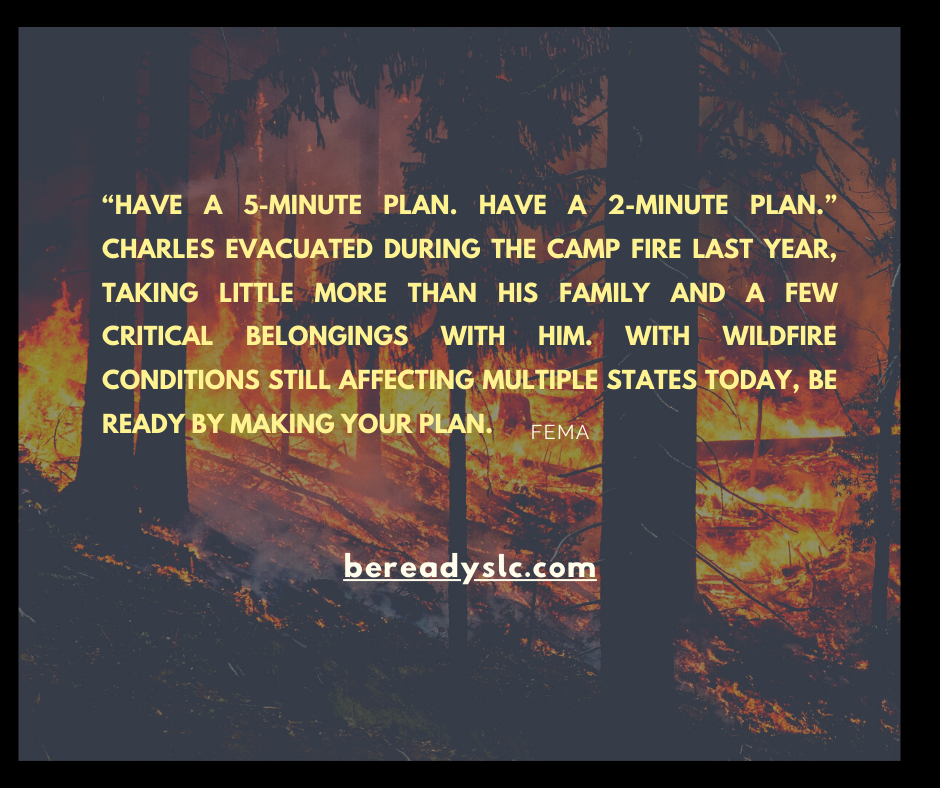 Sign up for your community's warning system. The Emergency Alert System (EAS) and National Oceanic and Atmospheric Administration (NOAA) Weather Radio also provide emergency alerts.
Know your community's evacuation plans and find several ways to leave the area. Drive the evacuation routes and find shelter locations. Have a plan for pets and livestock.
Gather emergency supplies, including N95 respirator masks that filter out particles in the air you breathe. Keep in mind each person's specific needs, including and updated asthma action plan and medication. Don't forget the needs of pets.
Designate a room that can be closed off from outside air. Close all doors and windows. Set up a portable air cleaner to keep indoor pollution levels low when smoky conditions exist.
Keep important documents in a fireproof, safe place. Create password-protected digital copies.
Use fire-resistant materials to build, renovate, or make repairs.
Find an outdoor water source with a hose that can reach any area of your property.
Create a fire-resistant zone that is free of leaves, debris, or flammable materials for at least 30 feet from your home.
Make A Plan
Make a plan today. Your family may not be together if a disaster strikes, so it is important to know which types of disasters could affect your area. Know how you'll contact one another and reconnect if separated. Establish a family meeting place that's familiar and easy to find.
Step 1: Put a plan together by discussing the questions below with your family, friends or household to start your emergency plan.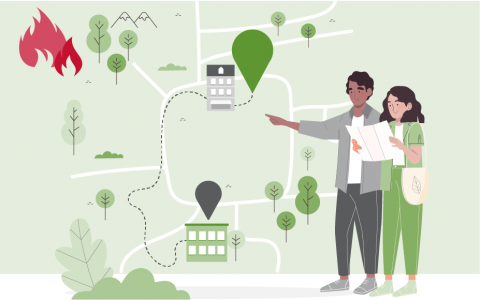 How will I receive emergency alerts and warnings?
2. What is my shelter plan?
3. What is my evacuation route?
4. What is my family/household communication plan?
5. Do I need to update my emergency preparedness kit?
6. Check with the Centers for Disease Control (CDC) and update my emergency plans due to Coronavirus.
7. Get cloth face coverings (for everyone over 2 years old), disinfectants, and check my sheltering plan.
Step 2: Consider specific needs in your household.
As you prepare your plan tailor your plans and supplies to your specific daily living needs and responsibilities. Discuss your needs and responsibilities and how people in the network can assist each other with communication, care of children, business, pets or specific needs like operating medical equipment. Create your own personal network for specific areas where you need assistance. Keep in mind some these factors when developing your plan:
Different ages of members within your household
Responsibilities for assisting others
Medical needs including prescriptions and equipment
Disabilities or access and functional needs including devices and equipment
Cultural and religious considerations
Households with school-aged children
Step 3: Fill out a Family Emergency Plan
Download and fill out a family emergency plan or use it as a guide to create your own.
Step 4: Practice your plan with your family/household