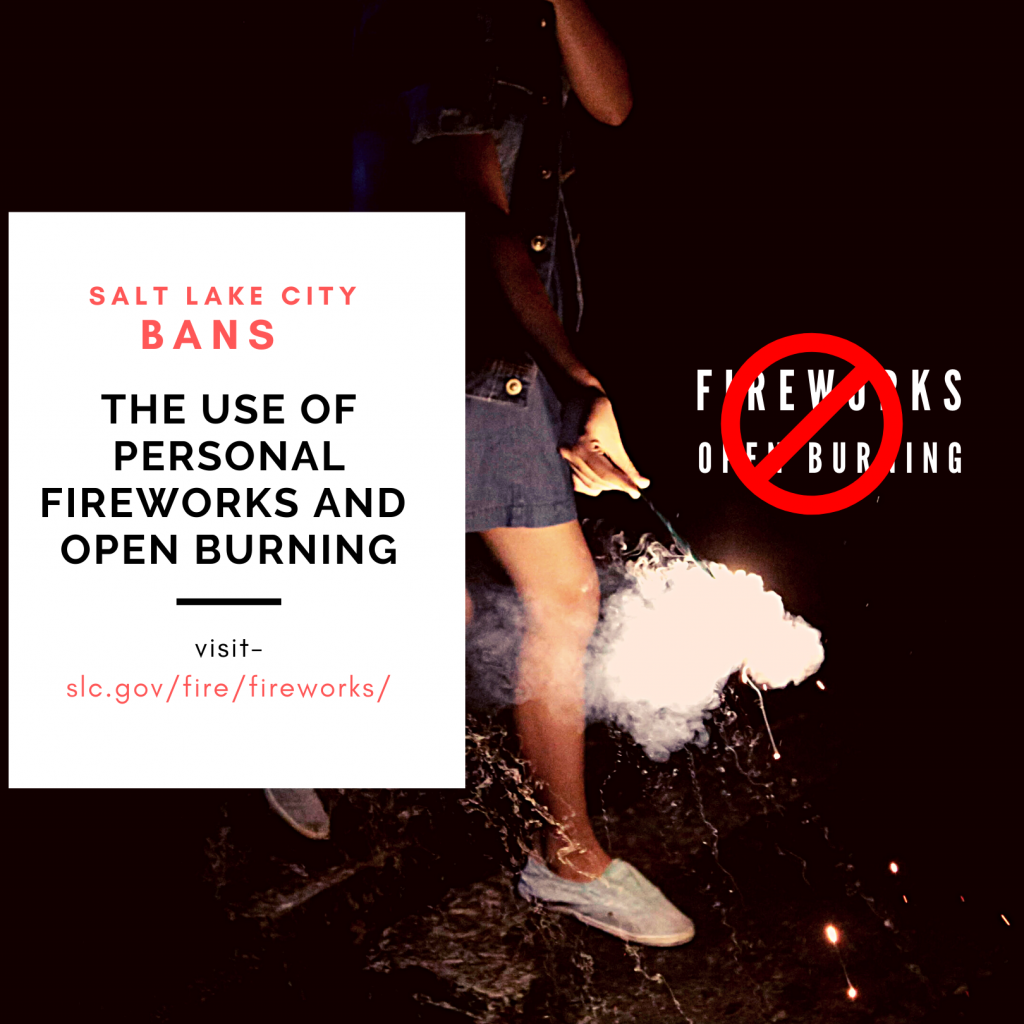 According to the National Drought Mitigation Center, 90 percent of Utah is currently experiencing extreme drought conditions. The intensity level of these conditions increases fire dangers, stresses native vegetation, and affects water usage. Gov. Spencer J. Cox issued an Executive Order in March declaring a state of emergency.
By order of the Salt Lake City Fire Marshal, the use of fireworks and open burning are prohibited within the boundaries of Salt Lake City – Order effective June 22, 2021, until rescinded.
Visit our city's official page- DROUGHT 2021 to know about our Fireworks and open fire ban, parks, water conservation plan, and more.
Drought Response Actions
---
During drought, little changes make a big difference. Here are actions we can all take to do our part. Find more drought information at: Drought.utah.gov
Be careful with extreme heat, it can cause heated-related illnesses, Do you know how to detect them? Learn the symptoms and what to do if you or a loved one shows signs of having a heat-related illness. Visit our colleagues at CDC.gov to know more. They also have information in other languages.
---
Fire causes & risks
We can all help make the world a safer place by learning more about how and why fires start. We offer countless consumer-friendly safety tips on a wide range of timely and important topics – everything you need to know to keep you, your family, and your neighbors safe from fire and related hazards. Visit our NFPA page in English and EN ESPANOL
"Cook with Caution"
• Be on alert! If you are sleepy or have consumed
alcohol don't use the stove or stovetop.
• Stay in the kitchen while you are frying, boiling,
grilling, or broiling food. If you leave the kitchen
for even a short period of time, turn off the stove.
• If you are simmering, baking, or roasting food,
check it regularly, remain in the home while food
is cooking, and use a timer to remind you that you
are cooking.
• Keep anything that can catch fire — oven mitts,
wooden utensils, food packaging, towels or
curtains — away from your stovetop.
If you have a small (grease) cooking fire and
decide to fight the fire…
• On the stovetop, smother the flames by sliding a
lid over the pan and turning off the burner. Leave
the pan covered until it is completely cooled.
• For an oven fire, turn off the heat and keep the
door closed.
If you have any doubt about fighting a
small fire…
• Just get out! When you leave, close the door
behind you to help contain the fire.
• Call 9-1-1 or the local emergency number from
outside the home.
What is a Wildfire?
Wildfires are any unplanned fires that burn in forests and other wildlands, such as shrub or grass communities. They're a powerful natural force we must fully understand, and respect, in order to best help control. Nearly nine out of 10 wildfires nationwide are caused by humans and could have been prevented.
Wildfires are always burning somewhere in the United States (See the Active Wildfire Map). Dedicated men and women endure exhausting work, harsh living conditions, and long separations from friends and family to protect you and our nation's natural resources from the impacts of unwanted wildfires. The work of wildland firefighters benefits us all, yet most people know very little about who they are, what they do and the tools of their trade.
Create an evacuation Plan- include your pets!
Follow your local authorities like – @slcfire Salt Lake City Fire Department
Have your mobile kit ready
Now more than ever we need you to prevent wildfires #OnlyYou
Visit the page of Smokey the Bear in English and en Español to know more!