Salt Lake City Corporation
Community and Neighborhoods / Engineering Division
NOTICE OF STREET CONSTRUCTION AND RESURFACING PROJECTS
In accordance with Salt Lake City Ordinance Number 14.32.080, notice is hereby given of upcoming street construction, reconstruction, and resurfacing projects anticipated to be performed by Salt Lake City during the three-year period beginning January 1, 2019. Projects listed below represent anticipated locations and construction time frames based on current planning and budget projections. Actual project locations and schedules may vary.
The purpose of this notice is to provide information concerning work activities in the public-way and promote coordination of such activities between all public way users including utility companies, telecommunications providers, developers, contractors, and the general public. This improved coordination is intended to reduce disruption to vehicular and pedestrian traffic on City streets and sidewalks and to minimize damage to street pavements and public way facilities. As part of this coordination activity, the City Engineer may require users to delay or accelerate the schedule of requested excavation activities. In addition, limited moratoriums of 7 years on the excavation of newly constructed streets, and 3 years on repaved streets will be enforced.
In accordance with Ordinance Number 14.32.080, each user and prospective user of Salt Lake City's public way, on or before November 1, 2018, shall provide to the City Engineer a start date and completion date of all anticipated major work to be conducted within the public way during the three-year period beginning January 1, 2019. All such schedules shall be sent to:
Matt Cassel, P.E., ENV-SP
City Engineer
349 South 200 East, Suite 100
Salt Lake City, UT 84111
Following the successful passing of the Streets Bond in Salt Lake City in November 2018, this additional publication with an updated list of streets is provided as a courtesy.
ORIGINAL PUBLICATION: September 23, 2018
UPDATED PUBLICATION: December 23, 2018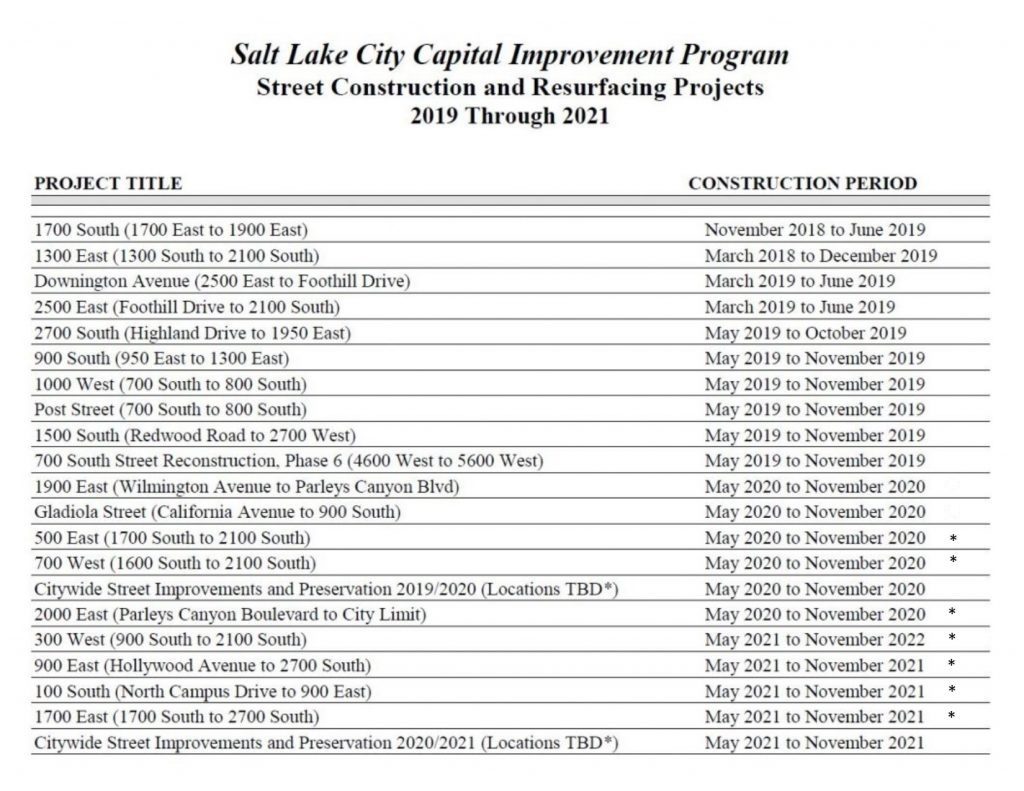 As other locations are selected and approved, they will be published on the City's project map: http://maps.slcgov.com/mws/projects.htm.
Potential candidates are:
Dupont Avenue (Capistrano Drive to American Beauty Drive)
Talisman Drive (800 North to 1200 West)
500 North (Jordan River to Redwood Road)
Briarcliff Avenue (American Beauty Drive to Autumn Avenue)
Talisman Drive (cul-de-sac end to Cornell Street)
Dupont Avenue (Carousel Street to 1500 West)
Haslam Circle (cul-de-sac end to Garnette Street)
Aries Circle (cul-de-sac end to New Star Drive)
Ramona Avenue (900 East to Lincoln Street)
Elizabeth Street (Crystal Avenue to Stratford Avenue)
Simpson Avenue (McClelland Street to 1100 East)
Elizabeth Street (Stratford Avenue to Whitlock Avenue)
Ramona Avenue (Lincoln Street to 1000 East)
Coatsville Avenue (800 East to 900 East)
Zenith Avenue (800 East to 900 East)
Parkway Avenue (Elizabeth Street to Highland Drive)
Kensington Avenue (1400 East to 1500 East)
M Street (3rd Avenue to 4th Avenue)
L Street (7th Avenue to 8th Avenue)
Wall Street (Columbus Street to 400 North)
Cambridge Circle (Cambridge Way to north terminus end)
L Street (9th Avenue to 10th Avenue)
Alta Street (2nd Avenue to Federal Heights Drive)
Cambridge Way (Perry's Hollow Road to Tomahawk Drive)
200 North (400 West to west terminus end)
Blaine Avenue (Nevada Street to Foothill Drive)
Greenwood Terrace (900 South to Sunnyside Avenue)
1900 East (Sunnyside Avenue to 900 South)
Kensington Avenue (Ken Rey Street to 2100 East)
Nevada Street (Wilson Avenue to Blaine Avenue)