Yoga in the Park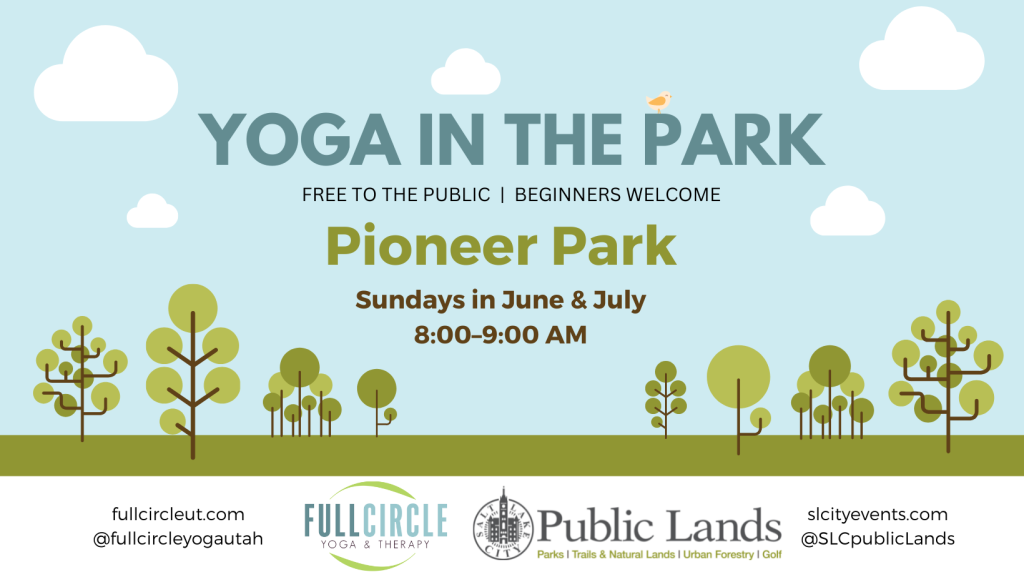 Yoga in the Park is a summer event organized by Salt Lake City Public Lands to enrich our public spaces. All levels and abilities are welcome to attend these hour-long classes taught by certified yoga instructors from Full Circle Yoga & Therapy. There is no cost to attend Yoga in the Park classes.
Classes will be held Sunday mornings in June & July from 8:00am – 9:00am, weather permitting. Meet us at the north end of Pioneer Park between 300 West and 400 West.
Yoga in the Park classes are inclusive spaces with instructors who are experienced in teaching students of varying ages, experience levels, abilities, and backgrounds. We welcome all of our community members to share in the joy of getting outside and connecting with one another.
2023 Class Schedule:
June 4, 11, 18, 25
July 2, 9, 16, 23, 30
Meet Your Teachers:
Carly Czach:  June 4th, June 25th, & July 16th
Jacoby Ballard: June 11th & July 2nd
Heather Jones: June 18th, July 9th, & July 23rd
Britta Nelson: July 30th
What to Bring:
You, your family and/or friends, a water bottle, your yoga mat, & any other items you like to have on hand for your comfort.
*we will have a limited quantity of yoga supplies available to borrow on a first-come basis
What to Wear:
Weather appropriate clothing that allows you to move and stretch. Don't forget to apply sunscreen!
*Please note that all participants will be required to sign a waiver of liability prior to joining any Yoga in the Park classes. These waivers will be available on-site at each class.
---
Join the fun on social media and check out our Facebook Event Page @SLCPublicLands! We hope to see you there!

Have questions or want to get involved? Email our Special Events Division!

Inclement Weather: Event may be canceled or postponed due to inclement weather held snow, rain, or shine. Visit our Facebook Event Page for up-to-date information.

ADA Accessibility: To request an accommodation due to a disability contact the Events Manager, Lynze Twede, at (801) 535-6167 or by email. Requests should be made as soon as possible but at least five days prior to the event date.

Tags: #SLCevents, salt lake city events, yoga, yoga in the park