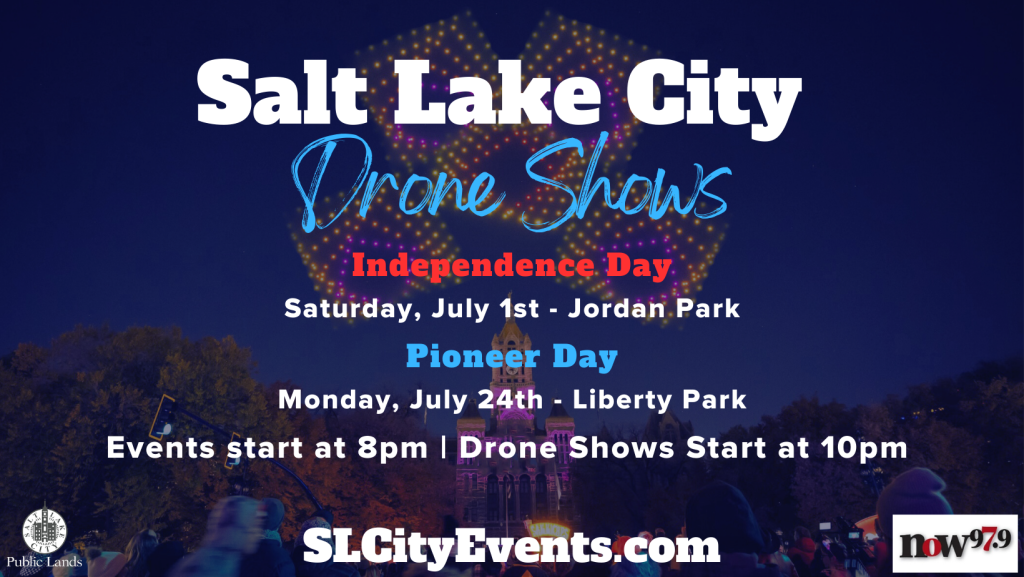 Saturday, July 1st Jordan Park
Monday, July 24th at Liberty Park
Join us to celebrate our nation's Independence Day and Utah's Pioneer Day! Salt Lake City will be hosting drone shows this summer on Saturday, July 1st at Jordan Park & on Monday, July 24th at Liberty Park. Each show will begin at 10:00 PM and last 10-15 minutes.
Join us at Jordan Park beginning at 8:00 PM to enjoy our food trucks, live music, and claim your spot on the lawn.
Join us all day at Liberty Park on July 24th to watch the Days of 47 Parade, cheer on the marathon runners, and check out the Native American Celebration in the Park.
Best seats in the house at Jordan Park will be in the main field area. Best seats in the house for Liberty Park will be in on top of the hill near the pond on the southeast side of the park or in the main east event area.
This event is open and friendly to all ages and admission is FREE!
Outside food and drink (non-alcoholic) is permitted.
Have another question? Visit our FAQ page below!
Drone Show Areas
Use the map below for a general idea of where the drone show areas will be for each show.
*please note that these are separate shows: July 1st Drone Show only takes place on July 1st at Jordan Park. The drone show on Pioneer Day only takes place on July 24th at Liberty Park*
Inclement Weather: Event may be canceled, postponed, or otherwise rescheduled due to inclement weather. Visit our Facebook Event Page for up-to-date information.
ADA Accessibility: To request an accommodation due to a disability contact the Events Manager, Lynze Twede, at (801) 535-6167 or by email. Requests should be made as soon as possible but at least five days prior to the event date.
Join the fun on social media and check out our Facebook Event Page @SLCPublicLands! We hope to see you there!
To see other upcoming events, view our event calendar.
Have questions or want to get involved? Email our Special Events Division!
Drone Shows provided by Open Sky Productions.

Tags: #SLCevents, Drone Shows, Independence Day, Jordan Park, July 24th, July 4th, Liberty Park, Pioneer Day, salt lake city events