Madsen Fall Fest – Igniting Joy in the Heart of North Temple District!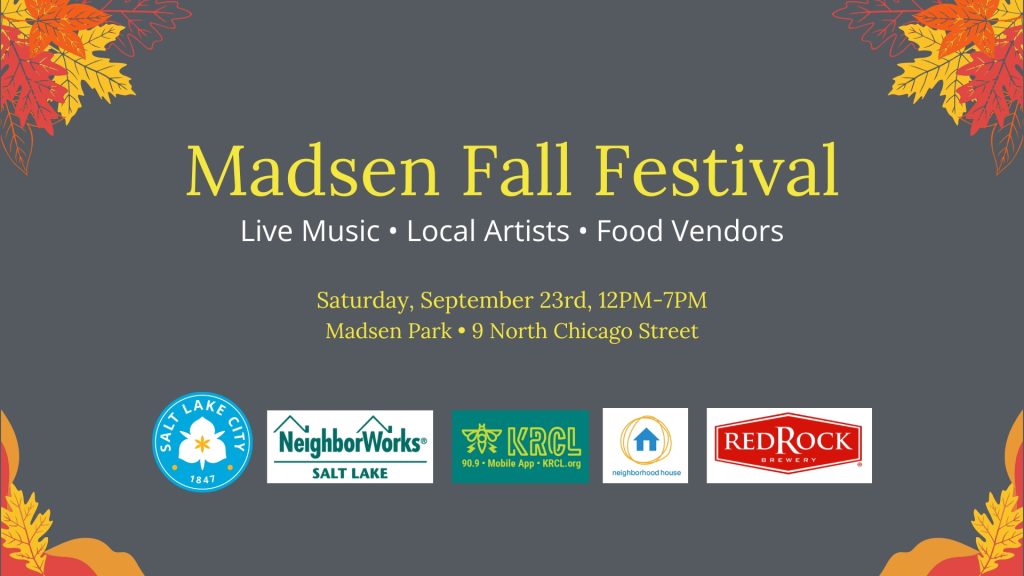 Date: September 23rd, 2023 Time: 12:00 PM – 7:00 PM Location: Madsen Park, North Temple District, Salt Lake City
Join us for the Madsen Fall Festival, a community event ushering in the fall season. The festival features live music, local artists, and a variety of food vendors. This laid-back gathering invites everyone to enjoy great tunes, discover local creativity, and indulge in some delicious bites. Hope to see you there!
---
Join the fun on social media and check out our Facebook Event Page @SLCPublicLands! We hope to see you there!

Have questions or want to get involved? Email our Special Events Division!

Click here for Vendor Application.

Inclement Weather: Event may be canceled or postponed due to inclement weather. Visit our Facebook Event Page for up-to-date information.

ADA Accessibility: To request an accommodation due to a disability contact the Economic Development Coordinator for NeighborWorks, Sara Hoy, at (801) 539-1590 (ext 131) or by email. Requests should be made as soon as possible but at least five days prior to the event date.

SLCityEvents@slcgov.com

#SLCevents, Madsen Park, North temple, salt lake city events