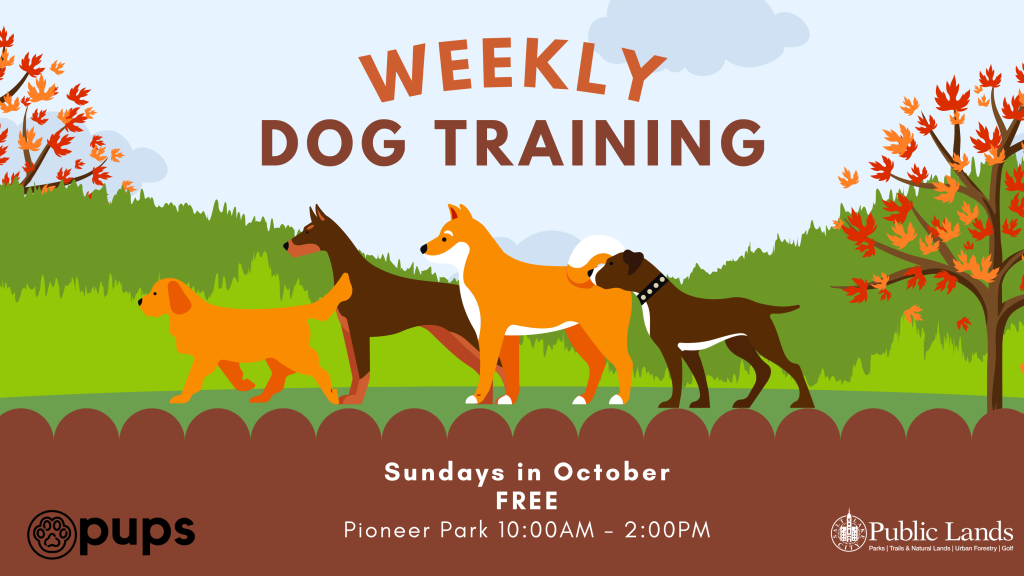 Weekly Dog Training
Sundays in October at Pioneer Park
Come train your dog with Pups SLC on Sundays from 10:00 AM to 2:00 PM at Pioneer Park! This event is FREE with no registration necessary. Just bring your dog, a leash, and a paws-itive attitude!
The event will be found on the North side of Pioneer Park. Come on your own schedule within the designated time to work on skills with the help of a Pups SLC trainer.
We kindly request that you bring your healthy and well-behaved dogs to ensure the comfort of other pets and their owners. Private training is available by appointment through Pups SLC. Get in contact with their team by calling (385) 378-7877.
Pups SLC Training Philosophy
Our balanced trainers work with each dog depending on their individual needs. We believe there is not "one tool for all jobs" and offer a variety of techniques and tools to help with various struggles and goals pet parents may have.
---
Inclement Weather: Event may be canceled, postponed, or otherwise rescheduled due to inclement weather. Visit our Facebook page for up-to-date information.

ADA Accessibility: To request an accommodation due to a disability, contact Lynze Twede at (801) 535-6167 or by email. Requests should be made as soon as possible but at least five days prior to the event date.

Tags: #SLCevents, Dog events, dog training, Pioneer Park, salt lake city events, weekly dog training