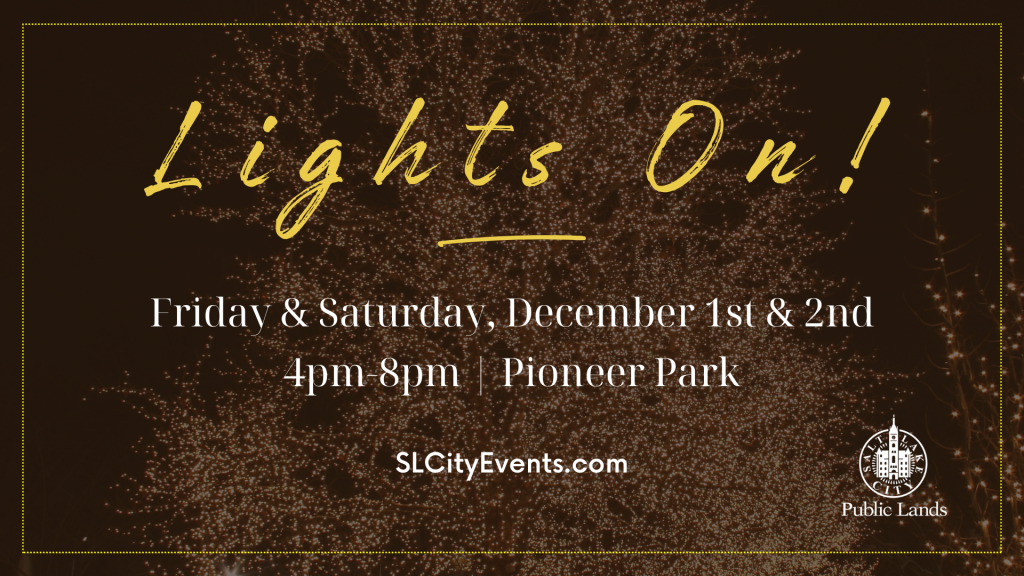 Lights On! | December 1st & 2nd 4-8PM
The most enchanting time of the year is just around the corner, and Salt Lake City is gearing up to welcome the winter season! Get ready to immerse yourself in the warm glow of "Lights On!" – a FREE, spectacular winter event that promises to light up your holiday spirit. Join us Friday and Saturday, December 1st & 2nd, from 4:00 – 8:00 PM at Pioneer Park, where the city's holiday lights will be lit.
What to Expect:
Entry Information:
Dates and Times: December 1st and 2nd, 4:00 PM – 8:00 PM
Location: Pioneer Park, Downtown Salt Lake City
Admission: FREE and open to all ages. *A valid ID is required to purchase alcohol*
A Winter Wonderland of Lights:
As the city's trees are adorned with shimmering holiday lights, Pioneer Park transforms into a mesmerizing winter wonderland. Stroll through the park and bask in this holiday season with us.
Warm Gathering Space:
Nestled in the enchanting display of lights is a spacious, clear event tent where you can escape the winter chill. Inside you'll find live music, twinkling lights, seating, and a local cider house serving seasonal drinks. The event tent is open to all ages so bring the whole family out for this spectacular event!
Food and Drinks:
Satisfy your taste buds with a delectable assortment of food from our food trucks:
Whether you're craving a savory or sweet treat, our vendors will have you covered. Warm up with steaming cups of hot chocolate, and for those looking for something more adult, ciders and beers will be served in the event tent. Don't forget to bring your ID if you're 21 or older!
Ice Skating Under the Stars:
For those seeking a bit of a winter activity, we've set up an open-air synthetic ice rink that promises hours of free, frosty fun. Bring your own skates or rent a pair at no cost and take a leisurely glide under the lights of Pioneer Park.
Live Music and Entertainment:
The enchantment continues within the event tent, where live music performances will keep you entertained throughout the evening.
Friday:
4 PM – 5:45 PM: Toni Negroni
6 PM – 8 PM: Angie Petty
Saturday:
4 PM – 5:45 PM: Buttahfly Boi Blues
6 PM – 8 PM: Detzany
Mark your calendar for December 1st and 2nd, and we'll see you at Pioneer Park for Lights On! Don't miss out on this unique winter wonderland celebration in the heart of Salt Lake City.