Fair Housing Month was Busy!
On April 5th, Mayor Biskupski officially kicked off April as "Fair Housing Month" in Salt Lake City, and on April 23rd, the Mayor recognized six outstanding community leaders and agencies as part of Community Development Week.
Additionally, April and March were busy with the launch of four new housing assistance programs, and three new affordable housing ground breakings.
Here is a round-up of those events as well as profiles of the impact that Fair Housing and Community Development has had on our community.
---
The Impact of Federal Community Development Funds
April 26, 2019
Between 2015 and 2018, Federal Community Development Funds (Community Development Block Grants, HOME Investment Partnerships, Emergency Solutions Grants, and the Housing Opportunity for Persons with HIV/AIDS programs) — has allowed Salt Lake City to invest $13,815,411 in the community.
That's helped nearly 28,000 city residents and more than 850 households acquire self-sufficiency skills, access emergency shelter and support services or stabilize their living situations.
---
New Community HEROES Home Buyer Program Launch
April 25, 2019
Salt Lake City Mayor Jackie Biskupski was joined by representatives from the Community Development Corporation of Utah (CDCU) to formally launch the Community HEROES Home Buyer Program: a down-payment assistance program for nurses, teachers, police officers, firefighters, EMTs, and 911-dispatchers who live and work in Salt Lake City.
The program will be supported by a $100,000 grant from the City's Funding Our Future sales-tax initiative and operated by CDCU through June 2020. The program is expected to assist 6-8 qualified families who make below 80% Area Median Income (AMI), currently set at $44,800 for a single household and $64,000 for a family of four.
---
Community Development and Fair Housing Awards Breakfast
April 23, 2019
Salt Lake City's Housing and Neighborhood Development (HAND) Division hosted the first annual Fair Housing & Community Development Awards Breakfast on Tuesday, April 23 at the Salt Lake Chamber. The event coincided with National Community Development Week (April 22-26) and April's Housing Month.
The event was an opportunity to recognize both individuals and organizations that are investing in affordable housing solutions throughout Salt Lake City.
2019 Awardees:
· Fair Housing Leader, Michele Hutchins of HUD
· Fair Housing Partner, Disability Law Center
· Community Development Leader, Rob Ferris of Advantage Services
· Community Development Partner, Utah Community Action
· Key to the City, Claudia O'Grady of Utah Housing Corporation
· Key to the City, Shawn McMillen of First Step House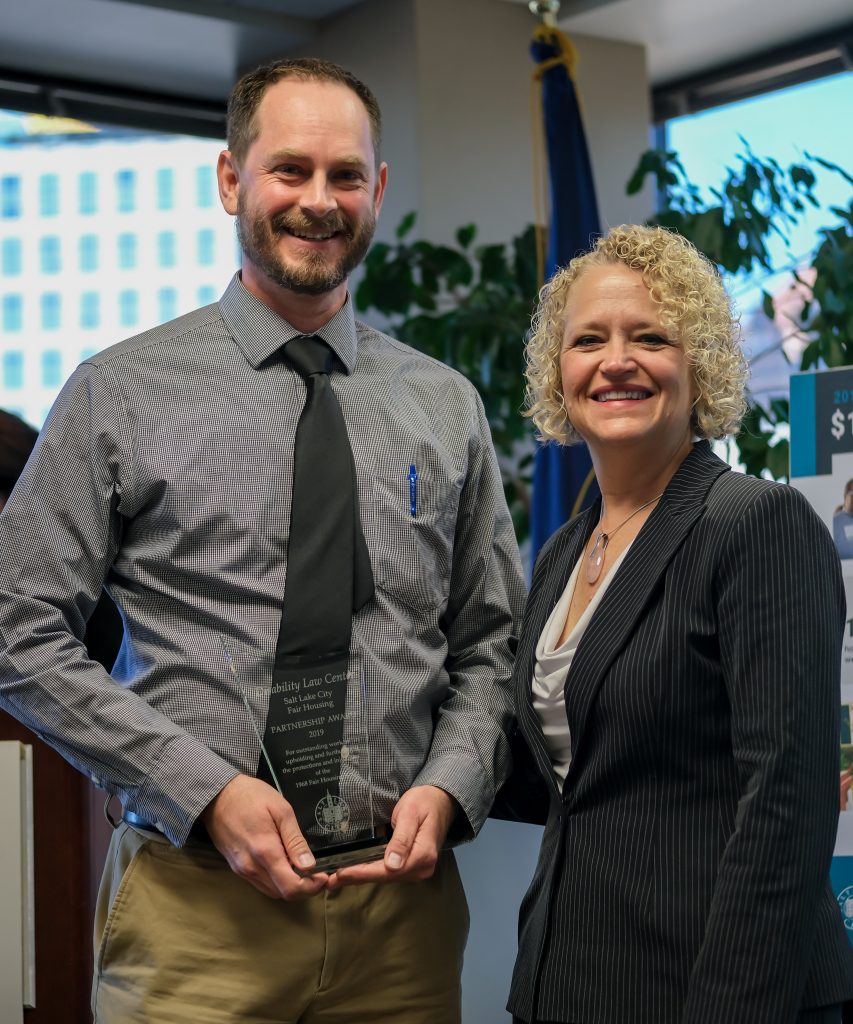 ---
Pamela's Place Groundbreaking
April 17, 2019
The Mayor joined State Officials and the Housing Authority of Salt Lake City to break ground on what will be called Pamela's Place Apartments: a five-story, 100-bed facility at 525 S. 500 West that will be devoted to permanent supportive housing for the region's chronically homeless. Additional thanks to RDA, which loaned $500,000 to the project.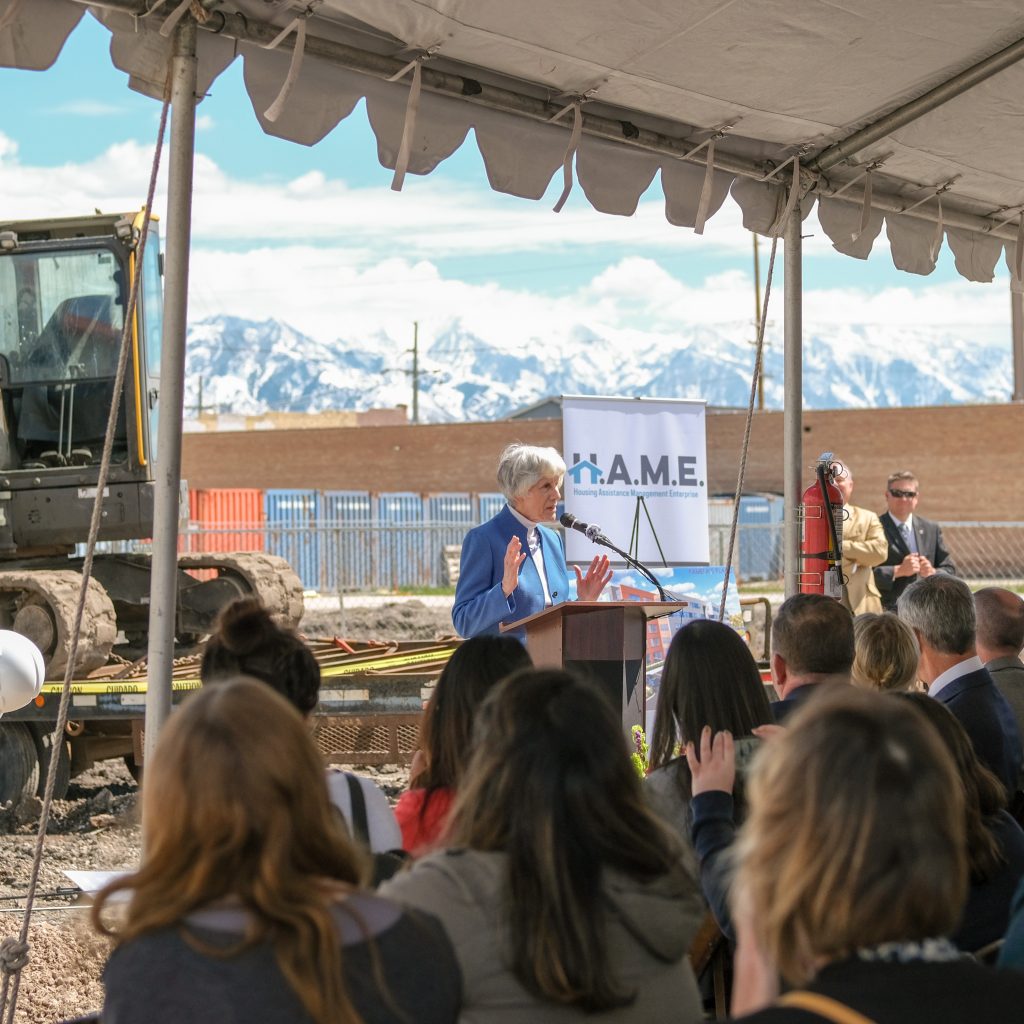 ---
School-Based Homelessness Program Launch
April 19, 2019
Mayor Jackie Biskupski presented Utah Community Action (UCA) with $105,808 from the City's Funding our Future sales-tax initiative to keep the organization's School Based Homelessness program operating, intending to serve 12 families, comprised of 25 children.
The program is a partnership between UCA and the Salt Lake City School District (SLCSD), intended to find stable housing for students experiencing homelessness within the same boundaries of their current school. Studies have shown that when children are forced to move from school to school there is an adverse impact on their ability to learn due to alternative teaching styles and curriculum requirements for each school.
---
New Housing Program for Individuals with Mental Illness Launch
April 8, 2019
Salt Lake City and Volunteers of America formally launched the ACT Housing Program, designed to provide stable housing for approximately 30 individuals living with mental illness.
This program will expand VOA's treatment and support to individuals living with mental illness through their Assertive Community Treatment (ACT) Team, which provides intensive, integrated services where clients need them—in their homes, at work, and in other community settings.
---
Fair Housing Month Proclamation
April 5, 2019
At a ceremony at the Salt Lake City and County Building on April 5th, Mayor Biskupski officially designated April as "Fair Housing Month" in Salt Lake City, and recognizing the Disability Law Center and the Utah Labor Commission Antidiscrimination and Labor Division.
April marks the 51st anniversary of the passage of Title VIII of the Civil Rights Act of 1968, commonly known as the Federal Fair Housing Act, which seeks to eliminate discrimination in housing opportunities and to affirmatively further housing choices for all people in America.
In 2009, Salt Lake City led the way to further protect individuals from housing discrimination by enacting the City's Fair Housing Policy of 2009, which added sexual orientation and gender identity or expression to the list of protected classes. Both the State of Utah and Salt Lake County followed in later years.
---
The Mayor Thanks Community Partners Who Helped with the Georgia Apartments Evacuees
March 22, 2019
March 22, the Mayor held a luncheon at the Public Safety Building to say thank you to the many community partners, first responders and volunteers who stepped up to help the residents affected by the Georgia Apartments evacuation orders from the Fire Marshall on February 11, 2019. Their support greatly contributed to a rapid and intensive community response that engaged the residents with direct services and housing options. Out of the 31 occupied units, 28 secured new housing or made alternative housing plans, and community partners have continued to work with remaining households.
---
New Shared Housing Program Launch
March 21, 2019
At its core, the Share Housing Program provides rent assistance and light case management to individuals experiencing housing instability. The program promotes co-living arrangements by matching individuals in shelter and in other vulnerable situations to help bridge the housing affordability gap.
Individuals in the program receive case management, including conflict resolution and mediation services, and assistance in purchasing items like locks for doors and mini-fridges. The program will also provide landlords funding to ensure their property Is maintained and rental income is secure if one roommate chooses to leave.
This program is expected to serve 50-60 individuals experiencing homelessness by the end of 2019.
---
First Step House Recovery Campus Groundbreaking
March 1, 2019
This full-service Recovery Campus provides substance use disorder treatment, primary medical care, vocational training, and housing. The initial phase opened in 2016, provides targeted services for veterans, including 4-man dorm-style rooms, an industrial kitchen, group rooms, a common room, computer lab, and outdoor exercise area.
Phase 2, which began construction in March, will create 75-units of permanent supportive housing to assist those transitioning from homelessness.
---
Centro Civico Senior Housing Groundbreaking
March 1, 2019
Centro Civico Mexicano celebrated the groundbreaking of their new mixed-use project which will include retail, classrooms, civic spaces, and 61 units of affordable housing for seniors. Salt Lake City provided $965,000 in financing to the project through Federal HOME funding and the Housing Trust Fund.