FAQ's for Renters, Landlords, & Homeowners.
Salt Lake City is compiling information for renters, landlords, and those whose incomes have been affected by COVID-19.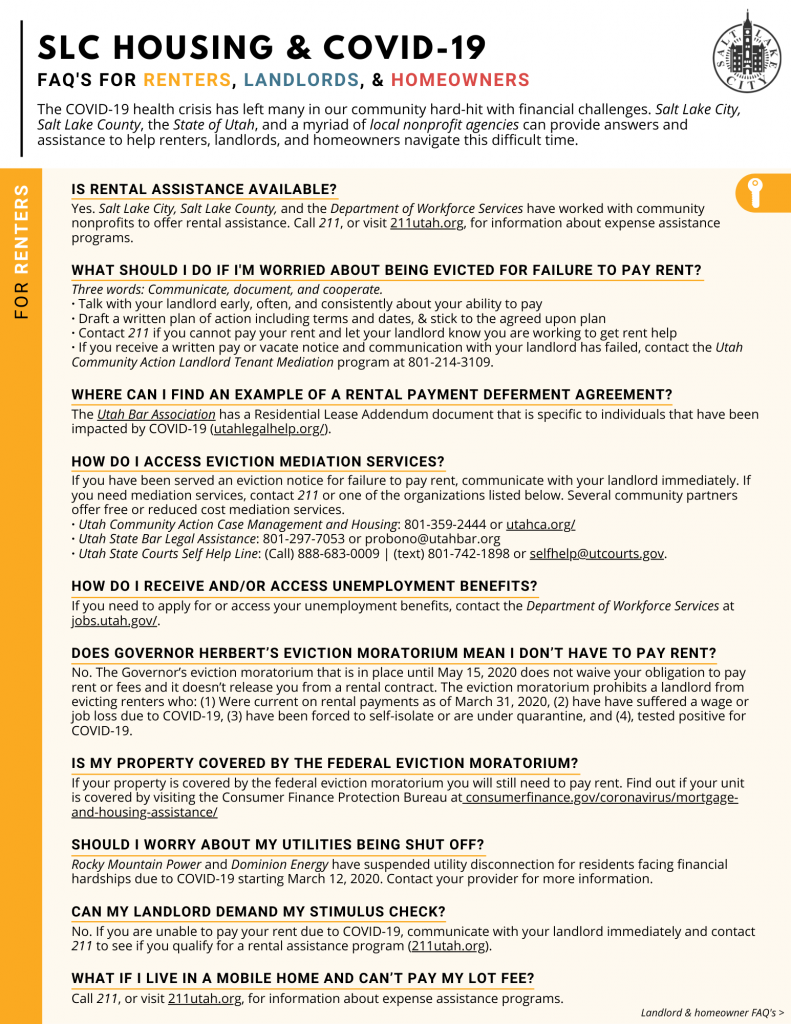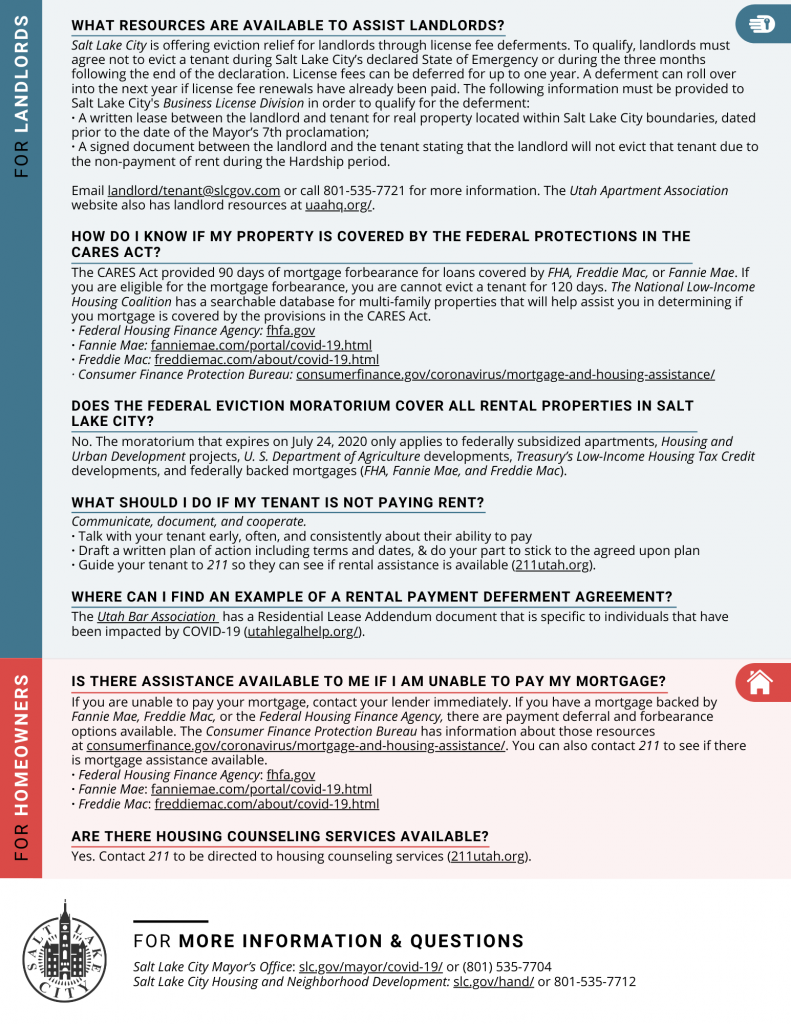 ---
Resources for renters and those affected by loss of income or employment
United Way 211

Find every resource available to you in the State of Utah. Such as food banks, rental assistance programs, and more.
Utah Housing Coalition

Through Education, Advocacy, and Community Partnerships, the Utah Housing Coalition is dedicated to promoting equitable and sustainable communities to ensure all Utahans have a safe and affordable place to call home.
Utah Community Action

Utah Community Action is a nationally recognized provider of comprehensive services for income-eligible families. Their six core programs—Head Start, Adult Education, Case Management & Housing, Nutrition, HEAT, and Weatherization—address barriers to self-reliance to empower individuals, strengthen families, and build communities.
Salt Lake County

Through the HOME Investment Partnership Program funding, Salt Lake County provides 0%-3% loans to help finance (1) the cost of development and construction of rental housing; and (2) the cost of purchase & rehabilitation of existing rental housing projects.
Department of Workforce Services
Find assistance for food, child care, medical, financial, disability and unemployment insurance. Additionally, speak to an employment counselor for assistance in finding a new job.
COVID-19 Housing Assistance Resources
RENTAL UNITS
SLC, Deferred Business License Fees for Property Owners Who Don't Evict Renters
April 10, 2020, SLC Mayor Erin Mendenhall declared a proclamation that defers 2020 business license fees for rental property owners who do not evict tenants for financial hardship between April 10 and three months after the end of the local emergency. Mayor Mendenhall also suspended City assistance for residential eviction activity unless it is necessary to protect public health and safety.
Utah, Moratorium on residential eviction for renters directly impacted by COVID-19
Governor Herbert's Executive Order, Moratorium on residential eviction for renters directly impacted by COVID-19, April 1, effective through May 15, 2020, link

Does not create or order rent forgiveness,
Does not apply to commercial tenants,
Tenants will be required to pay back rent when the EO expires on May 15, 2020.
Federal, 120 Day Rental Eviction Moratorium, March 27, 2020 – July 25, 2020
Moratorium on eviction for non-payment of rent in:

Rental units tied to most federal vouchers (HUD, USDA, and Treasury/VAWA),
Rental units with a federally backed mortgage,
Renters in units covered by CARES Act mortgages,
This includes all units in Utah that have received Federal and State LIHTC.
HOMEOWNERS
Utah, Mortgage Deferment
Utah Banker Association, possible deferment of mortgage for 3-6 months, individual basis between homeowner and lender, www.utah.bank/home.
Federal, Moratorium on Foreclosures for all Federally-backed Mortgages
Including: HUD, USDA, FHA, VA, Fannie May, and Freddie Mac, for 60 days starting March 18, 2020.

Single Family: borrower with federally backed mortgage experiencing financial hardship due to COVID-19 may request forbearance for up to 180 days, and can be extended for another 180 days,
Multi-Family: Owners with federally backed mortgages can request a forbearance for up to 30 days, and can be extended by another 60 days. Eviction policy then applies for renters of multi-family units.
UTILITIES
CARES Act, LIHEAP, $900 million (Low Income Home Energy Assistance Program).
Rocky Mountain has increased assistance funds to utility assistance organizations.
Rocky Mountain Power and Dominion Energy have suspended disconnection to those facing financial hardships, starting March 12, 2020.
ADDITIONAL RESOURCES
2-1-1, United Way of Salt Lake, community assistance resources, www.211Utah.org.
Utah Housing Coalition, Renters Toolkit, www.UtahHousing.org.
Utah Community Action, Case Management and Housing, and Tenant Landlord Mediation, 801-359-2444, www.UtahCA.org