FAQ's for Renters, Landlords, & Homeowners.
Salt Lake City is compiling information for renters, landlords, and those whose incomes have been affected by COVID-19.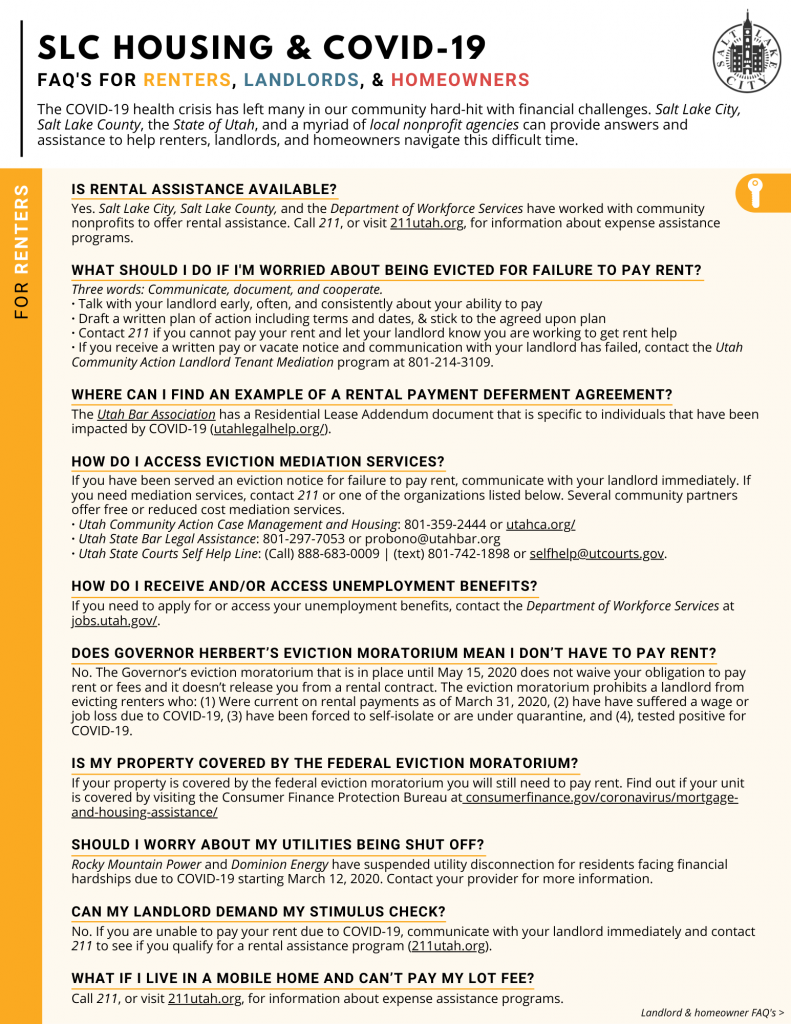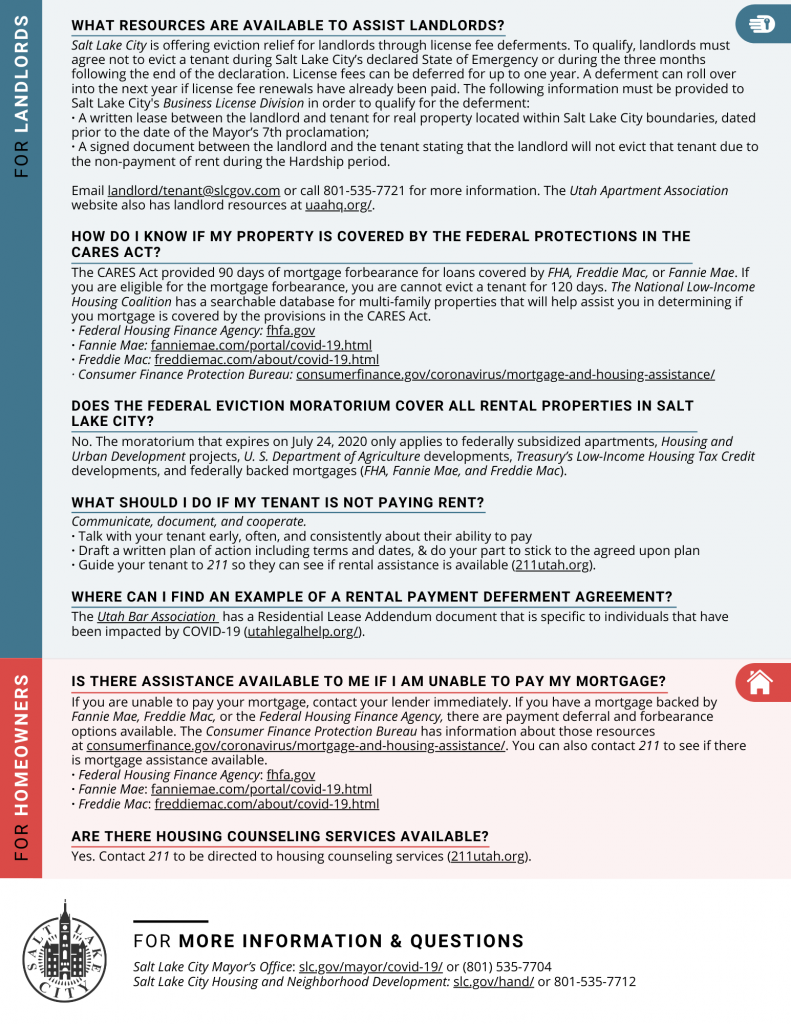 ---
Resources for renters and those affected by loss of income or employment
Salt Lake City announced $1.1 million dollars in housing stability assistance for rapid re-housing for individuals experiencing homeless, and rent and mortgage assistance for low-income eligible residents. If you have been impacted by COVID-19 and are unable to pay your rent or mortgage please contact the agencies outlined below to inquire about eligibility, services, and other resources. All of the agencies have Spanish-speaking staff on hand who can translate, as well as other translation services.
Centers for Disease Control (CDC) Eviction Moratorium
On September 1st, 2020 the Centers for Disease Control (CDC) announced a national eviction moratorium for virtually all tenants in the United States impacted by the COVID-19 pandemic.

This order bans landlords from evicting tenants for non-payment of rent through the end of 2020 if the tenants have submitted a declaration of income loss or significant medical expense.

To view and download the declaration look at the 2nd sheet below (beige background form). Please note, this does not mean you will not accrue additional back pay in rent, or pay off existing rent, but it will protect against evictions until the end of the year. At this time in 2021 all back pay rent will need to be resolved. These forms were provided by a community partner, the Utah Housing Coalition. More information from Salt Lake City will follow in the future.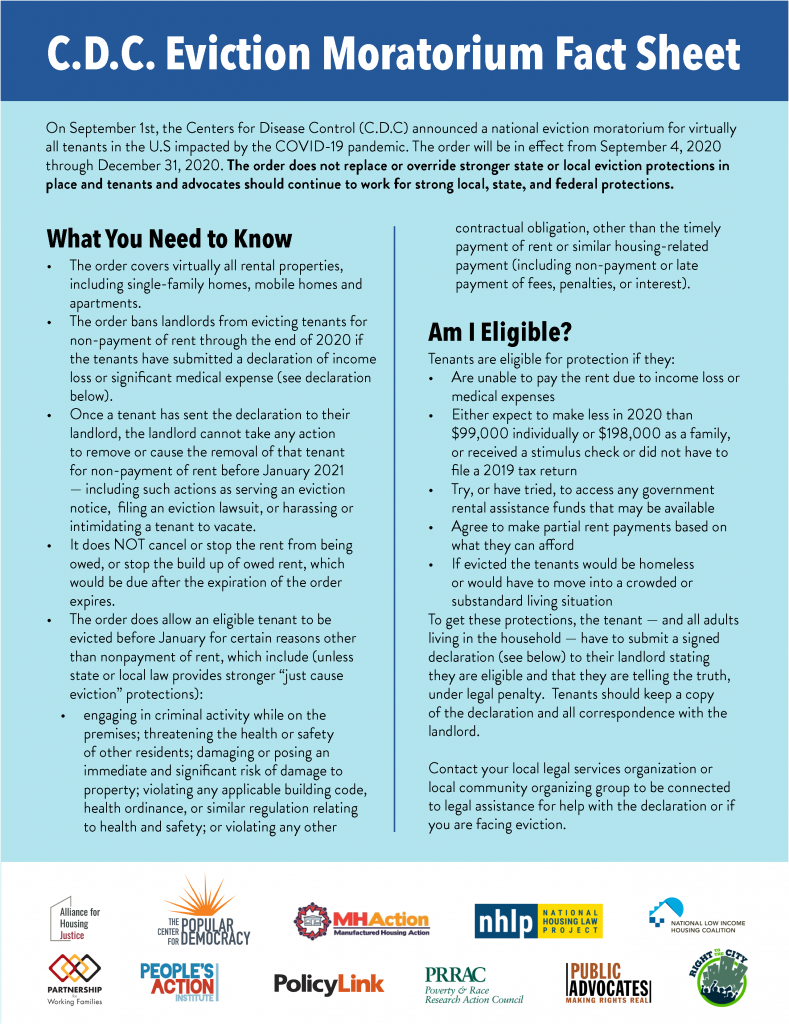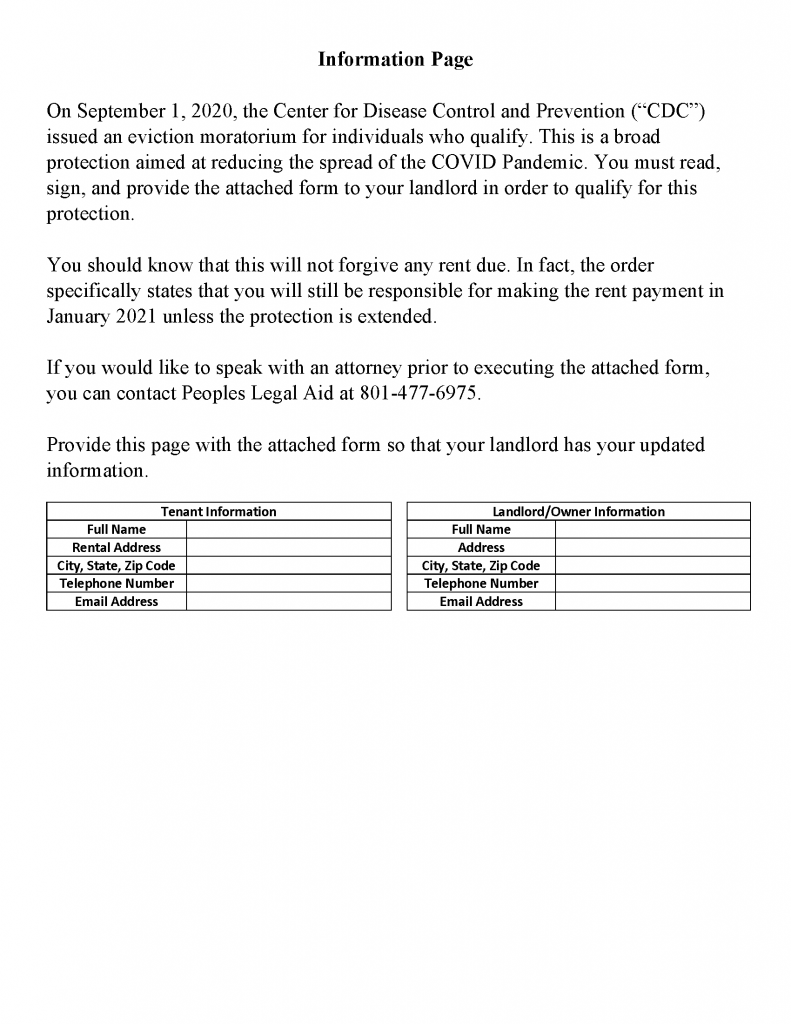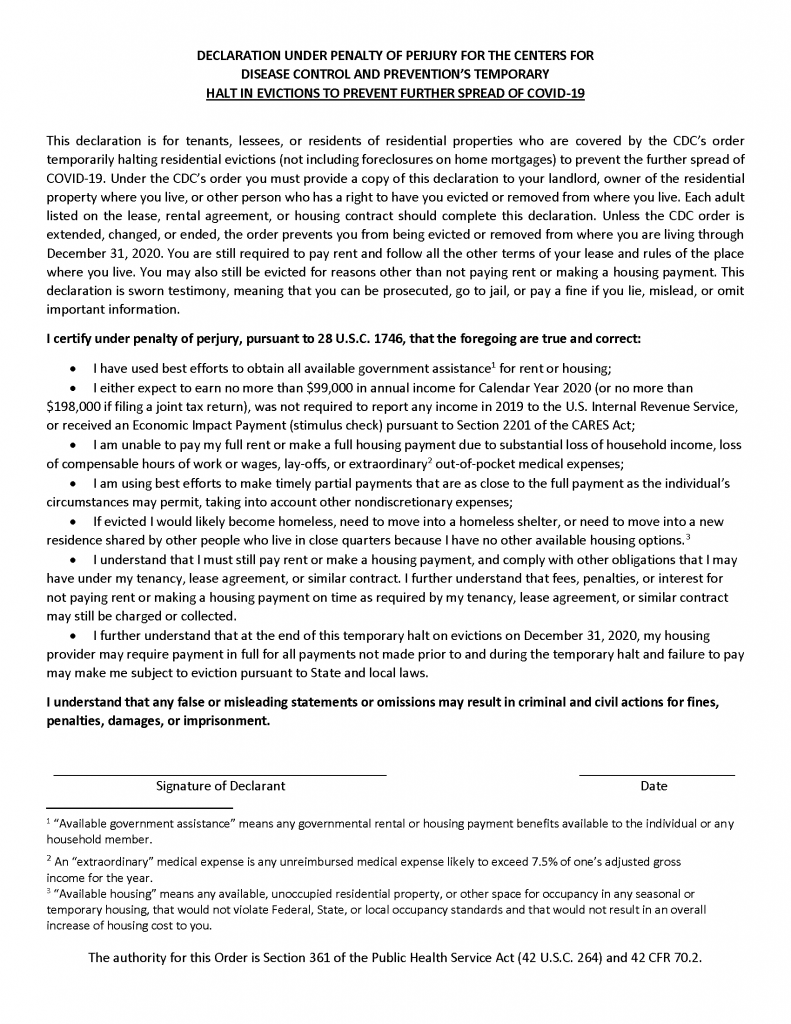 ---
Rapid Re-Housing (for individuals or households 50% AMI, experiencing homelessness)
The Road Home, (801) 359-4142
Rental Assistance (for individuals or households 60% AMI, facing evictions)
Asian Association of Utah, (801) 467-6060
Catholic Community Services, (801) 363-7710
Utah Community Action, (801) 359-2444
Mortgage Assistance (for low-income individuals or households facing foreclosure)
Community Development Corporation of Utah, (801) 994-7222
NeighborWorks Salt Lake, (801) 539-1590
---
---
United Way 211

Find every resource available to you in the State of Utah. Such as food banks, rental assistance programs, and more.
Utah Housing Coalition

Through Education, Advocacy, and Community Partnerships, the Utah Housing Coalition is dedicated to promoting equitable and sustainable communities to ensure all Utahans have a safe and affordable place to call home.
Utah Community Action

Utah Community Action is a nationally recognized provider of comprehensive services for income-eligible families. Their six core programs—Head Start, Adult Education, Case Management & Housing, Nutrition, HEAT, and Weatherization—address barriers to self-reliance to empower individuals, strengthen families, and build communities.
Salt Lake County

Through the HOME Investment Partnership Program funding, Salt Lake County provides 0%-3% loans to help finance (1) the cost of development and construction of rental housing; and (2) the cost of purchase & rehabilitation of existing rental housing projects.
Department of Workforce Services (DWS)
Find assistance for food, child care, medical, financial, disability and unemployment insurance. Additionally, speak to an employment counselor for assistance in finding a new job.

DWS also has funded rental relief programs, and those can be viewed here:
---
COVID-19 Housing Assistance Resources
RENTAL UNITS
SLC, Deferred Business License Fees for Property Owners Who Don't Evict Renters
April 10, 2020, SLC Mayor Erin Mendenhall declared a proclamation that defers 2020 business license fees for rental property owners who do not evict tenants for financial hardship between April 10 and three months after the end of the local emergency. Mayor Mendenhall also suspended City assistance for residential eviction activity unless it is necessary to protect public health and safety.

Landlord Housing Assistance Program (LHAP)
The Housing Assistance Program has been funded by CARES Act Funds awarded to the Utah Legislature and distributed to the Utah Housing and Community Development Division. This program is designed to assist landlords in applying on behalf of their tenants in obtaining or retaining rental housing who have been negatively impacted by the COVID-19 pandemic.
General Program Rules
Landlord Assistance
Rental Assistance will be $2,000 or less per month. Landlord must apply on behalf of tenant(s) monthly. There is no limit to how many times an applicant can be approved within the window of time the program operates.
Rent payments will go directly to landlords.
No rental assistance will be issued after December 30, 2020.
Landlords can apply for this funding through WebGrants.
Property owner or tenant may not receive a duplication of benefit from local, state or federal resources.
Landlords can review the form here and apply with the State of Utah:
HOMEOWNERS
Utah, Mortgage Deferment
Utah Banker Association, possible deferment of mortgage for 3-6 months, individual basis between homeowner and lender, www.utah.bank/home.
---
UTILITIES
CARES Act, LIHEAP, $900 million (Low Income Home Energy Assistance Program).
Rocky Mountain has increased assistance funds to utility assistance organizations.
Rocky Mountain Power and Dominion Energy have suspended disconnection to those facing financial hardships, starting March 12, 2020.
ADDITIONAL RESOURCES
2-1-1, United Way of Salt Lake, community assistance resources, www.211Utah.org.
Utah Housing Coalition, Renters Toolkit, www.UtahHousing.org.
Utah Community Action, Case Management and Housing, and Tenant Landlord Mediation, 801-359-2444, www.UtahCA.org