COVID Housing Assistance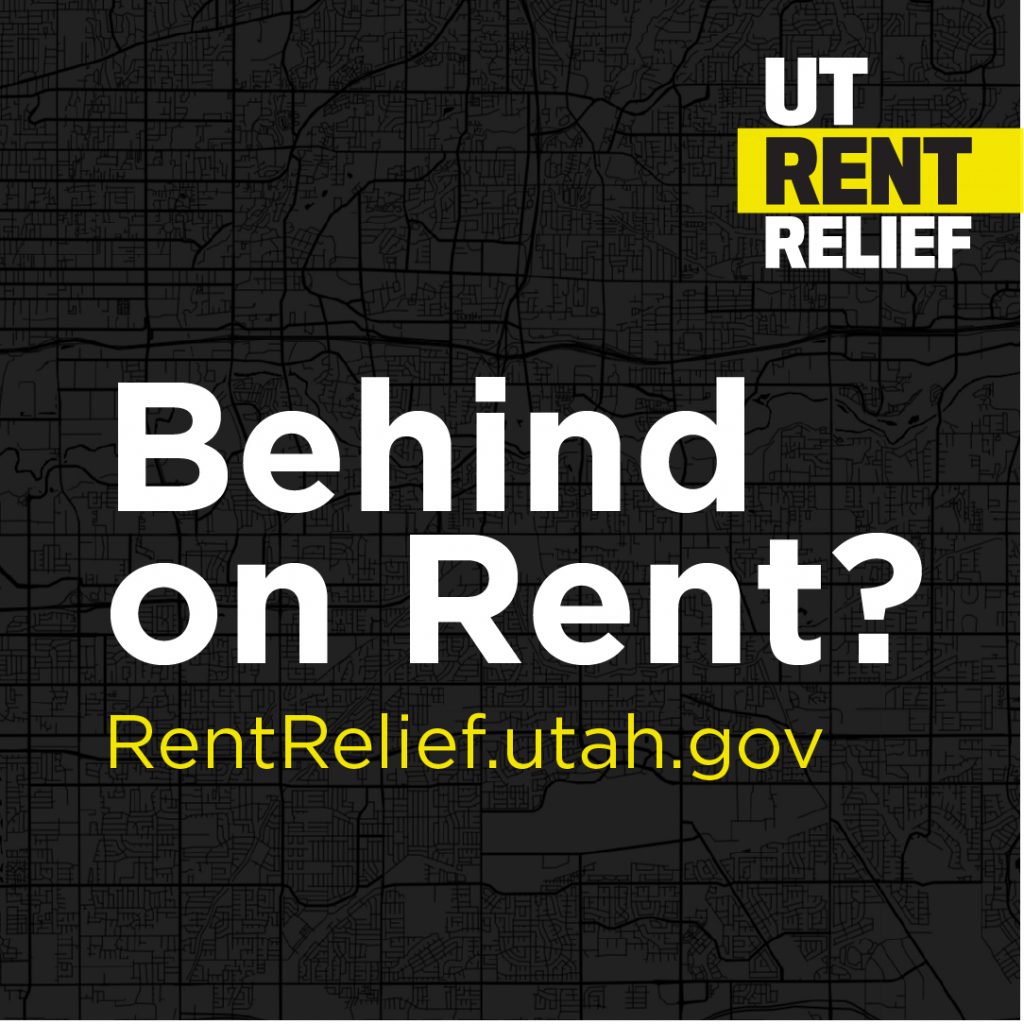 ---
---
Rental Relief
The Emergency Rental Assistance program can help renters who are unable to pay their rent and utilities due to circumstances related to COVID-19.
Eligible households have:
Combined household income at or below 80% of area median income
Someone in the household has qualified for unemployment, or has experienced a reduction in household income, incurred significant costs, or experienced financial hardship due to COVID-19
Household is experiencing housing instability (for example, received a past-due utility or rent notice or eviction notice, or living in unsafe or unhealthy living conditions) due to COVID-19
Applicant resides in the household and is on the lease
Eligible Uses of Funds Provided
Current rent plus 3 months of prospective rent (with a termed lease)
Past-due rent
Eligible fees
Security deposit
Utilities, internet and home energy costs
To apply to the Utah Rent Relief Program please click this link below:
Renters Legal Protections
People's Legal Aid
Peoples Legal Aid provides in-person and virtual training to help people understand their rights as tenants (renters) and the process and defense of a debt collection law suit. Peoples Legal Aid proactively searches for individuals who are facing an eviction or debt collection law suit. They can provide an initial consultation and evaluation of your case, without ever having to worry about receiving a bill from them.

To view their website and available services please click this link below:
Resources for renters and those affected by loss of income or employment
Salt Lake City announced $1.1 million dollars in housing stability assistance for rapid re-housing for individuals experiencing homeless, and rent and mortgage assistance for low-income eligible residents. If you have been impacted by COVID-19 and are unable to pay your rent or mortgage please contact the agencies outlined below to inquire about eligibility, services, and other resources. All of the agencies have Spanish-speaking staff on hand who can translate, as well as other translation services.
Centers for Disease Control (CDC) Eviction Moratorium, Extended to June 30th, 2021
On September 1st, 2020 the Centers for Disease Control (CDC) announced a national eviction moratorium for virtually all tenants in the United States impacted by the COVID-19 pandemic. This has been extended to June 30th, 2021.

This order bans landlords from evicting tenants for non-payment of rent if the tenants have submitted a declaration of income loss or significant medical expense. To fill out the CDC Eviction Protection Declaration, please click this link: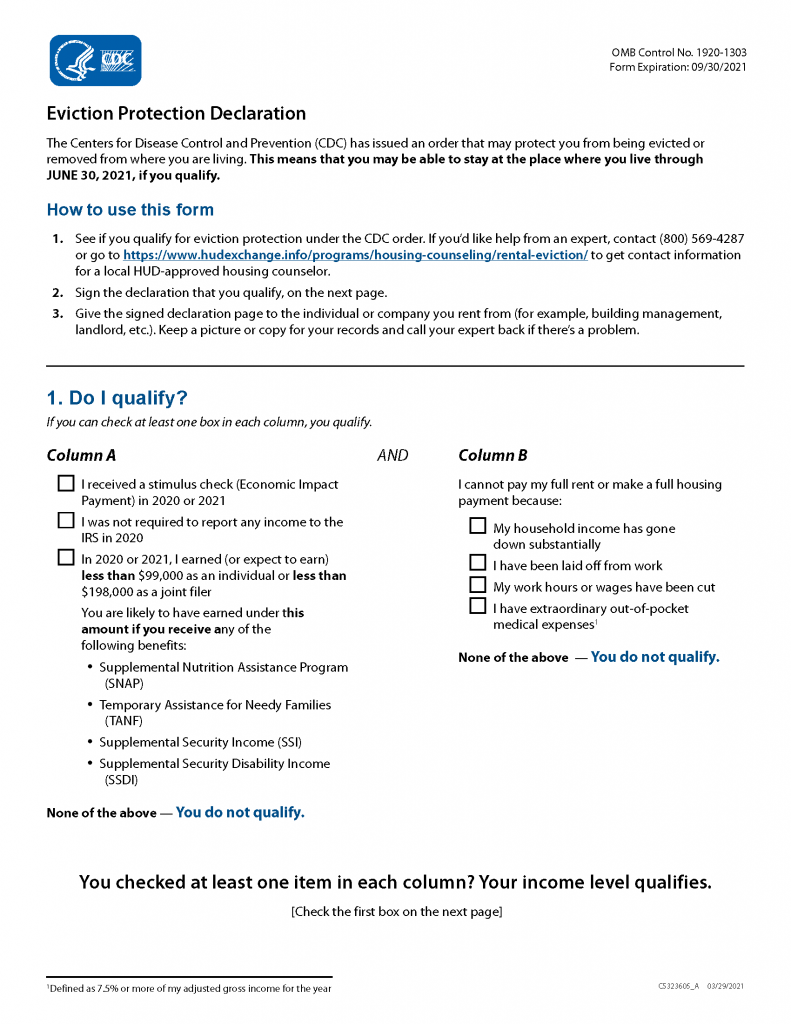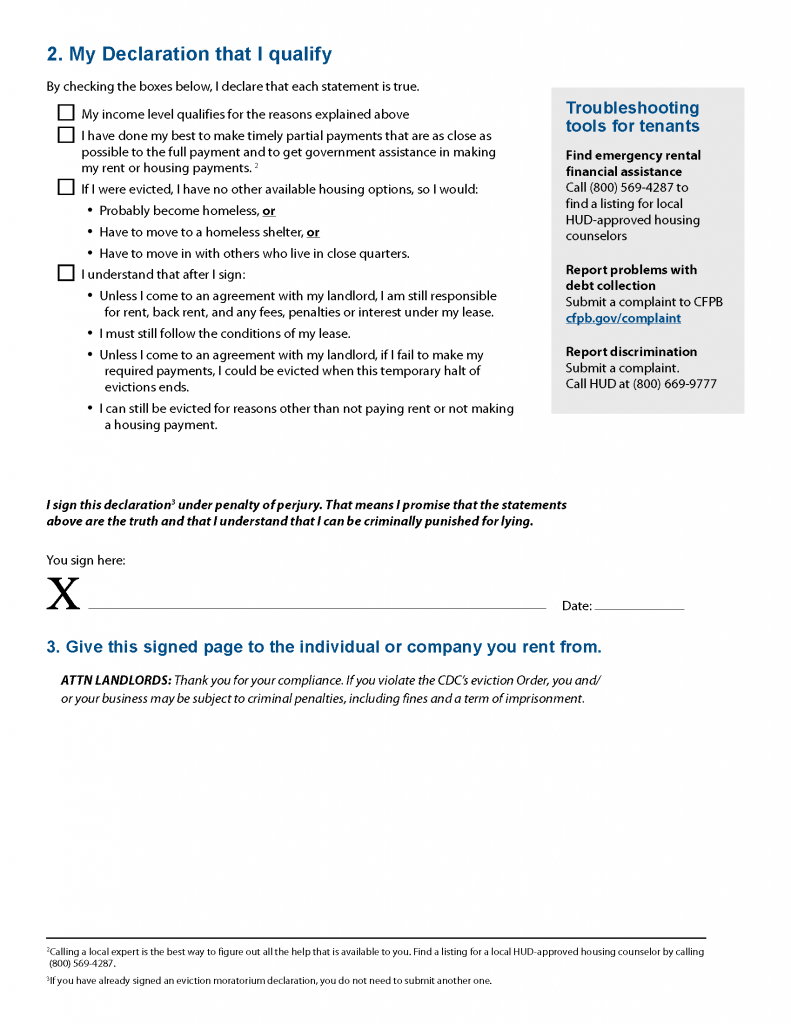 ---
Rapid Re-Housing (for individuals or households 50% AMI, experiencing homelessness)
The Road Home, (801) 359-4142
Rental Assistance (for individuals or households 60% AMI, facing evictions)
Asian Association of Utah, (801) 467-6060
Catholic Community Services, (801) 363-7710
Utah Community Action, (801) 359-2444
---
---
ADDITIONAL RESOURCES FOR RENTERS
Utah Community Action is a nationally recognized provider of comprehensive services for income-eligible families. Their six core programs—Head Start, Adult Education, Case Management & Housing, Nutrition, HEAT, and Weatherization—address barriers to self-reliance to empower individuals, strengthen families, and build communities.
Utah Community Action, Case Management and Housing, and Tenant Landlord Mediation, 801-359-2444, www.UtahCA.org
United Way 211

Find every resource available to you in the State of Utah. Such as food banks, rental assistance programs, and more.

2-1-1, United Way of Salt Lake, community assistance resources, www.211Utah.org.
Utah Housing Coalition

Through Education, Advocacy, and Community Partnerships, the Utah Housing Coalition is dedicated to promoting equitable and sustainable communities to ensure all Utahans have a safe and affordable place to call home.
Department of Workforce Services (DWS)
Find assistance for food, child care, medical, financial, disability and unemployment insurance. Additionally, speak to an employment counselor for assistance in finding a new job.
---
Homeowner Mortgage Assistance Resources
Mortgage Assistance
For Salt Lake City Municipal Residents Only: Households who have experienced a loss of income or been otherwise financially affected due to the pandemic may submit an application for up to $5,000 to cover one to three months of mortgage payments. Households who have under 60% of the area median income (AMI) may be eligible for a grant while those over 60% AMI may be eligible for a 2% low-interest loan. We will determine the amount given to each household based on need, not all households will receive $5,000.

https://www.cdcutah.org/covid-assistance
Qualified Salt Lake City residents may qualify for a grant of up to $5,000, an average of $1,800 per month or three (3) months to cover the cost of their mortgage. An application does not guarantee mortgage payment assistance. You are responsible for any payments due while the application is in process. If you have any questions please email them at admin@nwsaltlake.org or call us at 801-539-1590
---
RENTAL UNITS
SLC, Deferred Business License Fees for Property Owners Who Don't Evict Renters
April 10, 2020, SLC Mayor Erin Mendenhall declared a proclamation that defers 2020 business license fees for rental property owners who do not evict tenants for financial hardship between April 10 and three months after the end of the local emergency. Mayor Mendenhall also suspended City assistance for residential eviction activity unless it is necessary to protect public health and safety.