Meeting People Where They're At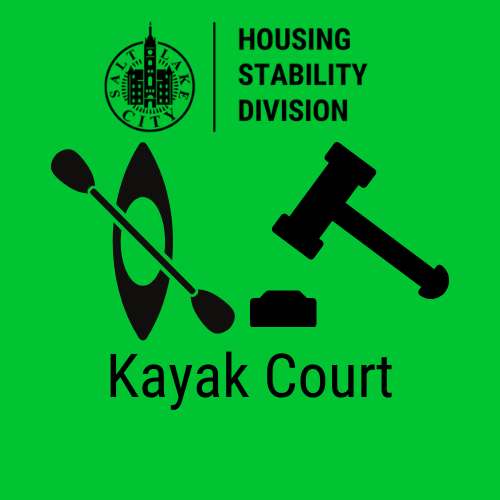 Salt Lake City Housing Stability is working with our community partners to provide legal and court services, through outreach and relationship building, to homeless individuals living on the Jordan River.

Salt Lake City Justice Court Judge Jeanne Robison has graciously volunteered her time to help those in vulnerable living situations have access to free legal proceedings. Judge Robison kayaks down the river with a group of prosecutors, defense attorneys, and judicial assistants. Social workers from Volunteers of America (VOA) and staff from the Salt Lake City Homeless Engagement and Response Team (HEART), ride ahead of the group on bicycles to reach out to the individuals living on the river and introduce the Judge and her staff.
Along with the Salt Lake City Justice Court staff, and Volunteers of America, there are other key community partners. The Jordan River Commission, which provides the kayaks and canoes; GREENbike, which offered up its bikes for the outreach. Along with volunteer prosecutors and defense attorneys. – Without these partnerships Court services are being offered to homeless clients living along the Jordan River could not occur.
Andrew Johnston, the director of homeless services and outreach for Mayor Erin Mendenhall's office, said it may be the first time such an approach has been tried by the judicial system in the state.
"When you go out and meet them where they're at, they feel more comfortable, it helps them with the anxiety piece. Being able to meet with the judge, at your camp, on the river, be reassured about some things that can be handled here and we can do it in a way that will be worth it for you to get back on your feet, that's a huge deal for a lot of folks."


For Inquiries About the Program Please Reach out to the Housing Stability HEART Team

Michelle Hoon
HAND Project & Policy Manager
michelle.hoon@slcgov.com
801-535-7941

Or

Allison Dupler
Community Engagement Coordinator
allison.dupler@slcgov.com
385-258-6283
Please Refer to the Recent News Articles for More Details About Kayak Court
CNN: https://www.cnn.com/2021/08/01/us/kayak-court-salt-lake-city-utah-trnd/index.html

Salt Lake Tribue: https://www.sltrib.com/news/politics/2021/07/27/kayak-court-brings/

Fox 13 News: https://www.fox13now.com/news/local-news/kayak-court-takes-legal-services-down-the-jordan-river-to-people-experiencing-homelessness