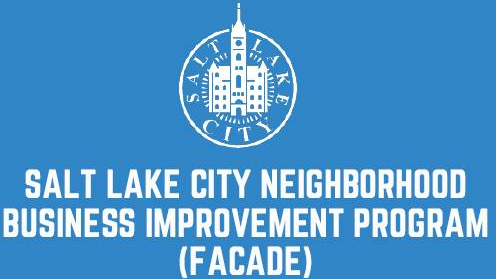 The Neighborhood Business Improvement Program (NBIP) is one of the resources offered by Salt Lake City's Housing Stability to strengthen the City's neighborhoods. Housing Stability utilizes federal funding to support local businesses by offering up to $25,000 in grants to improve their façades. Increasing the street appeal of small businesses located within the City positively affects the surrounding neighborhoods through increasing the visual appeal of neighboring commercial areas and boosting the economy on a local level.
Eligibility requirements include, but are not limited to:
1) Applicants must have for-profit commercial buildings with facades visible from the street. Preference will be given to small and local businesses.
2) Projects must be located within Salt Lake City's NBIP's Target Area. Projects on both sides of the street are eligible. Neighborhoods include: Fairpark, Jordan Meadows, Poplar Grove, Downtown, Central 9th, Ballpark, Central City, Liberty Well, and Glendale
Fiscal Year 2022 NBIP Request for Grant Applications (RFGA)
Applications will be accepted from July 01, 2021 – July 31, 2021. No late applications will be accepted. Grants will be awarded roughly one month after the application period closes. Grant funds must be utilized during the contract period which will end June 30, 2022.
The application period for FY22 is now closed.
---
To Watch a NBIP Application Overview Process Please Watch the Following Video
---
Learn How to Apply For Salt Lake City's NBIP (Facade) Application on Zoomgrants
If you're a business and would like to apply for our NBIP (Facade) Grant, please feel free to attend this training, Monday, July 19th, at 3:30 pm.

This meeting will cover:
Brief overiew of the NBIP Guidelines
Application Process
How to apply on the ZoomGrants website

This is a live training and you'll be able to ask any grant-related questions.

To join the meeting please click the Microsoft Team's link below:
https://teams.microsoft.com/l/meetup-join/19%3ameeting_MDgzOGZlM2ItNmIyZC00MTMxLWI1NDItOWMwMzg5NTA2YTI4%40thread.v2/0?context=%7b%22Tid%22%3a%229fa2c952-dd50-4b06-ba6a-4b9bd7adda03%22%2c%22Oid%22%3a%227d149c4d-d5af-48c0-8547-aab9f6cfb583%22%7d
---

For questions about the NBIP or application process please contact:
Taylee Foulger
taylee.foulger@slcgov.com
385-377-9275

---
Use the map below to view if your business falls into the CDBG West Side Target Area for 2020-2024
---
To view 2015-2019 Facade recipients please review this map.