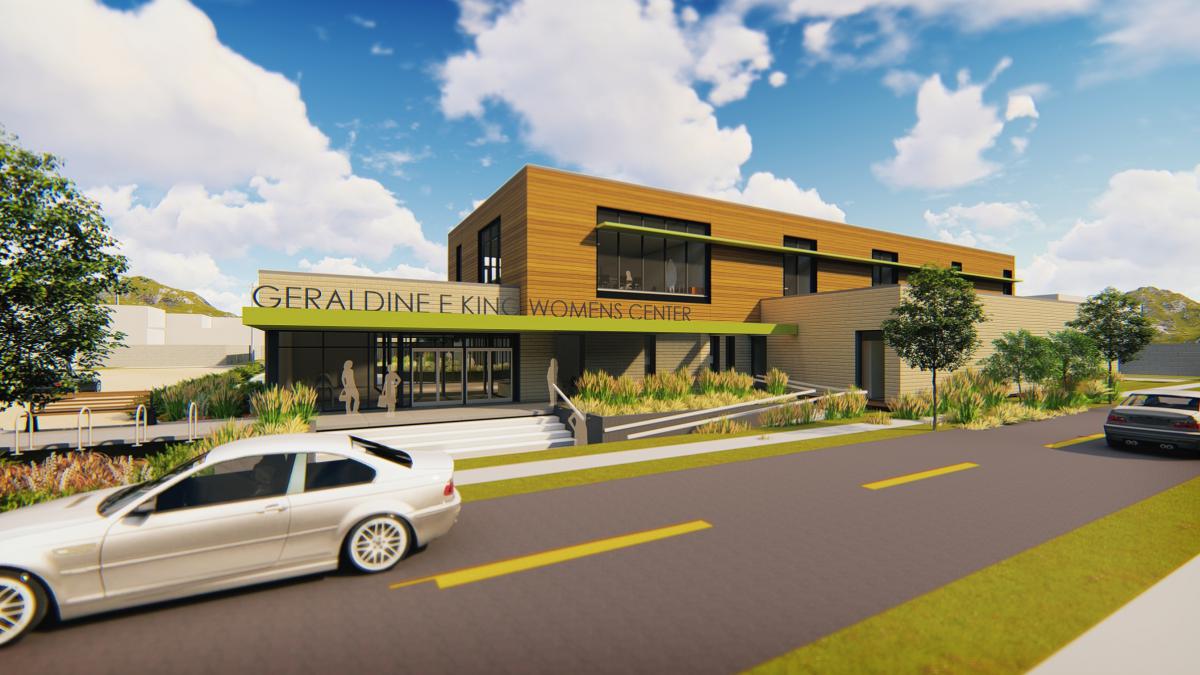 Homeless Services Resource Centers
Homeless Services Resource Centers
Since December 2014, Salt Lake City has been working to identify sites for new centers to serve individuals experiencing homelessness in Salt Lake City.
After an extensive, criteria-driven site selection process, two sites were selected by Mayor Jaqueline Biskupski and the Salt Lake City Council and announced to the public on February 24, 2017: 131 E 700 S and 242 W. Paramount/275 W. High Avenue.
On November 28, 2017, City Council updated the City's zoning ordinance for homeless resource centers.
Shelter the Homeless has submitted conditional use applications to the City's Planning Division for the two resource center sites.
Following public engagement that included presentations to neighborhood community councils, open houses and an online survey, the Salt Lake City Planning Commission held a Public Hearing on March 28, 2018 to review the applications for the proposed resource centers to be located at 131 E 700 South and 275 W High Avenue/ 242 W Paramount Avenue respectively. Public comments were taken at this meeting.
At the meeting of March 28, 2018, following the Public Hearing, the Planning Commission voted to approve the application for the women's homeless resource center which is now located at 131 East 700 South.
Following the Public Hearing for the application on the proposed homeless resource center to be located at 275 W High Avenue/ 242 W Paramount Avenue, the Planning Commission tabled a decision on the application until their April 11, 2018 meeting in order for staff and the Salt Lake City Police Department to address some issues with the application that were identified through the public process. At the Planning Commission held on April 11, 2018, the Commission voted to approve the application for the homeless resource center to be located at 275 W High Avenue/ 242 W Paramount Avenue.
The Planning Commission meeting agenda, staff reports and other related documents for the March 28, 2018, and April 11, 2018 meetings can be accessed here.
• The full Homeless Resource Center Development Process.
---
Geraldine E. King Resource Center
The resource center is the first Salt Lake County and Salt Lake City's efforts to reform the majority of Utah's homeless services system, the aim of which is to separate the homeless population previously served downtown location into smaller shelters at scattered sites. Resource Center's where women, men, and families can get services unique to their needs.

The Geraldine E. King Women's Resource Center provides emergency shelter to 200 homeless women in and around Salt Lake City a night. Beyond providing safe emergency shelter, this facility provides essential basic needs such as meals, clothing, hygiene items, a place for female clients to wash clothes and shower, as well as a welcoming environment for service animals.
News Coverage
Deseret News: Ribbon Cutting
KUTV News: Ground Breaking
ABC 4 News: Resource Center Opening
AJC Architects: Virtual Tour
---
Gail Miller Resource Center
As part of the open house, Harris Simmons, Shelter the Homeless Board Chair; Matt Melville, Catholic Community Services Director of Homeless Services; Amy Hawkins, Ballpark Community Council Chair; and Gail Miller, Larry H. Miller Group of Companies Owner and Chairman all shared their thoughts on the impact that this resource center will have on Utahns experiencing homelessness and the local community.
"Today is an important milestone, but it is not the end. It is the beginning," Miller said. "As neighbors, businesses and congregations, we need to continue to support the resource centers and the people who come here for help."
The Gail Miller Resource Center will provide 200 beds for homeless men and women in the community, as well as on-site supportive services to help those experiencing homelessness resolve their immediate crisis and rapidly return to stable housing.
Catholic Community Services, which will operate the new resource center, is in need of toilet paper, socks, towels, new adult underwear and ongoing volunteer needs. For more information on how you can donate or volunteer, please visit www.ccsutah.org.
News Coverage
---
131 East 700 South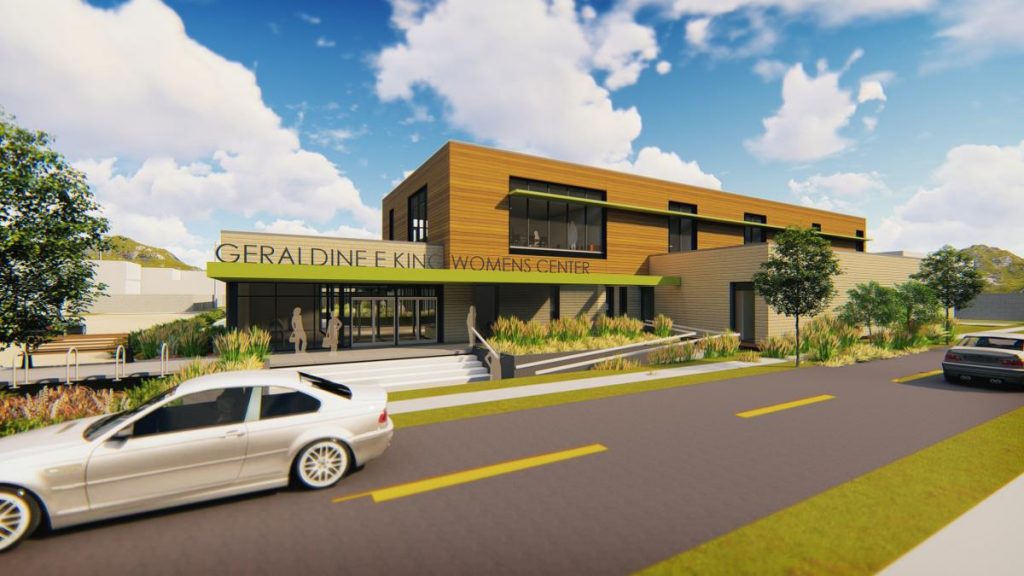 Located near established services
Integrated into Downtown Salt Lake City
Well served by transit
Mid-block location supports a secure site
242 W Paramount/275 W High Avenue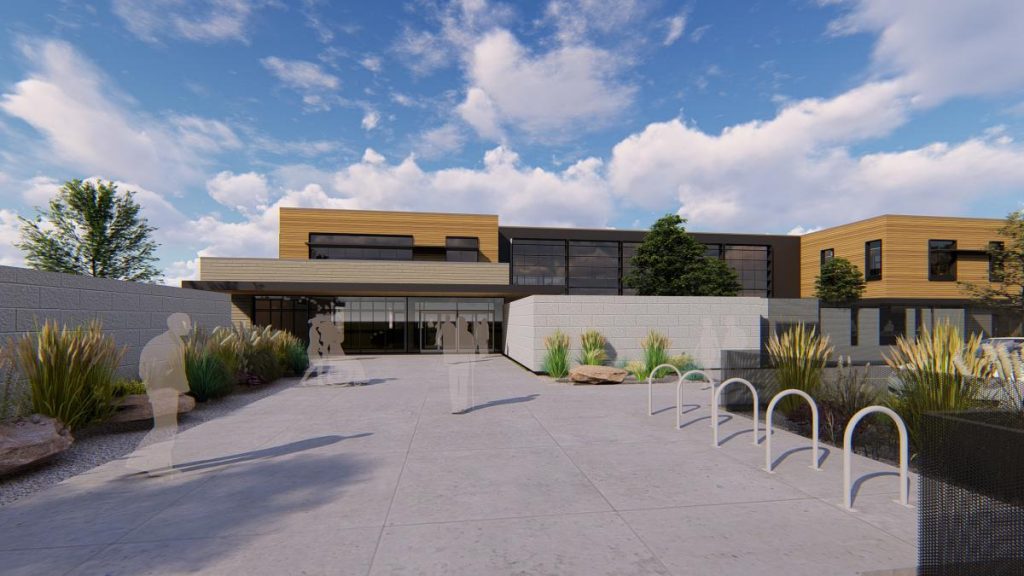 Located in a mixed-use neighborhood with easily accessible services and employment opportunities
Bus and light rail connections are within walking distance
Large site allows for creative design
---
The new resource centers are secure, limited in size (200 persons), have critical services inside the facility, and support the "scattered site" model adopted by the City, County, State, and service providers.
The goal of the "scattered site" model and the new resource centers is to break up the population currently being served in Salt Lake City in order to better support the needs of specific populations. Through case management, and tailored client services, the resource centers will help move individuals from homelessness to housing.
Salt Lake City's ultimate goal is to reduce the overall number of shelter beds through better access to affordable housing and critical services.
Addressing homelessness in our community requires efforts from many groups and governmental organizations. In 2020, the Community and Neighborhoods (CAN) Department and Housing Stability Division partnered with a consultant team to create a plan that aims to identify needs within the two neighborhoods in Salt Lake City that are home to new homeless resource centers. Read the plan below.
For more information about the homeless resource centers, please visit the Shelter the Homeless website at: https://homelessutah.org/resource-centers.
Document library
| | |
| --- | --- |
| Document Name | Description |
| Property Evaluation/Selection | |
| 1385 South State Street (Sept. 2016) | Potential Site Score Sheet |
| 444 South Main Street (Sept. 2016) | Potential Site Score Sheet |
| 648 West 100 South (Sept. 2016) | Potential Site Score Sheet |
| 1146 South Redwood (Sept. 2016) | Potential Site Score Sheet |
| 210 Rio Grande (Sept. 2016) | Potential Site Score Sheet |
| 1740 South 300 West (Sept. 2016) | Potential Site Score Sheet |
| 258 West 700 South (Sept. 2016) | Potential Site Score Sheet |
| 1338 South Jefferson Street (Sept. 2016) | Potential Site Score Sheet |
| 1528 West North Temple (Sept. 2016) | Potential Site Score Sheet |
| 171 North Redwood Road (Sept. 2016) | Potential Site Score Sheet |
| 657 West South Temple Street (Sept. 2016) | Potential Site Score Sheet |
| 1714 South 500 West (Sept. 2016) | Potential Site Score Sheet |
| 850 South 300 West (Sept. 2016) | Potential Site Score Sheet |
| 998 South State Street (Sept. 2016) | Potential Site Score Sheet |
| 820 South West Temple Street (Sept. 2016) | Potential Site Score Sheet |
| 643 South 400 West (Sept. 2016) | Potential Site Score Sheet |
| 431 South 300 East (Sept. 2016) | Potential Site Score Sheet |
| 160 West 2100 South (Sept. 2016) | Potential Site Score Sheet |
| 202 West 400 South (Sept. 2016) | Potential Site Score Sheet |
| 13 South 1000 West (Sept. 2016) | Potential Site Score Sheet |
| 10 South 800 West (Sept. 2016) | Potential Site Score Sheet |
| Potential Sites Presentation | Presentation of potential sites as of October 25, 2016. |
| Facilitation Posters | Property information boards used during potential site selection facilitation with Homeless Services Site Evaluation Commission. |
| HSSEC Facilitation Agenda | Agenda and outline of the Homeless Services Site Evaluation Commission site selection facilitation. |
| HSSEC Facilitation Report | Summary report of feedback received at potential site selection facilitation. |
| Resource Center Site Selection Packet | Presentation of potential sites – November 3, 2016. Used to develop property boards. |
| Potential Site Property Ranking | List of potential sites and "ranking" – October 2016. |
| Site Announcement | |
| Press Conference Presentation | Presentation to the press prior to the announcement – December 13, 2016. |
| Press Packet | Packet provided to press at site announcement meeting – December 13, 2016. |
| General Documents | |
| HRC Acquisition Fact Sheet | Information about acquisition of the four sites for homeless resource centers. |
| Criteria Map | List of criteria used to assist with site search and map showing the buffered areas. |
| Zoning Amendment Application relating to Qualifying provisions | Currently, homeless shelters are allowed subject to approval of a conditional use permit (21A.54- Conditional Uses). The text amendment would create qualifying provisions that must be met, in addition to the conditional use process, in order for a homeless resource center to be approved. Details and status of Petition PLNPCM201-00910 can be view by clicking here. |
| 6 Point Strategy | Strategies developed by Salt Lake City in 2015 to guide the city's efforts in homeless services. |
| HSSEC Scattered Sites Scenario Resolution | Report and summary of the Scenario Resolution to the Homeless Services Site Evaluation Commission – December 2015. |
| Success Criteria | List of the Criteria for Success developed by the Homeless Services Site Evaluation Commission. |
| Resource Center Process | Basic summary chart of the homeless resource center site selection and development process |
| Comprehensive Report on Homelessness State of Utah 2016 | The State of Utah Department of Workforce Services, Housing and Community Development Division, 2016 Comprehensive Report on Homelessness in Utah. |
| Affordable Housing Assessment and Plan State of Utah 2016 | Provides information on the affordable rental housing needs of low-income Utahns. |
| Salt Lake County Collective Impact on Homelessness Endorsement of Shared Vision and Outcomes | Resolution of the Collective Impact on Homelessness Steering Committee. |
| Engagement Reports/Documents | |
| Homeless Resource Center Workshop Summary January 2017 | Summary report of the January 2017 Homeless Resource Center Workshops |
| Summary of Neighborhood Engagement Workshops Summer 2016 | Summary of engagement workshop conducted early summer 2016. |
| Where We Are Now graphic | Graphic illustration of process used in June 2016 workshops. |
| What We Heard | Graphic illustration of the engagement summary report and discussion of the June 2016 workshops, presented to the Homelessness Services Site Evaluation Commission. |
| Roles and Responsibilities Handout – January 2017 Open House | Contact sheet for Salt Lake City and Salt Lake County with discussion of the roles and responsibilities of each. |
| Land Use Development Process Handout – January 2017 Open House | Land Use process illustration and narrative about the process. |