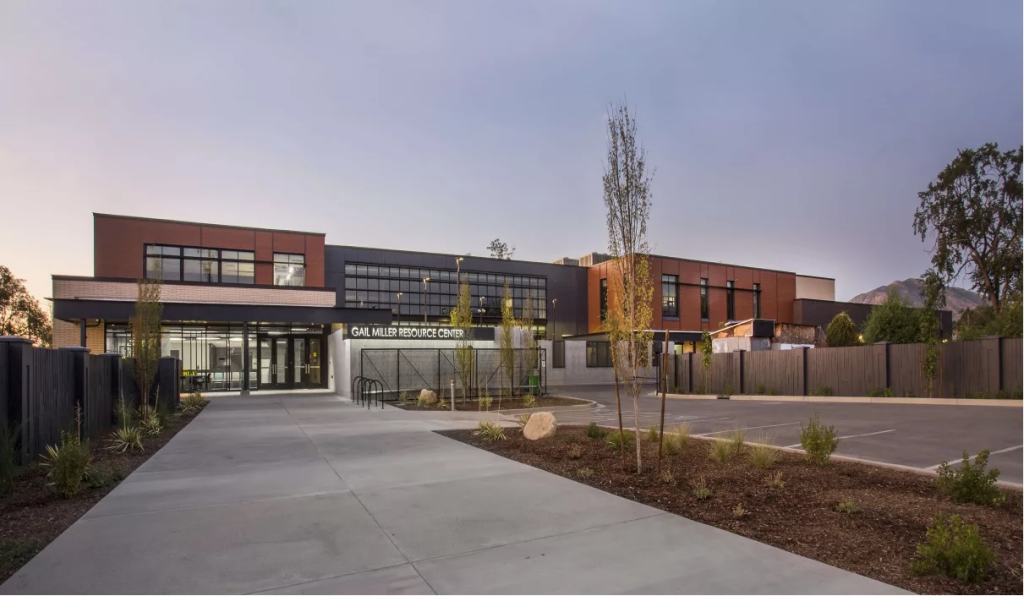 Homeless Services
A Guide to SLC's Response/Referral Process About People Experiencing Homelessness.
Please click this link below that illustrates what services to call when you have a question about resources and options for people experiencing homelessness.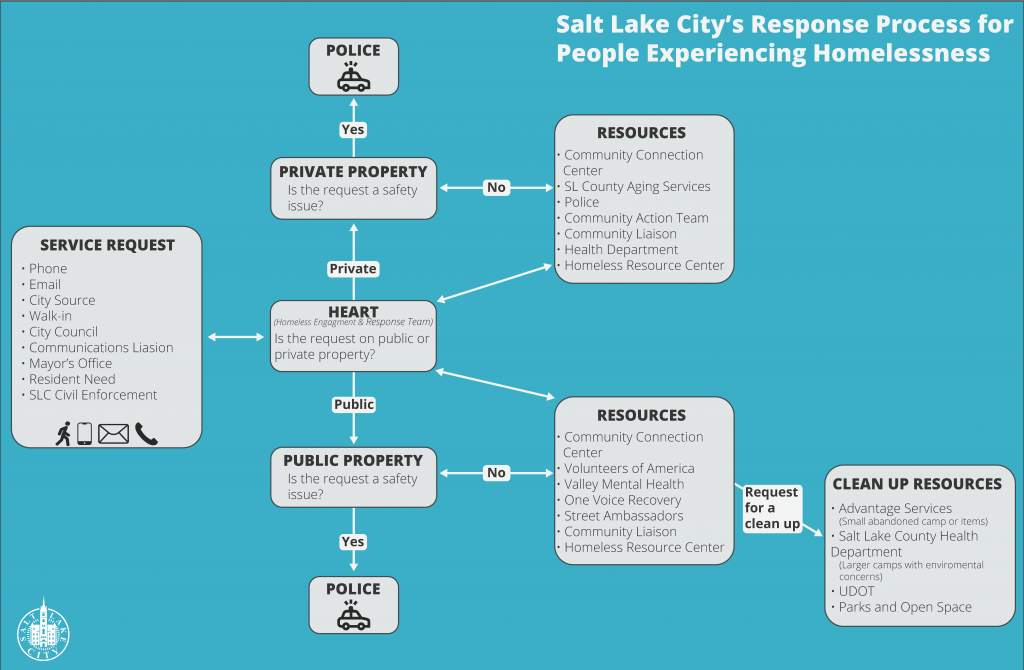 Homelessness Response and Referral Download-PDF
---
Community Commitment Program
Community Commitment Program
As Utah's capital, we understand and embrace the fact that Salt Lake City will always be the nexus of services and opportunities for individuals experiencing homelessness, no matter the reason. In recent years, the City annually allocated over $15 million toward providing homeless services. This includes grants to service providers, emergency response and neighborhood cleanup. In addition, we have invested in our Homeless Response and Engagement Team (HEART), which responds to community concerns. In January 2020, the City also worked with Salt Lake County and homeless service provides to open an emergency winter overflow shelter in a city-owned facility.
As Utah faces unprecedented population growth and a rising cost of living accompanied by stagnant wages and a low minimum wage, Salt Lake City is also committed to developing and maintaining affordable housing. Over the past four years more than $64.1 million has been invested in housing and is working to update its zoning codes to allow for greater housing diversity and density. Some 2,539 affordable units were under construction or online in recent years, including 448 units constructed during the 2019/2020 fiscal year. We want Salt Lake City to be home to people across the demographic and socio-economic spectrum.
There are many factors that have contributed to our current situation, including:
The closure of the downtown shelter and transition to the Homeless Resource Center model, which changed the way individuals access emergency shelter beds. This created a perception that it is difficult to find shelter because overall there are fewer beds. Following Operation Rio Grande, the goal was to make 275 treatment beds and 381 permanent supportive housing beds available. That has not yet come to fruition.
The COVID-19 heath crisis has impacted the number of people the HRCs can serve. Many individuals are also concerned about the elevated risk contracting the virus in a shelter setting.
COVID-19 has also had severe economic impacts for man people who were already living paycheck to paycheck, creating greater housing insecurity
The temporary or permanent closures of downtown businesses due to COVID-19 has significantly reduced the number of people who work in or visit Salt Lake City's downtown each day. This reduction serves to increase the visibility of the unsheltered community.
Many of the public and private businesses that once provided respite for people during the day are currently close.
To learn more please visit our Community Commitment Program page.
---
COVID-19 Homelessness Services Update
COVID-19 Homelessness Services Update
With the spread of COVID-19, we want to ensure that everyone working in the field serving people experiencing homelessness has the ability to review the most up to date information.

If you're worried about whether you, your client(s), or your staff may have COVID-19, please call the Utah Corona Virus Information Line at :1-800-456-7707.

If you are homeless or a homeless services provider please review this link for a detailed resource list:
https://endutahhomelessness.org/covid-19-information/
---
Salt Lake City Homeless Resource Centers
Homeless Resource Centers
Geraldine E. King Women's Resource Center
The Geraldine E. King Women's Resource Center provides emergency shelter to 200 homeless women in and around Salt Lake City a night. Beyond providing safe emergency shelter, this facility provides essential basic needs such as meals, clothing, hygiene items, a place for female clients to wash clothes and shower, as well as a welcoming environment for service animals.

Address: 131 E 700 S, Salt Lake City, UT 84111
Hours: Open now 
Phone: (801) 893-6678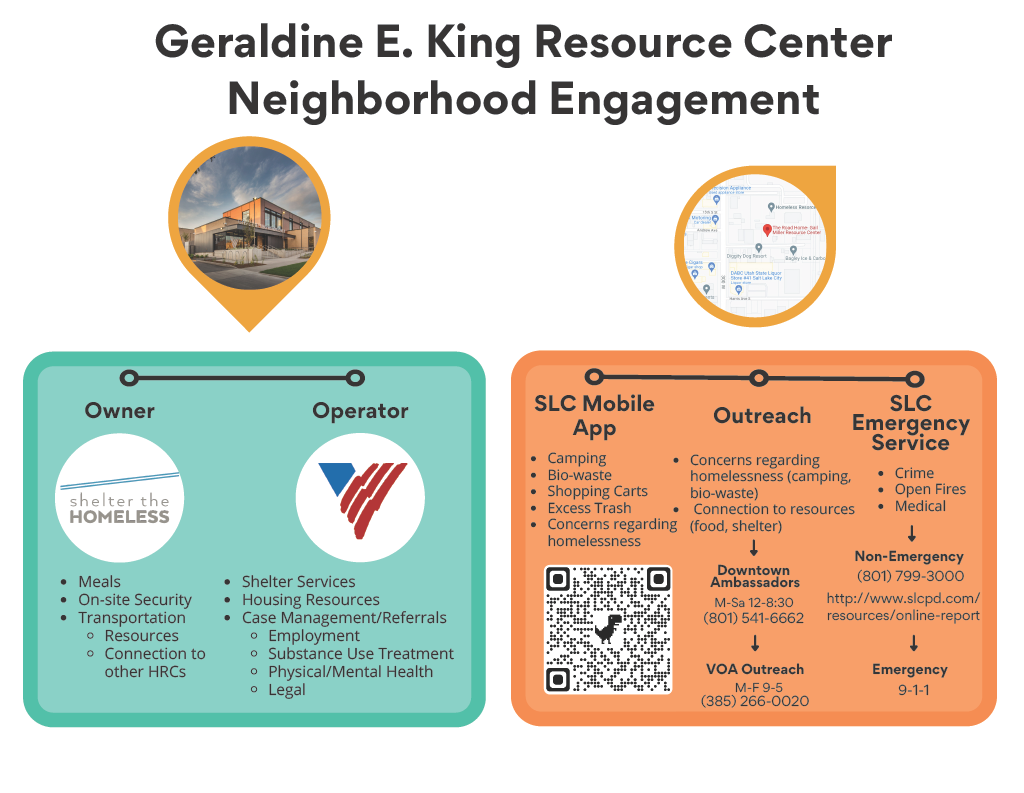 ---
The Gail Miller Resource Center
The Gail Miller Resource Center provides 200 beds for homeless men and women in the community, as well as on-site supportive services to help those experiencing homelessness resolve their immediate crisis and rapidly return to stable housing. Available services include meals, clothing, hygiene, and a welcoming environment for service animals.
Address: 242 Paramount Ave, Salt Lake City, UT 84115
Hours: Open now
Phone: (801) 328-1894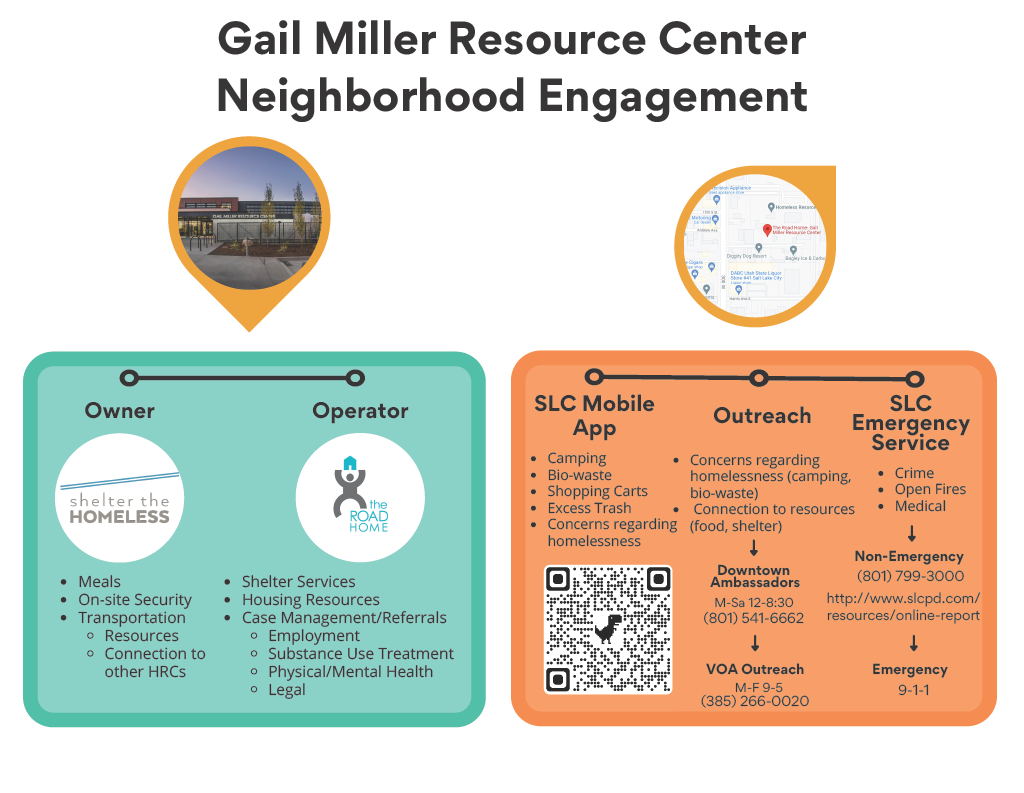 ---
Homeless Resource Center Virtual Tour
To get a virtual tour of what the two Homeless Resource Center's in Salt Lake City look like please watch the video below.