2100 South (State St. to 700 E) Surface Treatment 2020
---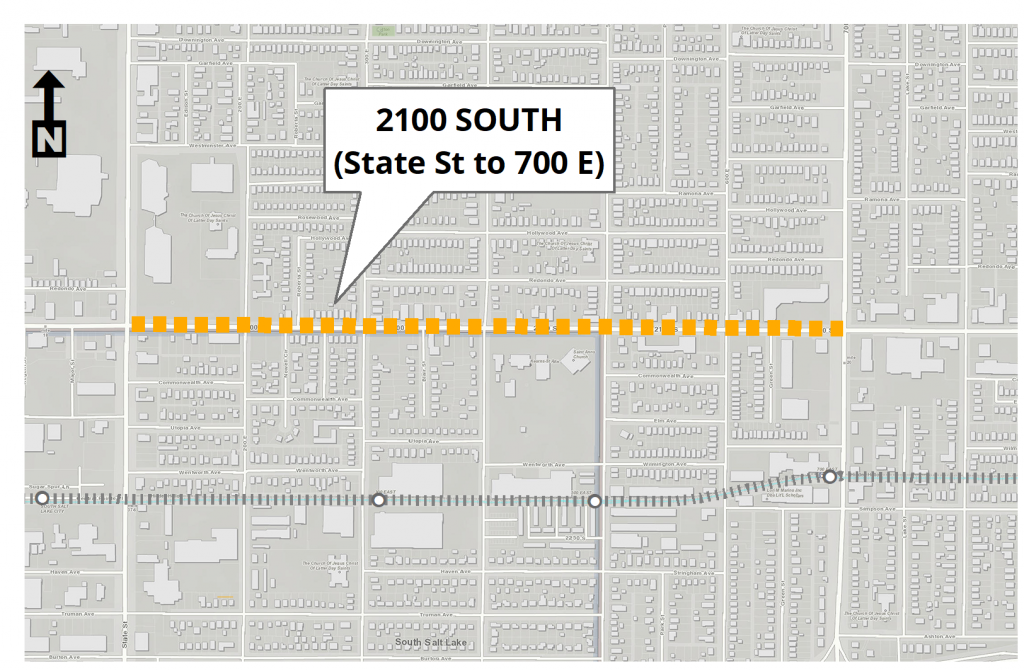 This street will receive a surface treatment in the summer of 2020. Access & parking will be restricted for maximum 6 daytime hours on 1-3 days.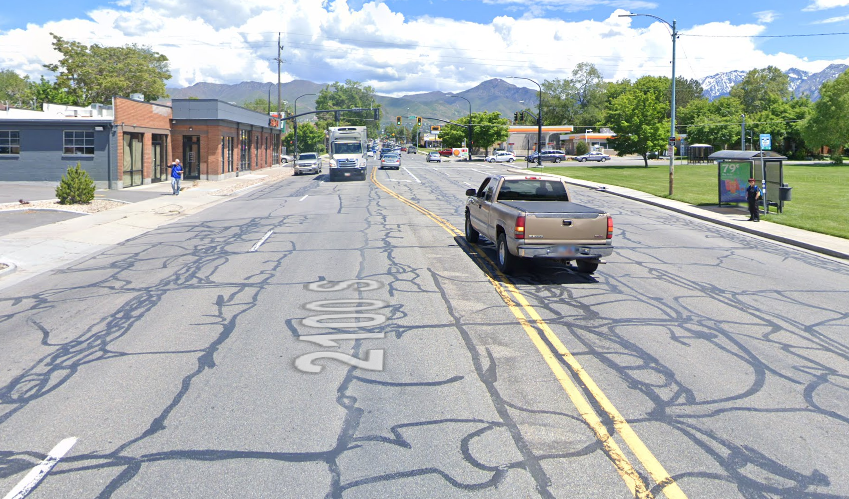 ---
Community Input About This Street
In Spring 2020, Salt Lake City gathered community input for possible changes to 2100 South; our major takeaways from our survey are summarized below.
While the scope of this project is to resurface the street and address potential improvements achieved through restriping, the survey asked a variety of questions that helps the City better understand how people use the street, challenges they experience, and things they enjoy about the street. While not all issues and feedback can be addressed through this specific project (and may not be relevant to street and transportation projects), this community input provides context, helps identify themes, and can inform future projects.
Common themes in the survey responses:
Respondents had few positive things to say about the corridor.

From the perspective of people who drive the corridor, the pavement is in poor condition, there is traffic congestion, and the lack of turn lanes contribute to weaving and unsafe turn maneuvers.

From the perspective of people more interested in walking and biking, it is generally an unpleasant corridor due to a combination of factors, including:

high traffic volumes, fast moving and noisy traffic

narrow sidewalks in disrepair

visual blight from auto-oriented street, poorly maintained properties, and billboards

crosswalks feel unsafe due to poor driver compliance

Several comments suggested that even with bike lanes, it would be uncomfortable to use with potential for serious injury. It was frequently noted the nearby S-Line pathway is a preferred option for active modes.
Small changes won't be enough to achieve transformations needed to make this a more hospitable corridor.
Thank you to everyone who took the survey!
---
Draft Design
The survey helped inform our Draft Design which can be viewed below. Comments on the Draft Design from the public were accepted for several weeks (ending on May 10, 2020).
The draft design would modify the pavement striping to fit a continuous center turn lane. This also enables installation of left turn lanes at 400 East. In order to fit the left turn lanes, on-street parking will be removed.
Important Note: All on-street parking on 2100 South between State Street and 700 East would be removed with the Draft Design.
Draft Design – Plan View
Draft Design – Cross-Section View
As a comparison, below is a cross-section of the existing conditions.
Existing Conditions – Cross-Section View
---
Final Decision
Thank you to everyone that provided comment on this project. After a review of the comments and a detailed traffic evaluation, the Project Team has decided not to make changes to the existing pavement markings.
We considered various alternatives that included various combinations of a continuous center turn lane, left turn lanes at intersections, bike lanes, and parking modifications. Ultimately, the resurfacing project has a specific purpose of pavement maintenance, and in this instance does not offer an opportunity to introduce more transformative improvements to the corridor.  With the recent kick-off of a major regional Circulation Study for Sugar House / Mill Creek / South Salt Lake, we prefer to take more time to evaluate potential changes to 2100 South in a coordinated plan.
Thank you for your input through the questionnaire and emails. We genuinely value your guidance as we work to maintain and improve our City's infrastructure.
For those of you directly on 2100 South, our Streets Department will notify you on specific timing and temporary parking restrictions.
---
What is next?
To be added to the project email list for future input and design updates, please send "updates for 2100 South – State to 700 E" to streetresurfacing@slcgov.com.
| | | |
| --- | --- | --- |
| | Early Spring 2020 | Project Announcement and community input. |
| | Spring 2020 | Draft conceptual design available for community input. |
| | 3-4 weeks before surface treatment | Notice of final design circulated along with information about what to expect on the 1-3 days when the surface treatment work will affect use of this street. |
| | Summer 2020 | Surface treatment and restriping by SLC Streets Division. |
---
Timeline
---
Contact
---
Funding Our Future
Increased pavement maintenance is one of the projects funded through the Salt Lake City Funding Our Future initiative.