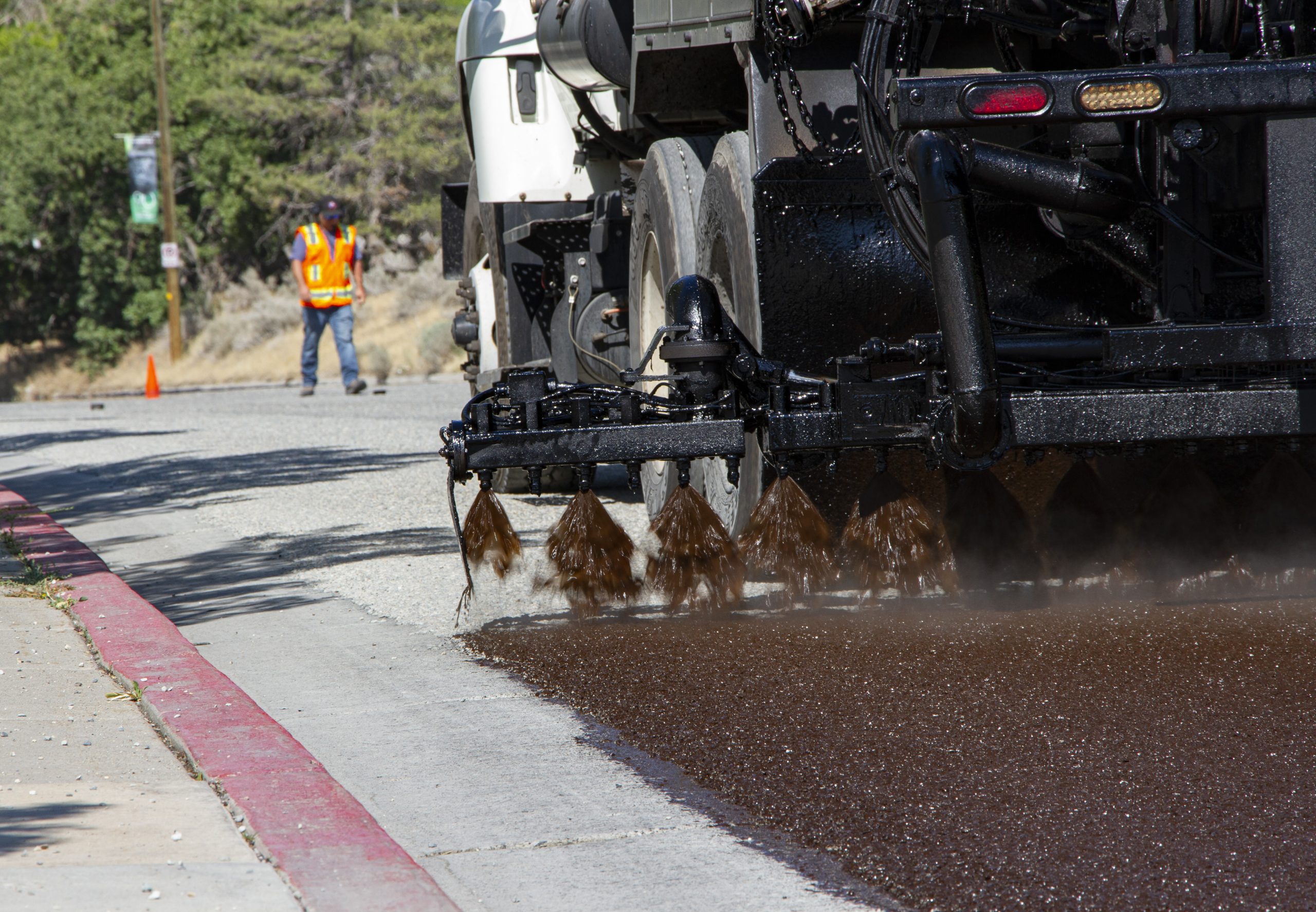 2022 Surface Treatment Projects
Overview
In 2022, multiple Salt Lake City streets received a surface treatment. These surface treatments, which are completed over just a few days, help to prolong the life of the entire street network.
In some instances, streets are identified for evaluation by the Transportation Division as candidates for possible striping changes. These "highlighted projects" undergo a detailed evaluation to determine if the resurfacing effort is an appropriate mechanism for making a transportation network change on the roadway. These highlighted projects are guided by a technical analysis, feedback from stakeholders and the public, as well as many Master Plans; master plans detail the vision and policies that guide things like growth and development. City transportation and street projects in particular are guided by the 2015 Pedestrian and Bicycle Master Plan which provides a guiding framework, recommendations, and policies for the development of pedestrian and bicycle facilities and improvements. In keeping with the City's Complete Streets Ordinance, the plan addresses walking and bicycling as integral to the City's transportation systems, while also recognizing the significant health, fitness, and recreational aspects.
Check out the map of all 2022 surface treatment projects, as well as highlighted projects in dropdowns, below.
---
Highlighted Projects
The following surface treatment roads have been identified for potential striping changes. Learn more about these projects in the dropdowns.
Avenues Streets (B St, 3rd Ave, 11th Ave, Terrace Hills)
In 2022, Salt Lake City will resurface (or slurry seal) several streets in the Avenues neighborhood, including:
B Street (1st Avenue to 11th Avenue)
3rd Avenue (E Street to Virginia Street)
11th Avenue (B Street to Terrace Hills Drive)
Terrace Hills Drive (11th Avenue to the northern terminus)
These exciting projects offer everyone the opportunity to reimagine our streets. A slurry seal is thinner than a chip seal and provides a blank slate and opportunities to rethink the striping for travel lanes, turn lanes, bike lanes, and parking.
The City would like to hear from you about what you would change about the signs and paint on these four streets. Please use the comment form below to provide input. For example, you might want to change where parking is allowed or restricted, the types of bike lanes, speed limits, stop signs, etc. We are also excited to be visiting the Greater Avenues Community Council meeting in April to collect additional feedback. After we receive everyone's input, the City will work to incorporate those comments into a final design. Resurfacing will occur this summer.
800 South (at West Temple)
This summer the 800 South/West Temple intersection will be modified to add an additional westbound left-turn lane. When the project is completed, the intersection will have two westbound left-turn lanes to aid in providing motorists access to the West Temple freeway on-ramp. The modification is part of a larger project on 900 South. To learn more about the project on 900 South, please visit the 900 South Reconstruction project webpage.
2700 South (700 East to Highland Drive)
This summer, Salt Lake City will resurface and restripe 2700 South from 700 East to Highland Drive. This is an important step in maintaining the life of the pavement and also provides us with an opportunity to address a missing gap in our transportation network. As part of the project, on-street bike lanes will be added to the entire extent of the project, connecting to previous projects that have developed bike lanes east and west from this area. When the project is complete, bike lanes will extend from 2000 East to 300 West. Completion of this section of our infrastructure reflects the culmination of years of work completed by both Salt Lake City and South Salt Lake City.
These important changes will be accompanied with modifications to on-street parking. On-street parking will be removed from the north side of 2700 South between 700 East and Elizabeth Street (1155 East) as shown below. On-street parking will also be removed from the south side of 2700 South between Elizabeth Street (1155 East) and Highland Drive. These areas have been selected for these parking adjustments based on an analysis of parking use and availability that was completed over multiple days earlier in 2022.

For questions or comments, please reach out to us at: streetresurfacing@slcgov.com or 888-333-1255
Main Street (700 South to 2100 South)
Since May of this year our project team has been gathering input on the proposed striping changes to Main Street from 700 South to 2100 South as part of the August street resurfacing project. The resurfacing project is not a street reconstruction project that alters curbs, landscaping, or traffic signals, but it creates an opportunity to reconsider the street design and prepare for future upgrades. The ongoing Life on State: Bikeways Study has been looking at ways to make Main Street a high-quality alternative to cycling on State Street, in addition to other street changes that improve safety and support the community. Resurfacing activities began the week of August 15th, 2022, and most of the work will be completed by September. Addition of green bike lane striping and signage changes will follow in September.
So, what did we hear?
Support for reducing the number of travel lanes between 800 South and 1700 South. While canvassing the corridor and talking to people, our team heard similar comments about this welcome change that will increase safety.
Support for crosswalk improvements.
Support for bike lane improvements, including providing parking-protected bike lanes, and extending bike lanes south into South Salt Lake.
Support for changes that help reduce speeding traffic.
Enthusiasm for additional investment on the corridor. Many people said they welcome basic changes but don't want it to stop there. More trees, landscaping, more place, less pavement.
The resurfacing project took steps toward these goals by making the following changes:
One travel lane in each direction with center two-way-left-turn lane, which functions as a left turn lane at intersections and provides space for future crosswalk refuge islands. This will require reducing the existing number of vehicle lanes between 800 South and 1700 South, matching the design that exists between 1700 South and 2100 South. The reduction of travel lanes to one in each direction with a center turn lane will have major safety benefits at crosswalks, while also reducing the frequency of vehicle crashes by as much as 25%.
Bike lanes widened (6 ft minimum) including painted buffer where space allows.
Improvements to bike lane continuity at intersections.
Parallel on-street parking was maintained next to curb/gutter, widened in some areas where parking currently encroaches into the bike lane. Existing parking stalls set back from the travel lane that are within City property, between the roadway and sidewalk, are not impacted.
Why not parking-protected bike lanes?
This was a common response from people who shared feedback about the striping plan, since the design has worked well on 200 E and 300 East (500 South to 900 South). It's a fair question, and there a few reasons why Main Street is not a great candidate:
Frequent driveways and parkstrip parking create discontinuities and conflict points in the PPBL.
The area next to the curb and gutter is not a good place to position cyclists. The curb is crumbling into the gutter, pavement is rough, and driveway tie-ins are irregular.
The buffered bike lane will be swept and kept free of snow without additional maintenance requirements.
The Big Picture
While the resurfacing and roadway striping changes won't accomplish everything, the corridor is better positioned for future planned upgrades in 2022 and beyond. The City is developing a vision document for long-term, transformational improvements on Main Street that will narrow the pavement width and add a separated bike lane and wider sidewalks from 700 South to 2100 South. The new design will also include features like street trees, waterwise landscaping, public art, sidewalk dining, and bike parking. These features will vary depending on the land use of individual street segments, so that the City's investment can best support businesses and residents along Main Street. This future effort will require a full reconstruction of the street, and is a more significant investment than the City can afford at this time. In the meantime, incremental steps are being taken that will address many of the immediate safety concerns (especially at crossings) and provide significant bicycling improvements.
Question or comments:
801-535-7764
---
Community Input
Salt Lake City would like to hear from you about the proposed changes to the striping. The project team is working on public outreach efforts for the more transformative projects. Submit questions and comments to the form below. Also please feel free to send us an email if you have questions.
---
Timeline
| | | |
| --- | --- | --- |
| | Early Spring 2022 | Project Announcement. |
| | Later Spring 2022 | Draft conceptual design available for community input through survey. |
| | 3-4 weeks before surface treatment | Notice of final design made public along with information about what to expect on the 1-3 days when the surface treatment work affects use of the street. |
| | Summer 2022 | Surface treatment and restriping completed by SLC Streets Division. |
---
Funding
Increased pavement maintenance is one of the projects funded through Funding Our Future sales tax.
---
Contact Us
Si necesitas esta información en español, comunícate con la división de transporte.
Email | streetresurfacing@slcgov.com
Phone | 801-535-6630
Social Media | @SLCmoves @SLCgov