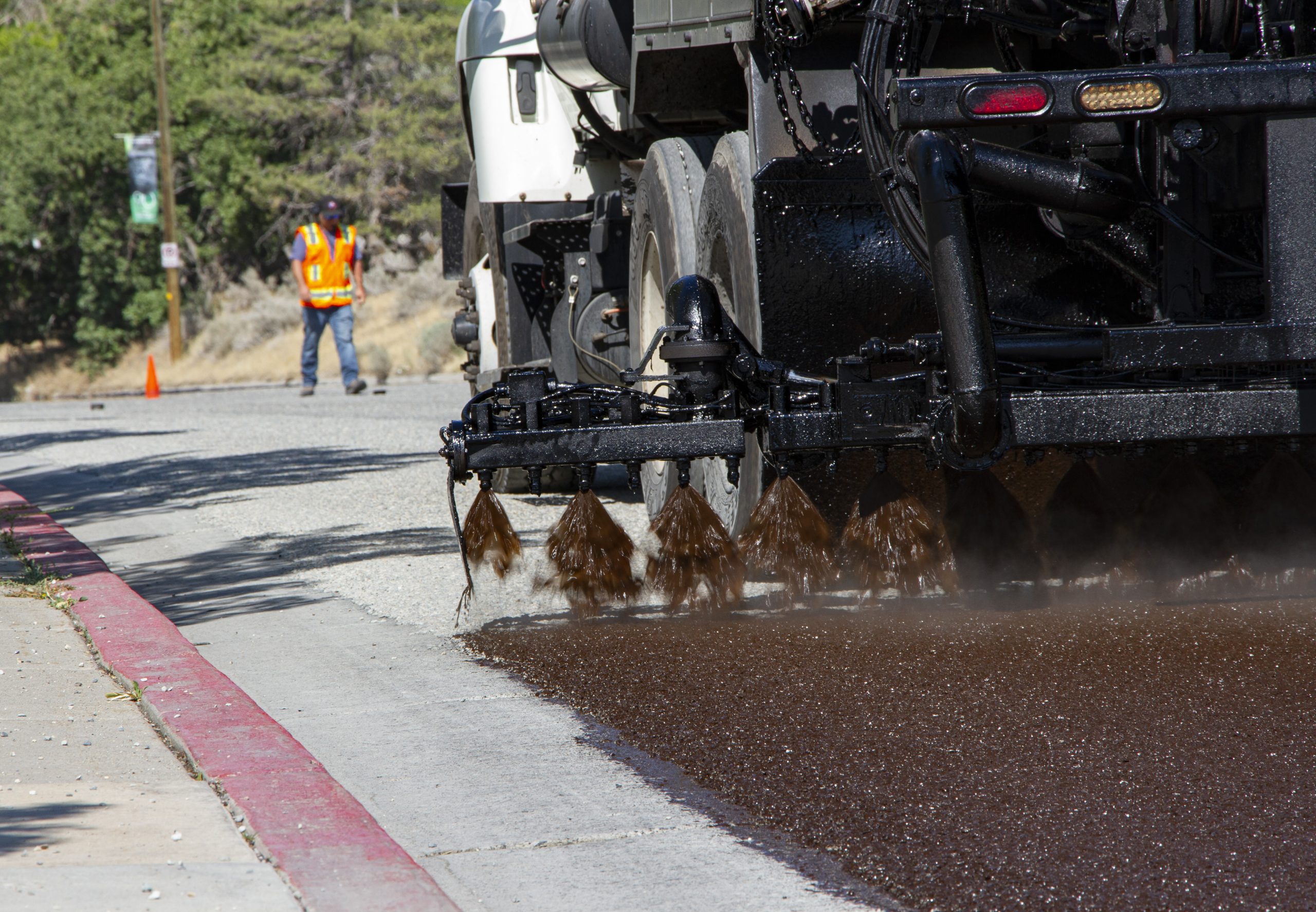 2022 Surface Treatment Projects
Overview
In 2022, multiple Salt Lake City streets will receive a surface treatment. These surface treatments, which are completed over just a few days, help to prolong the life of the entire street network.
In some instances, streets are identified for evaluation by the Transportation Division as candidates for possible striping changes. These "highlighted projects" undergo a detailed evaluation to determine if the resurfacing effort is an appropriate mechanism for making a transportation network change on the roadway. These highlighted projects are guided by a technical analysis, feedback from stakeholders and the public, as well as many Master Plans; master plans detail the vision and policies that guide things like growth and development. City transportation and street projects in particular are guided by the 2015 Pedestrian and Bicycle Master Plan which provides a guiding framework, recommendations, and policies for the development of pedestrian and bicycle facilities and improvements. In keeping with the City's Complete Streets Ordinance, the plan addresses walking and bicycling as integral to the City's transportation systems, while also recognizing the significant health, fitness, and recreational aspects.
Check out the map of all 2022 surface treatment projects, as well as highlighted projects in dropdowns, below.
---
---
Highlighted Projects
The following surface treatment roads have been identified for potential striping changes. Learn more about these projects in the dropdowns.
Avenues Streets (B St, 3rd Ave, 11th Ave, Terrace Hills)
In 2022, Salt Lake City will resurface (or slurry seal) several streets in the Avenues neighborhood, including:
B Street (1st Avenue to 11th Avenue)
3rd Avenue (E Street to Virginia Street)
11th Avenue (B Street to Terrace Hills Drive)
Terrace Hills Drive (11th Avenue to the northern terminus)
These exciting projects offer everyone the opportunity to reimagine our streets. A slurry seal is thinner than a chip seal and provides a blank slate and opportunities to rethink the striping for travel lanes, turn lanes, bike lanes, and parking.
The City would like to hear from you about what you would change about the signs and paint on these four streets. Please use the comment form below to provide input. For example, you might want to change where parking is allowed or restricted, the types of bike lanes, speed limits, stop signs, etc. We are also excited to be visiting the Greater Avenues Community Council meeting in April to collect additional feedback. After we receive everyone's input, the City will work to incorporate those comments into a final design. Resurfacing will occur this summer.
800 South (at West Temple)
This summer the 800 South/West Temple intersection will be modified to add an additional westbound left-turn lane. When the project is completed, the intersection will have two westbound left-turn lanes to aid in providing motorists access to the West Temple freeway on-ramp. The modification is part of a larger project on 900 South. To learn more about the project on 900 South, please visit the 900 South Reconstruction project webpage.
2200 West (2100 North to the City Limit)
Stay tuned – content for this project is coming.
2700 South (700 East to Highland Drive)
Stay tuned – content for this project is coming.
Elizabeth Street (Parkway Avenue to 2700 South)
Stay tuned – content for this project is coming.
Main Street (700 South to 2100 South)
This summer Salt Lake City will resurface and restripe Main Street from 700 South to 2100 South. This routine maintenance will extend the life of the pavement by 5-7 years. Maintenance crews have recently repaired chipped pavement and potholes in preparation of the planned construction later this summer. As construction approaches, residents and businesses will be notified about the project duration and temporary on-street parking restrictions.
The resurfacing project is not a street reconstruction project that alters curbs, landscaping, or traffic signals, but it creates an opportunity to reconsider the street design and prepare for future upgrades. The ongoing Life on State: Bikeways Study has been looking at ways to make Main Street a high-quality alternative to cycling on State Street, in addition to other street changes that improve safety and support the community. The proposed changes for the resurfacing project will take steps toward these goals by making the following changes:
One travel lane in each direction with center two-way-left-turn lane, which functions as a left turn lane at intersections and provides space for future crosswalk refuge islands. This will require reducing the existing number of vehicle lanes between 800 South and 1700 South, matching the design that exists between 1700 South and 2100 South.
Bike lanes widened (6 ft minimum) including painted buffer where space allows.
Improvements to bike lane continuity at intersections.
On Street Parking Maintained: Parallel on-street parking will be maintained next to curb/gutter, widened in some areas where parking currently encroaches into bike lane. Existing parking stalls set back from the travel lane that are within City property, between the roadway and sidewalk, will not be impacted.
Safety: Area stakeholders, including residents and businesses have said that safety is a major concern on this corridor, particularly at mid-block crosswalks. Reducing the travel lanes to one in each direction with a center turn lane will have major safety benefits at crosswalks, while also reducing the frequency of vehicle crashes by as much as 25%.
The Big Picture: The City is developing a vision document for long-term, transformational improvements on Main Street that will narrow the pavement width and add a separated bike lane and wider sidewalks from 700 South to 2100 South. The new design will also include features like street trees, waterwise landscaping, public art, sidewalk dining, and bike parking. These features will vary depending on the land use of individual street segments, so that the City's investment can best support businesses and residents along Main Street. This future effort will require a full reconstruction of the street, and is a more significant investment than the City can afford at this time. In the meantime, incremental steps are being taken that will address many of the immediate safety concerns (especially at crossings) and provide significant bicycling improvements.
We Want to Hear From You: Share your insights about the proposed designs, locations where you see problems and any other suggestions for us to consider before resurfacing.
Review the draft striping design below and share your comments here.
Question or comments:
801-535-7764
---
Community Input
Salt Lake City would like to hear from you about the proposed changes to the striping. The project team is working on public outreach efforts for the more transformative projects. Submit questions and comments to the form below. Also please feel free to send us an email if you have questions.
---
Timeline (Text)
| | | |
| --- | --- | --- |
| | Early Spring 2022 | Project Announcement. |
| | Later Spring 2022 | Draft conceptual design available for community input through survey. |
| | 3-4 weeks before surface treatment | Notice of final design made public along with information about what to expect on the 1-3 days when the surface treatment work affects use of the street. |
| | Summer 2022 | Surface treatment and restriping completed by SLC Streets Division. |
---
Contact
---
Funding
Increased pavement maintenance is one of the projects funded through Funding Our Future sales tax.