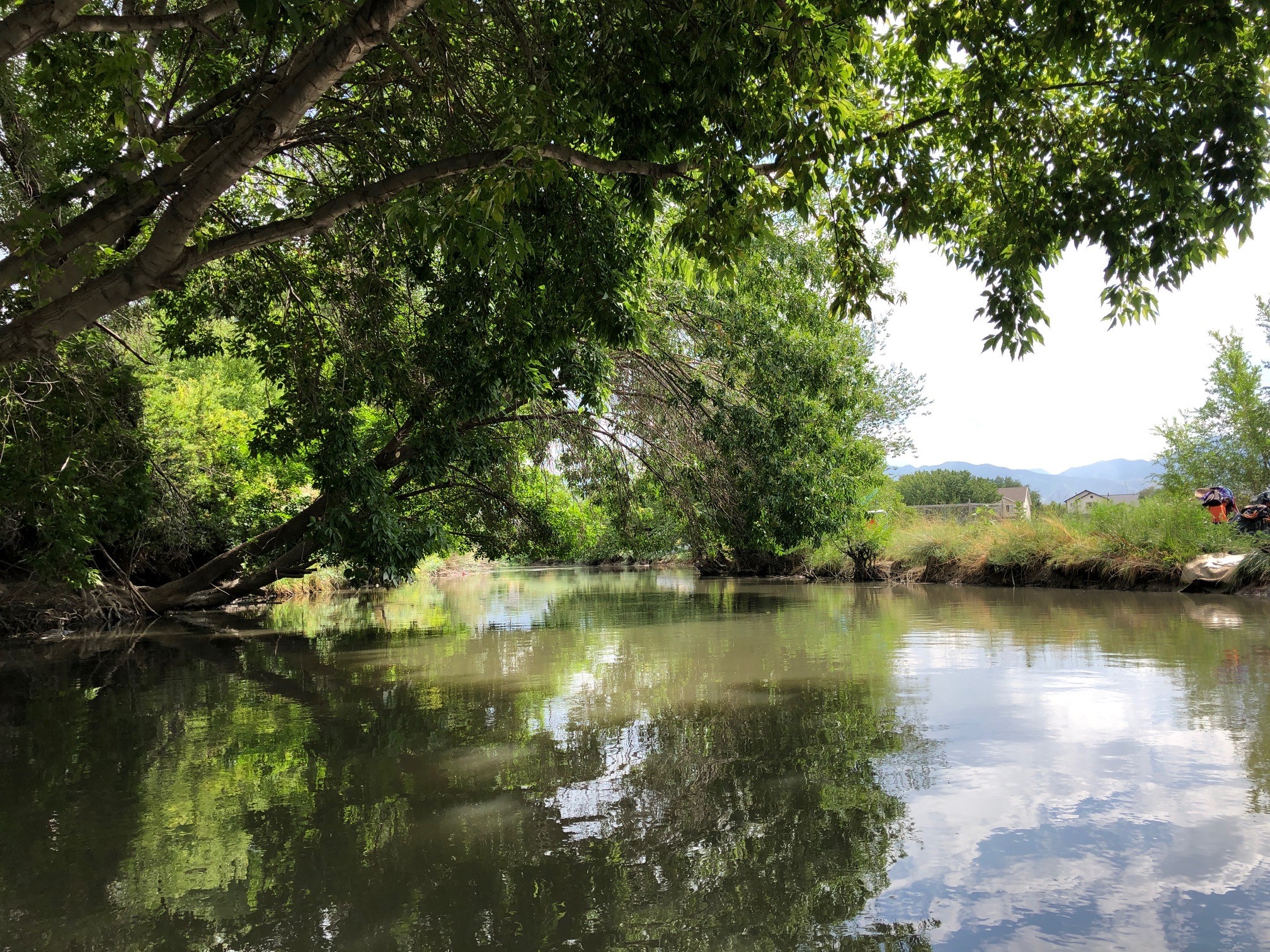 Jordan River Water Trail Tree & Debris Removal
This project consists of the removal of certain trees and other organic matter and debris waste from the Jordan River Water Trail corridor to enhance safe and accessible non-motorized watercraft navigation while minimizing bank erosion and strengthening bank stability.
---
Status
Ongoing
August 2022 – October 2022
May 2023 – September 2023 (estimated)
Project Location
Salt Lake City Segment of the Jordan River Water Trail Corridor
Approx. 2100 South to 2400 North
Full Project Scope
Salt Lake City Department of Public Lands has dedicated funds to remove certain trees and other organic matter and debris waste from the Jordan River Water Trail corridor to enhance safe and accessible non-motorized watercraft navigation while minimizing bank erosion and strengthening bank stability. The Salt Lake City segment of the Jordan River (approx. 2100 South to 2400 North) currently has years' worth of deferred maintenance in its water corridor and the City is eager to complete this task for the health of our environment and communities.
Salt Lake City awarded this contract to Diamond Tree Experts based on their experience with high-quality urban forest maintenance, their robust inventory of equipment and vehicles that will be required to safely enter the river corridor with minimum impact, and their sustainable green waste processes. Diamond will be using the paved Jordan River Trail on the east bank of the river as its primary access and staging area.
Public Lands staff and the Diamond team have inspected the entire SLC segment of the river to identify trees, deadfall, branches, and debris to be removed. The first phase of work occurred in August to October 2022 and focused on clearing the waterway obstructions from 2100 South to 900 South. In May 2023, work will resume with two crews: one crew working in the tree canopy and banks, and the other focusing on the riverbed.
The work will be completed south to north, in flow with the river, so as the river clears up, loose debris will flow freely farther downstream. They will start again at 2100 South with the goal of clearing 45 blocks (8.8 miles of river) up to the Davis County line. The priority will be clearing unattached organic and waste debris in the streambed as well as any trees or branches prohibiting safe navigation of the river.
For questions or comments, please contact SLC Public Lands Recreational Trails Manager Tyler Fonarow: tyler.fonarow@slcgov.com
August & September 2023 Update
The river is open for your enjoyment! While the water levels ebb and flow based on river input determined by Salt Lake County Flood Control, the river is currently unobstructed and navigable for all users from the Surplus Canal (2100 South) to Rivewview (1800 North) with the exception of one major tree obstruction just south of the JRT bridge in the golf course (1300 North), but experienced paddlers can easily navigate around the obstacle along the west bank. SLC Public Lands and JRC staff hand-sawed a corridor to safely get around the fallen tree which is acting as a trash boom. Yuck. Lesiurely river paddles (60-90 minutes) can be made between Glendale Boat Ramp (1700 South) and Fisher Boat Ramp (200 South) or from Gadsby Boat Ramp (North Temple) to Riverview Boat Ramp (1800 North). A half-day paddle from Glendale to Riverview (35 blocks) would include "running the chute" between Fisher and Gadsby so be sure to travel with someone who has run it prior.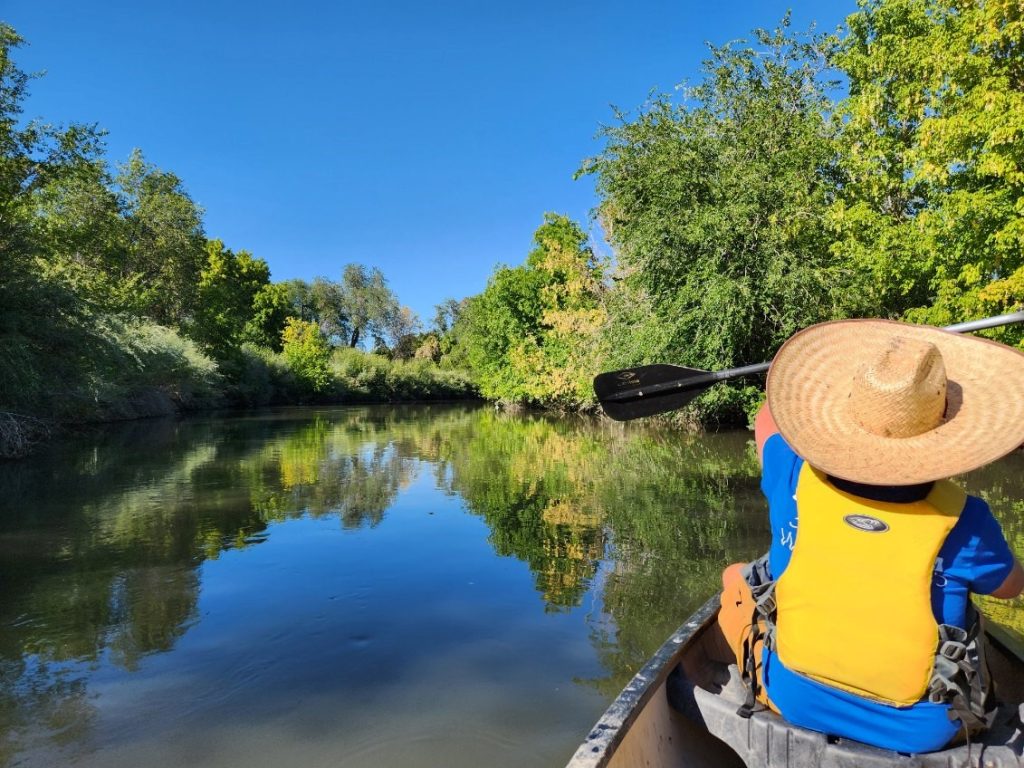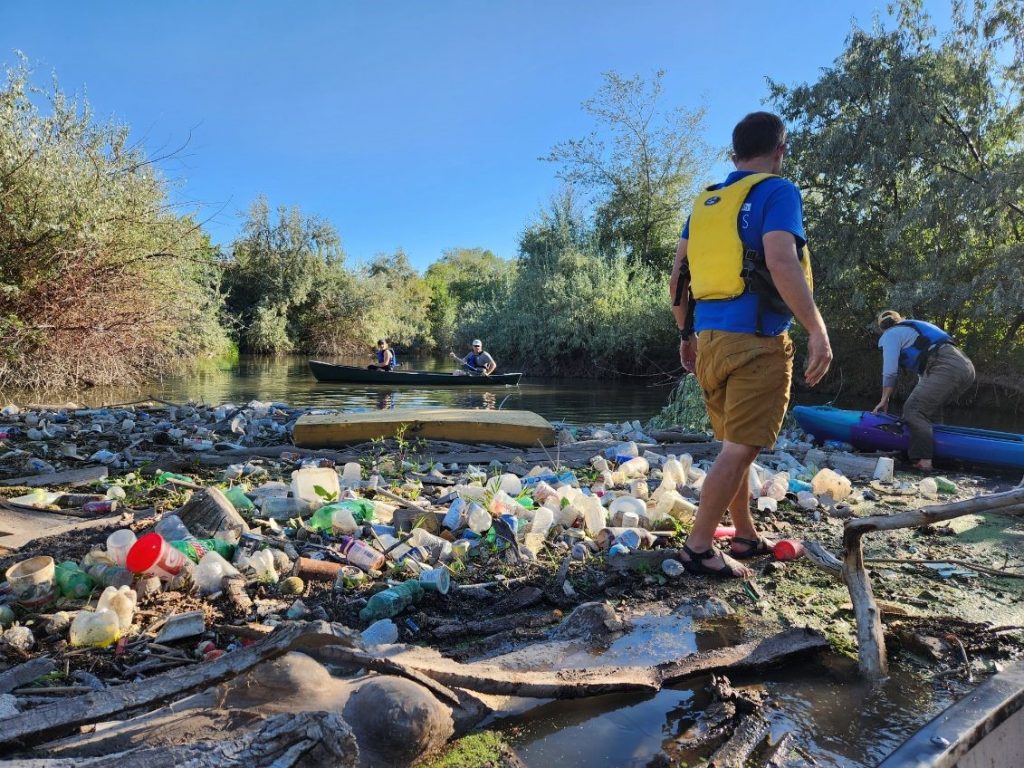 The above photos show the "before and after" of the goals of this project. Instead of an area of neglect, the Jordan River can return to an area of recreation, restoration, and rebirth.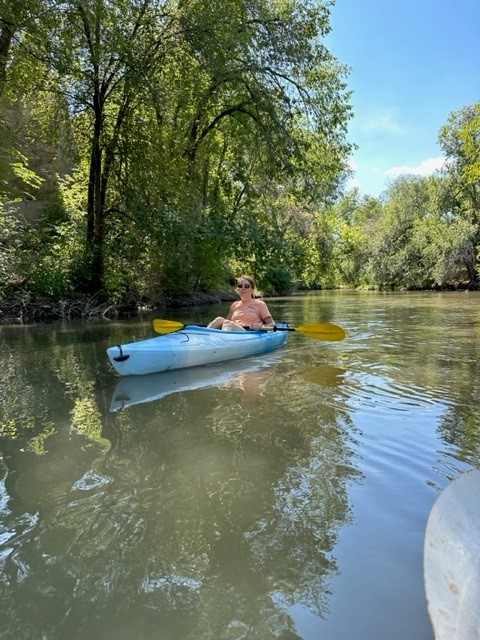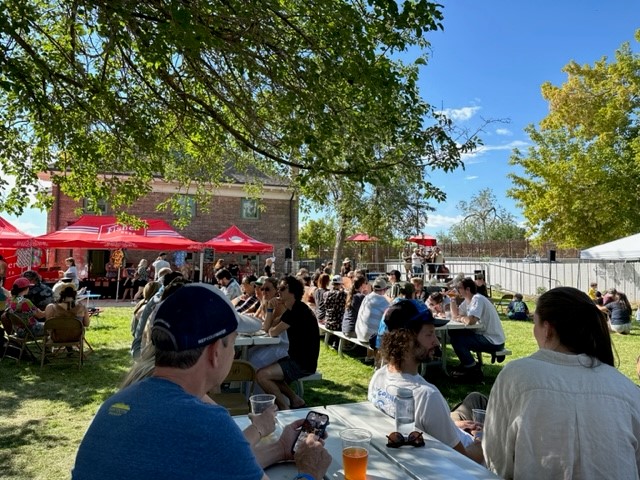 By the numbers…
September 11 – 15: 300 North to 500 North, 7 truck loads of debris
September 4 – 8: 300 North to 500 North, 5 truck loads of debris
August 28 – Sep 1: 300 North to 500 North, 7 truck loads of debris (ran into some access issues by Fairgrounds)
August 21 – 25: 200 South to North Temple, cleared multiple bridges, 5 truck loads of debris
August 14 – 18: 200 South to North Temple, 5 truck loads of debris
August 7 – 11: 300 South to 200 South, 6 truck loads of debris
August/September 2023 Photo Gallery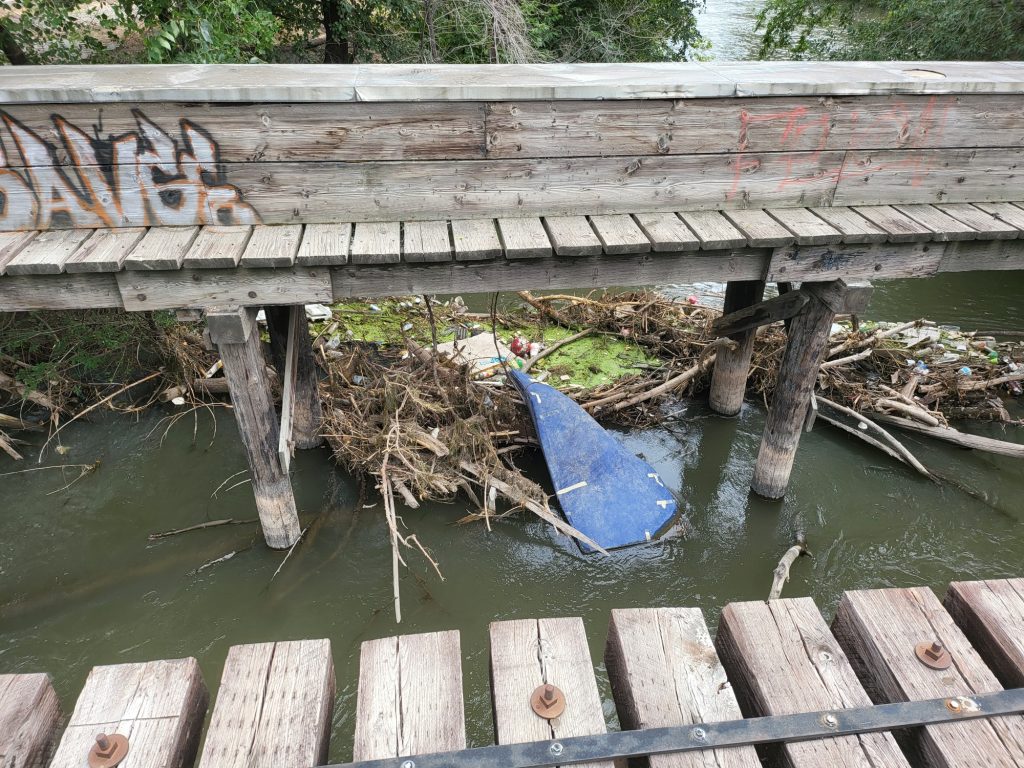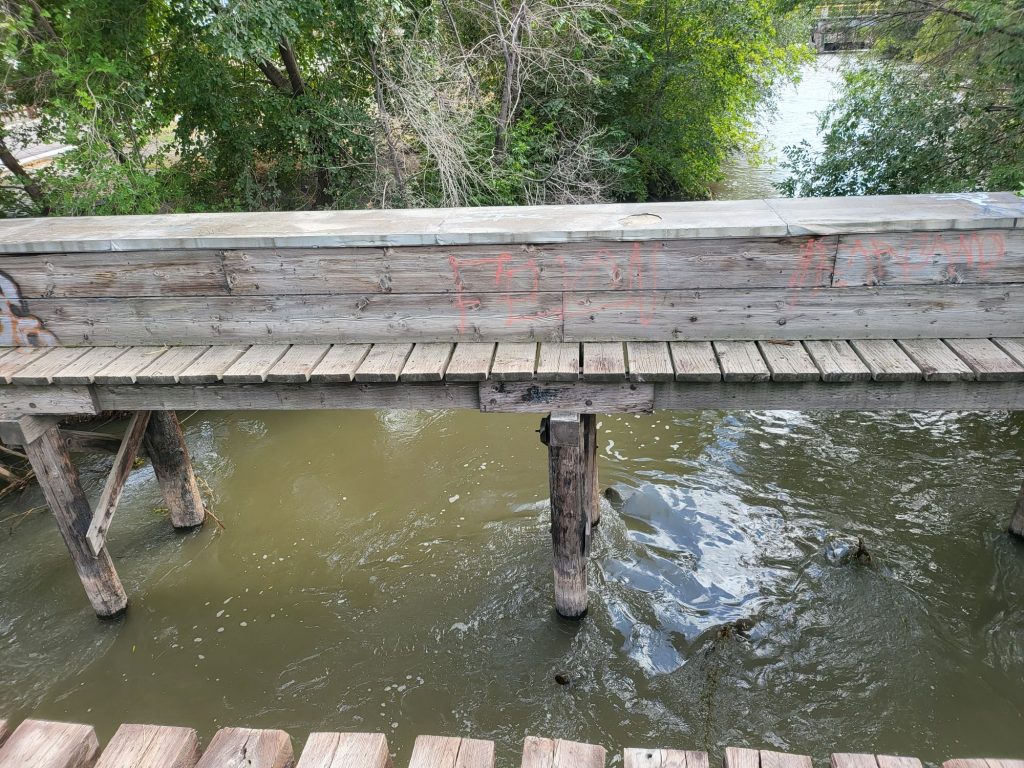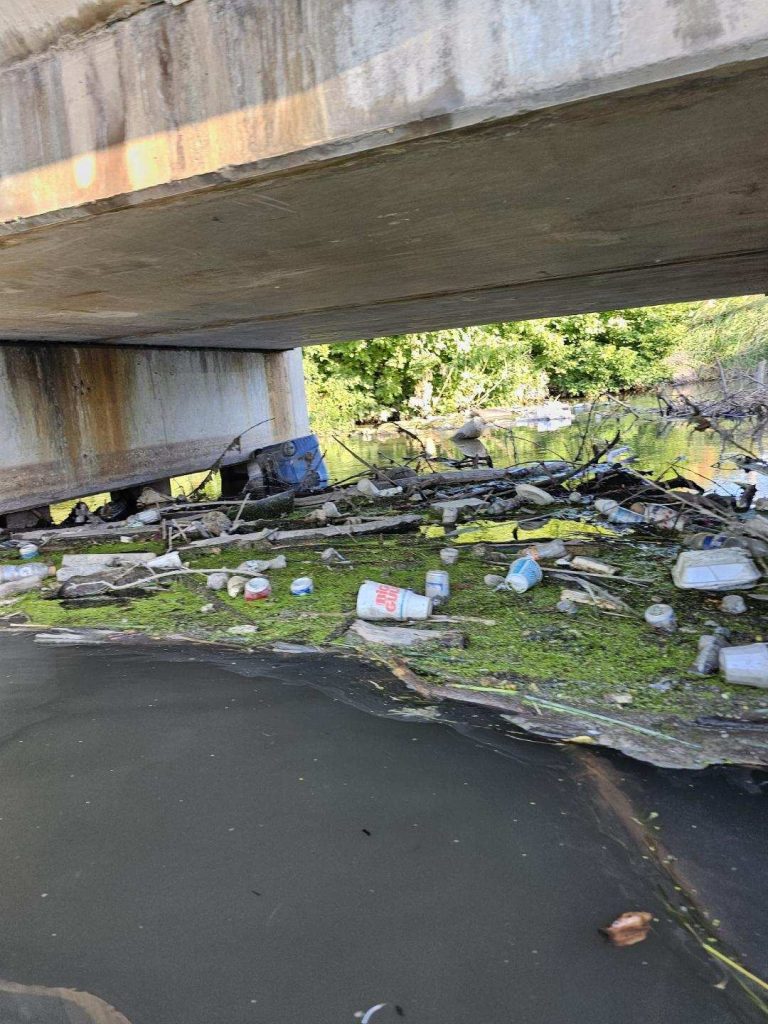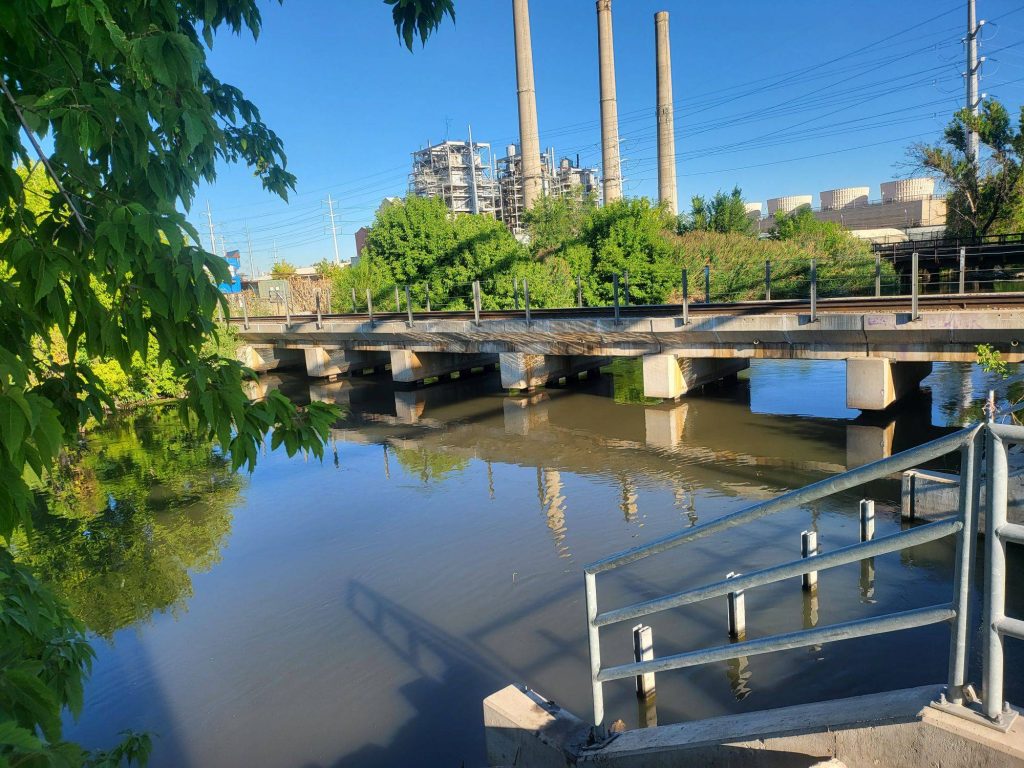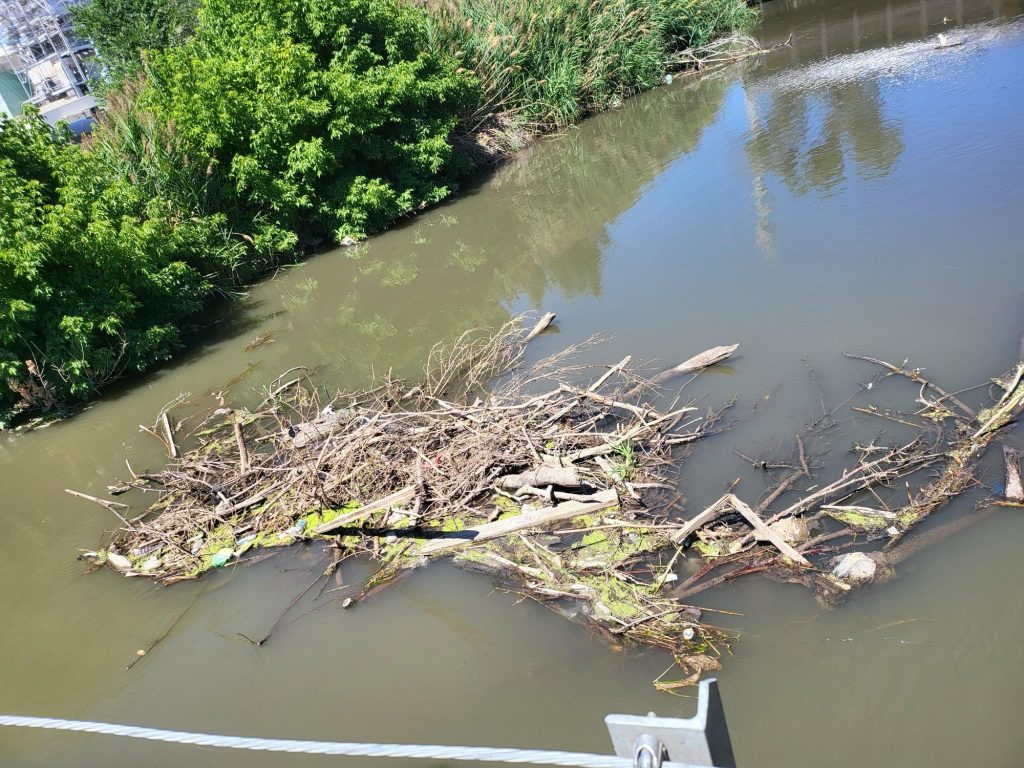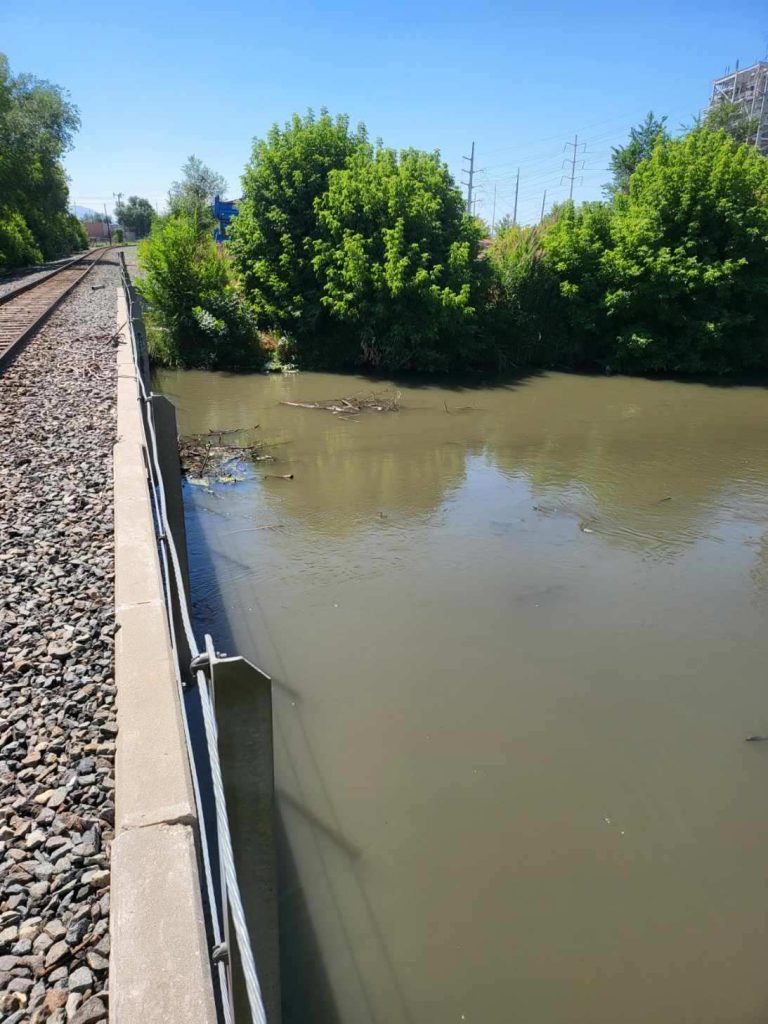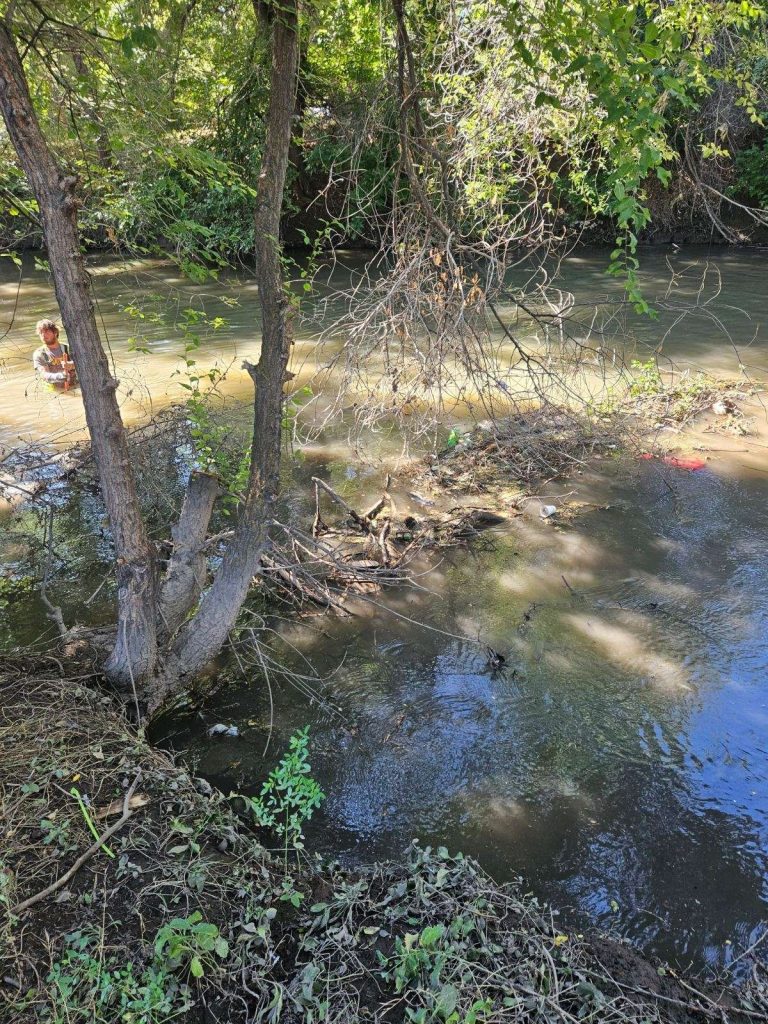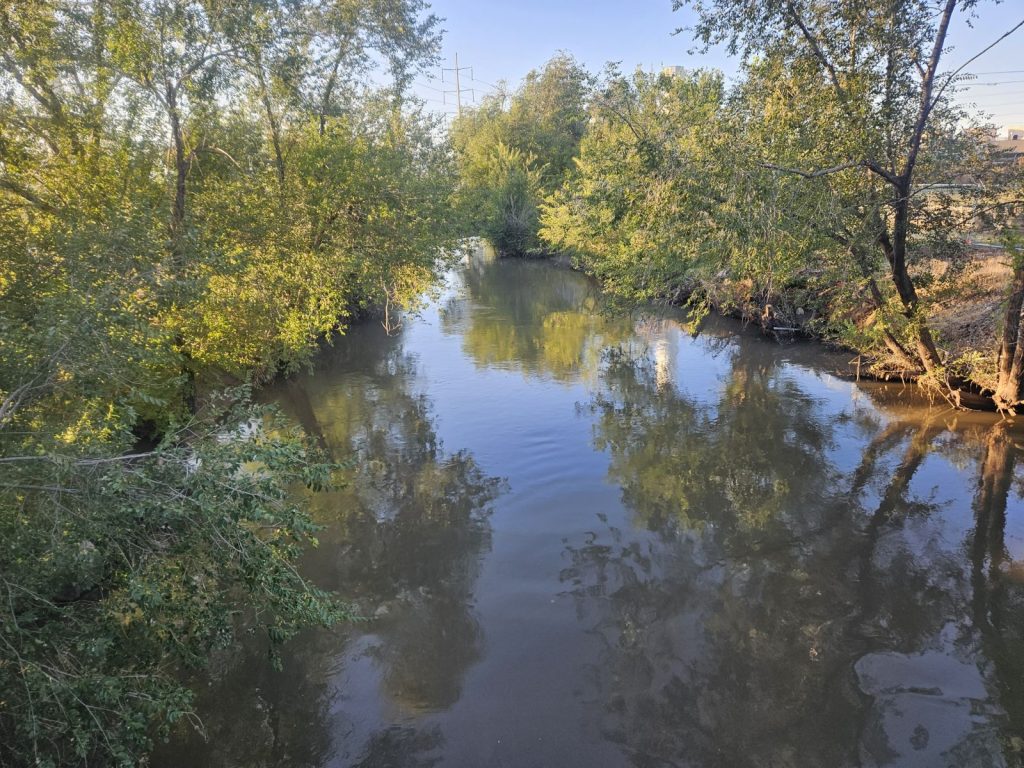 July 2023
Funding Update: This project is currently fully funded for its projected budget thanks to multiple grant awards. On May 2, the City was awarded $150,000 toward this project by the Utah Division of Outdoor Recreation (UDOR) Recreation Restoration Infrastructure Grant (RRI). The City's funding budgeted funding of $175,000 was used as a contributing match toward this grant. And on July 27, the City's Public Lands Department successfully received another grant for $150,000 from the State of Utah's Division of Forestry, Fire & State Lands (FFSL). Thanks to the City's contributions and grants from RRI and FFSL, this $500,000+ budgeted project is scheduled for completion this fall.
Work Update: The crews have cleared the majority of the river surface and obstructing canopy from the surplus canal at 2100 South to Alzheimer Park at 300 South. The Diamond and SLC teams met this month to evaluate processes and schedules. The Diamond team will continue to work four 10-hour shifts, Monday to Thursday, and will coordinate the removal of the debris along the Parkway trail so it does not interfere with weekend recreation or trail use. Starting in August, the crews will cross under I-80, pass the Fisher Mansion and the "chute", and head up past North Temple toward the Fairpark, Cottonwood Park, and Riverside Park.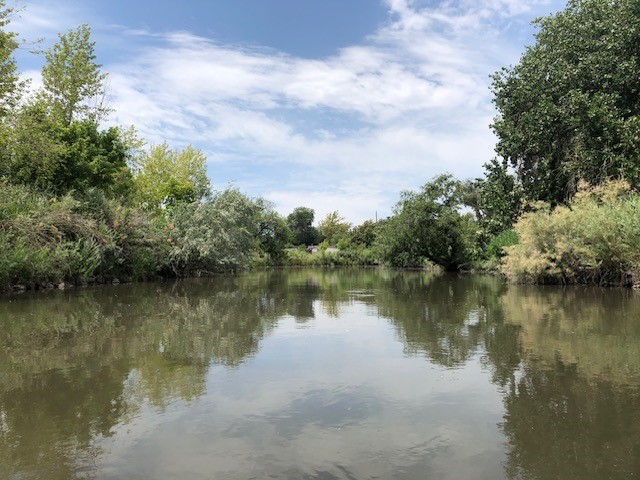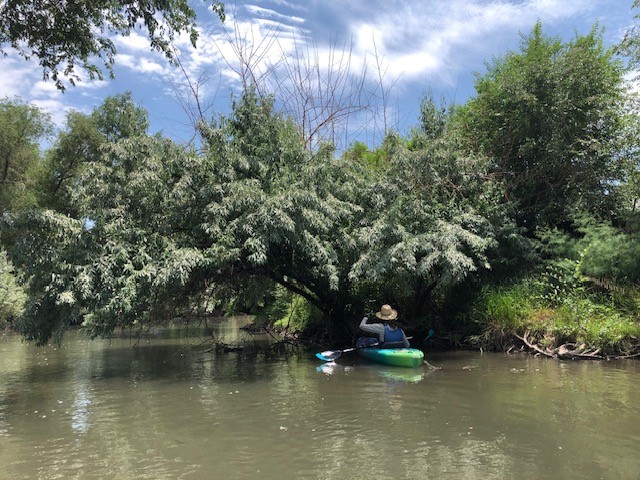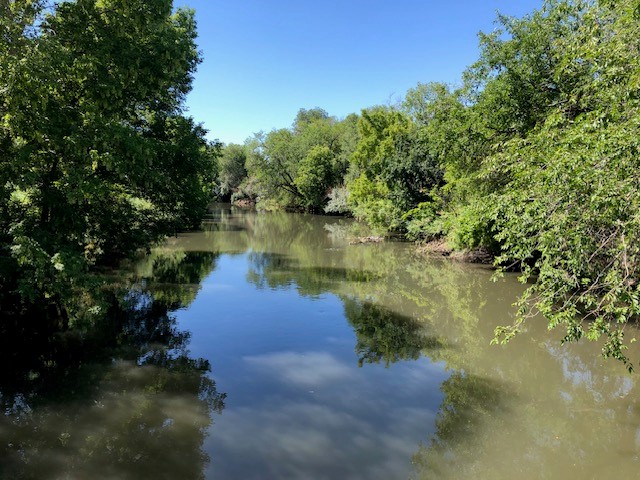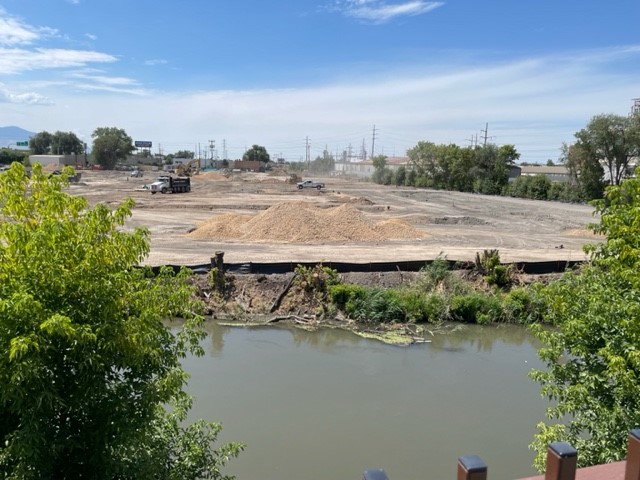 June 2023
Over the last three weeks, the water levels in the SLC section of the Jordan River has varied tremendously. The County controls the water flow into the river from the Surplus Canal so only the water from 3 Creeks confluence, City Creek, and channeled stormwater "naturally" flows into the river. In late May, the river was as low as it has been in years and just this week it's flowing well will clear navigation from 1700 South to Fisher Mansion at 200 South.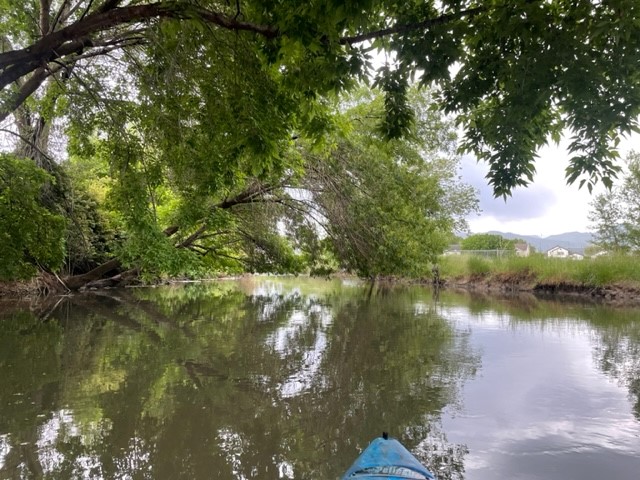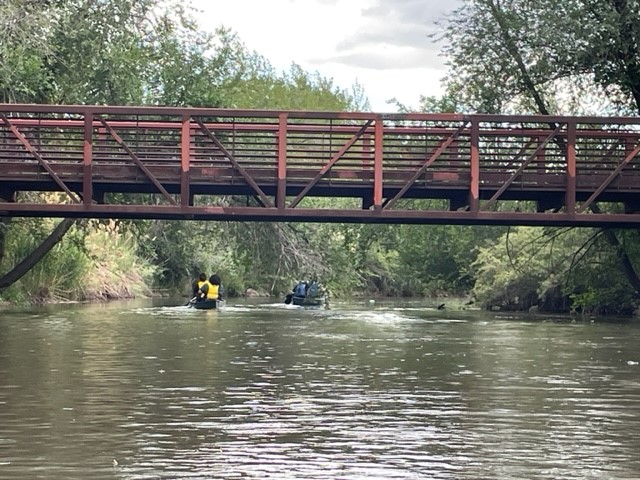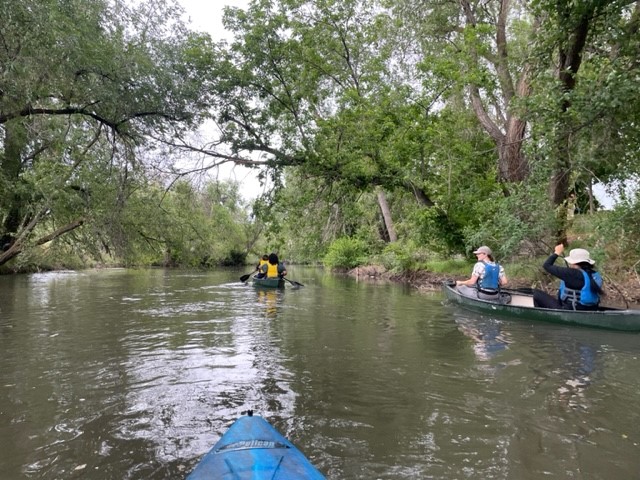 May 2023
Diamond Tree Services returned to the Jordan River Water Trail on May 1. Given that they started at the southern end which was already cleaned last fall, they made quick work from 2100 South to within about 100 yards south of California Ave. They hauled away 6 dump trucks of debris to their green waste facility.
As of the week of May 15, multiple crews were working to clear new debris along the stretch between California Ave and 1300 South and have cleared the corridor up to the Peace Gardens. SLC staff including Jordan River Park Rangers paddled the river with Jordan River Commission staff and a local neighbor to inspect the work thus far and offer feedback.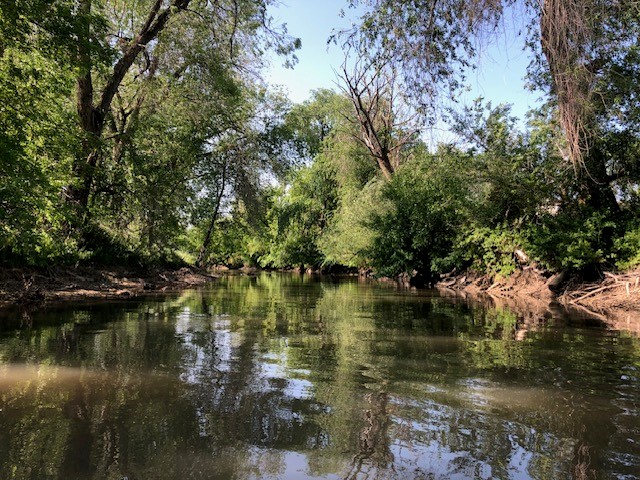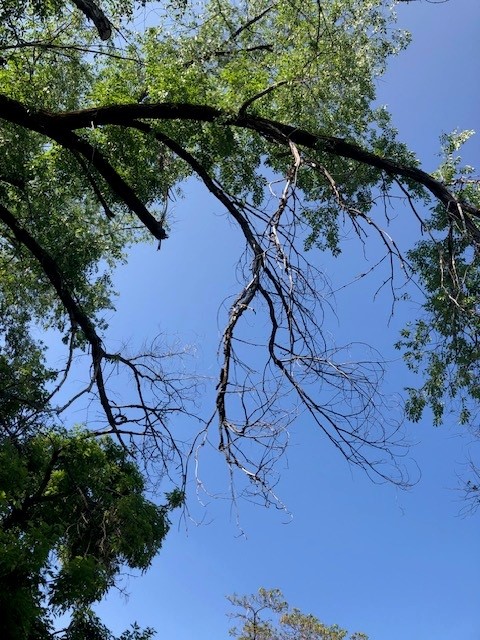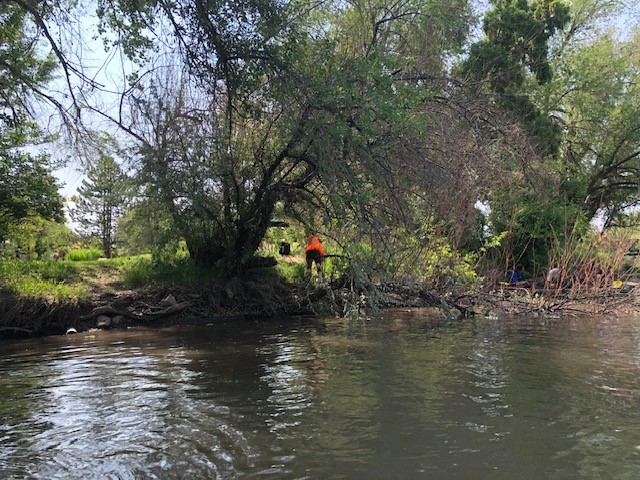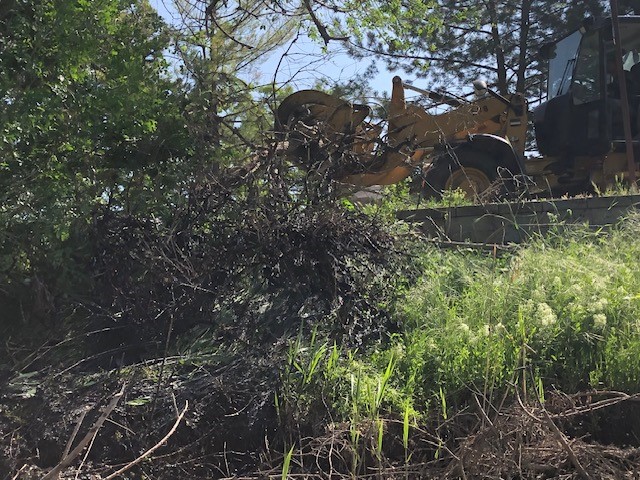 2022 Updates and Planning for 2023
March 2023 through April 2023
Due to the significant snowpack and weather conditions this winter and early spring, the return of Diamond Tree to this project as been delayed to May 1, 2023. Additionally, the Department of Public Lands has applied for grant funding from the Utah Division of Outdoor Recreation RRI grant and RTP grants using $175,000 of City budget and $50,000 of DNR budget as matches. If funded, this project could be completed in fall 2023.
November 2022 through February 2023
With the early snow and colder temperatures, Diamond Tree Experts has completed their fall work on the river and will return in March 2023. For the spring season, they will double their efforts and provide two full crews to simultaneously clear the river bed of debris as well as the dead and dangerous wood from the canopy. The canopy work may create temporary closures and detours on the Jordan River Trail for safety and work efficiency, which will be communicated via signage on the trail. The completed first segment from this fall – 2100 South to 900 South – will be cleared again this spring, and then work will be continued north up through 2400 North. They are expected to be complete by June 2023.
October 25th-28th Progress
They're back! Diamond Tree Experts are back on the river this week to complete their riverbed and canopy clearing of trees and debris from the SLC section of the Jordan River.
Diamond's crews resumed work on Tuesday October 25th near the Fife Wetland Preserve located near 900 S and are currently approaching the 800 S bridge.
August 29th-October 21st Progress
Diamond Tree Experts will be off the river in September and early October to complete a previously scheduled contract and hire and train additional staff. They will return on October 24th.
August 22nd-August 26th Progress
The Three Creeks Confluence saw the last of its major debris cleared out last week. There is now smooth paddling past the dock at Modesto Park, under the Fremont Avenue Bridge, and a safe and easy passage up to the "river right" dock at the International Peace Gardens.
Our "scout team" continued downstream and spotted a debris pile up past the Peace Gardens dock, next to the Fife Wetlands Preserve, which took some active steering to avoid. They also encountered a significant blockage at the 9Line pedestrian/bike bridge that took some active debris untangling by hand to pass through safely.
From there, it was somewhat navigable with basic paddling skills all the way to Alzheimer's Park past 300 South. Our arborist subcontractor, Diamond Tree Experts, will be off-site on another job for the next two weeks but will be back on the River on September 12 for the next 2+ months. They will pick up where they left off around the Fife Wetland Preserve. Their general plan is to clear the river Monday through Thursday, and then remove the piles they've left on the shoreline on Fridays.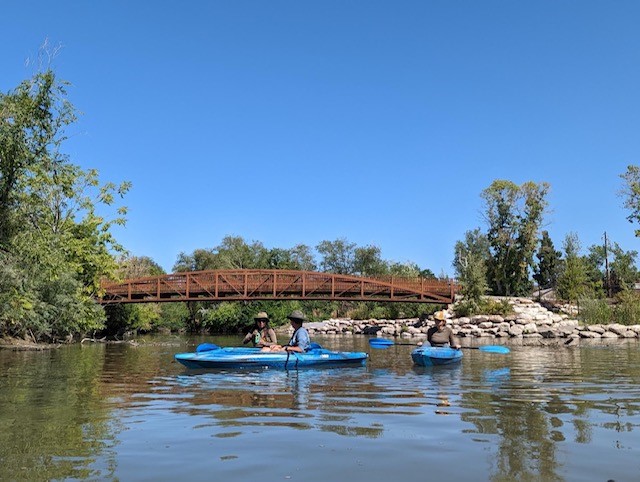 August 15th-19th Progress
Not a lot of mileage, but a lot of poundage.
The section between California Avenue and Three Creeks Confluence was a waterlogged mess of debris that took Herculean efforts to remove from the muddy river bottom. Lower water levels require more might to remove debris but resilience prevailed. The Jordan River now has a safe and navigable passage from 2100 South to Fremont Avenue (1120 South).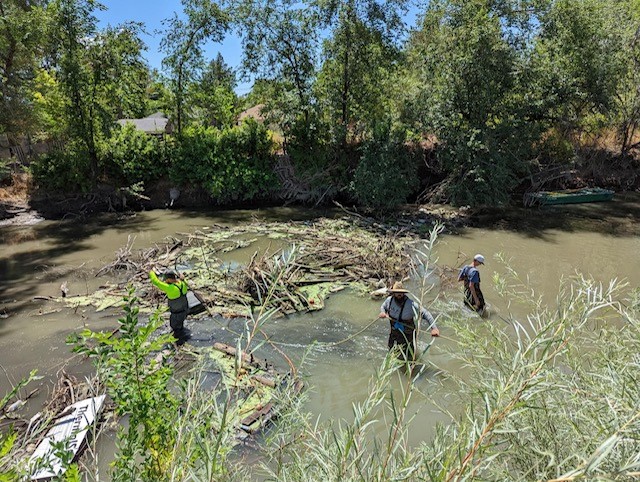 August 8th-12th Progress
Another week, another few blocks of trees and debris were removed from the Salt Lake City Jordan River Water Trail. Diamond Tree Experts started again at 1700 South and worked upstream to clear the river to about 1850 South.
They then returned to California Avenue (1300 South) to clear a massive debris pile located south of the California Avenue bridge. Clearing this massive pile took two days to complete.
Next week, Diamond's crews will be working to clear numerous smaller debris piles between California Avenue and Three Creeks Confluence.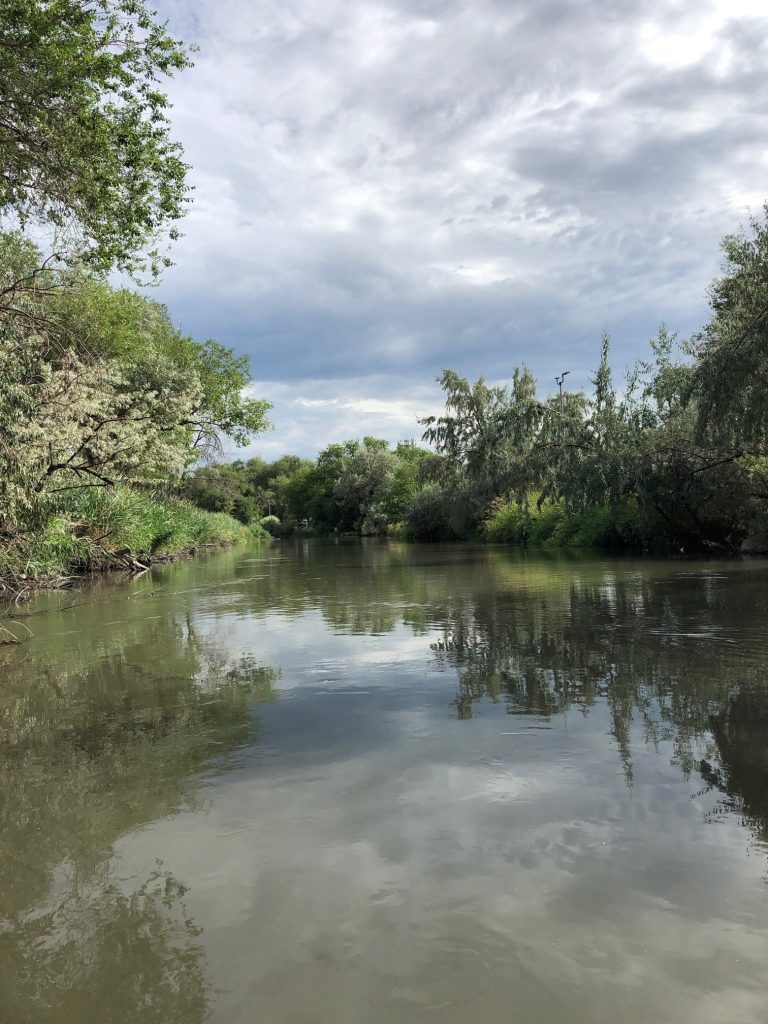 August 1st-5th Progress
Diamond Tree Experts cleared the surface and riverbed bank to bank from 1700 South to almost 4 blocks just shy of California Avenue (1300 South). A massive pile of debris just south of California Avenue awaits clearing next week.