June 30, 2021
Salt Lake City Public Lands encourages users of our spaces to follow the State of Utah's most updated COVID-19 precautionary guidelines, which are available here: https://coronavirus.utah.gov/utah-health-guidance-levels/
---
November 16, 2020
The year 2020 continues to be unprecedented for Salt Lake City Public Lands, as is the case for all city residents.
The COVID-19 Pandemic and related budget implications significantly impacted our operations throughout the spring, summer, and fall. These impacts will continue throughout the winter.
The powerful windstorm on September 7th and 8th, which toppled over 1,500 of our City trees, forced our staff to take an "all hands-on deck" approach in order to clean up fallen trees and other debris. Even two months after the storm, our staff continues to deal with tree stumps and other issues related to the storm.
Public Lands Administration wants to ensure the public is kept up to date about how these unprecedented events of 2020 will impact our parks, trails, natural areas, and urban forest throughout the winter and into next spring.
Specifically, we want to provide the following updates:
For the time being, SLC Public Lands will cease weed abatement operations. In recent years, Public Lands has been responsible for removing weeds from certain medians, alleyways, and park strips around the City on a compliant basis utilizing a funding source that ended July 2020. Due to COVID-19 and anticipated lower City sales tax revenues, the subsequent City-wide flat budget was unable to fund weed abatement services. Public Lands is hopeful that this service will resume in the Spring of 2021, however it is unknown at this time when funding will become available.
The Salt Lake City Cemetery remains closed to the public, apart from attendees at prearranged burial or graveside services. This closure remains in place as stump removal and archaeology contract services are being put in place to perform the sensitive work in this historic site. Unfortunately, the reopening date for the cemetery remains unclear currently.
Our Urban Forestry Division and contracted arborists crews continue to remove damaged trees and prune broken tree branches in residential city parkstrips, public parks, and city owned green spaces. More than two months into the windstorm cleanup effort, there are still hundreds of damaged trees that require work. It is anticipated that the Urban Forestry Division will be working on wind damaged trees through the end of this year.
The Public Services Department is in the process of securing a contract to remove a significant number of large tree stumps that are still present in neighborhood parkstrips throughout the city. Once the contract is in place, contracted crews will remove these stumps and restore the parkstrips to natural grade with quality fill and topsoil. It is anticipated that this work will be complete by mid-December.
We do not anticipate that Public Lands' role in snow removal efforts on sidewalks, urban trails and in parks will be limited this winter.
Parks, and Trails and Natural Lands still have dedicated staff to remove trash from public lands. However, they are limited to one employee per vehicle due to COVID precautions. You may notice trash cans that are full, or trash piled up in other areas of parks. Please don't hesitate to report these areas to us.
We appreciate public observations to direct us to areas in need of service in our parks. We thank you for your patience as we address trash removal and all maintenance issues throughout our park system.
Haga clic aquí para leer esta actualización en español.
---
September 4, 2020
Salt Lake City will be moving to the "Yellow" risk level for COVID-19 as of today, September 4th. Below, we've outlined how this will affect the city's parks, trails, and other natural areas.
Field, pavilion, and wedding reservations are now open. This includes field reservations at the Regional Athletic Complex. Keep in mind that certain precautions still need to be taken for all reservations, such as symptom checks, face coverings, and participant rosters. At the time you make your reservation, you will be given a full list of these requirements.
Playgrounds, drinking fountains, and some park restrooms will be reopened. Beginning September 8th, parks staff will begin cleaning and reopening playgrounds, drinking fountains, and some restrooms. This process will take a several days to complete city-wide.
Programs and events in parks are now allowed for groups smaller than 50.
The Public Lands administrative building and the City Cemetery office will be open to the public by appointment only.
To make a reservation or set an appointment with us, please visit our website to find contact information for the relevant division or program: https://www.slc.gov/parks
Please be sure to continue wearing face coverings, regularly sanitizing your hands, and maintaining a safe distance between yourself and other people. Doing so will help ensure that the city can remain at this lower risk level. We appreciate the cooperation of all users of our public lands.
---
August 6, 2020
The city's three skate parks are now open for use. This decision was made after receiving many requests from members of the community and after consulting with city administration.
No matter what activities you participate in at our public lands, we encourage you to wear a mask, maintain a safe distance between you and other people, and wash your hands both before and after your visit. Doing these things will help us continue to gradually reactivate and reopen all of our public lands amenities and services.
---
July 15, 2020
What to Expect with Salt Lake City's Public Lands in the Wake of COVID-19
Like many organizations and industries around the world, Salt Lake City Corporation and the Public Lands Divisions have altered operations in an effort to fight the spread of COVID-19 and prepare for a potential economic downturn. These changes have and will continue to impact the appearance of SLC parks and public spaces. You may notice longer grass, garbage that is not emptied as often, repairs that may take longer than in previous months, and less manicured flower beds and potted plants downtown. Please know that SLC Parks, Trails & Natural Lands and Urban Forestry will continue to perform maintenance services at all City owned public lands facilities, however it may be less often.
Fortunately, during the pandemic our parks and other public lands have been filled with users who have found respite in the outdoors during these troubling times. Despite these changes, our open spaces have been just as popular as ever before.
We ask that the members of our community continue to be patient with us as we all adjust to this new normal. The parks, trails, and natural lands will remain open for all to use. Please continue to maintain 6 ft. between you and other users.
What can you do to help?
Please remember to clean up after yourself, your children and dog(s) whenever you use a park or other outdoor space in Salt Lake City.
Please follow all off-leash rules as posted on signage at parks. Doing so will help limit the amount of calls and complaints our office gets related to violations of these rules.
If you see a Public Lands employee while you are in one of our parks or other outdoor spaces, be sure to thank them for their work (while maintaining a healthy distance).
If you notice invasive weeds (especially Myrtle Spurge or Cutleaf Vipergrass), please help us remove them!
Causes affecting this delay include:
Limited number of employees traveling in a vehicle restricts the numbers of staff at parks/trails, reducing the number of seasonal employees we can hire and transport to parks.
The Parks Division is currently down 7 full time employees, including an electrician, welder, plumber, groundskeepers and graffiti removal technician. We hope the economy will improve, lifting the hiring freeze, after this six-month holding period.
Additional green spaces and amenities have been added to the Parks inventory due to the completion of several new capital projects. (9Line Trail Landscaping, Jordan River Par 3 Loop Trail, Three Creeks Confluence Park, Jordan River Water Trail Boat Ramps, new amenities throughout the parks and two roundabouts.) With no additional funding, these properties stretch current employee and material resources.
Changes to standard public lands maintenance procedures to ensure employees maintain six feet distance between one another.
As long as Salt Lake City remains in the orange risk level, the information provided in the May 18th update below still applies. We will publish another update on this page if and when the City changes to the yellow level.
Haga clic aquí para leer esta actualización en español.
---
May 18, 2020
UPDATE FROM SALT LAKE CITY PUBLIC LANDS ON CLOSURES AND CHANGES IN RESPONSE TO COVID-19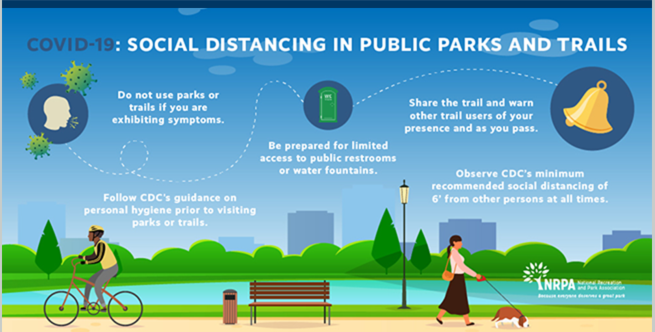 As all of us in Utah work to stop the spread of COVID-19, the Salt Lake City Public Lands Divisions (Parks, Trails & Natural Lands, and Urban Forestry) continue to implement precautionary measures so you can safely enjoy Salt Lake City's green spaces. The health and safety of our park users, trail goers, natural area guests, staff, and the general community is our priority.
Our parks, trails, and natural areas continue to see large numbers of visitors seeking fresh air, exercise and relaxation. These large numbers of visitors make it difficult and, at times, impossible to maintain the social distancing that is critical to preventing the spread of COVID-19. Social distancing, 6' distance or more between people outside of your household, is crucial to keeping our community safe and our parks open.
Since Governor Herbert lowered the risk level from red to orange, restrictions on some areas have loosened, while the six-foot distancing guideline remains in effect.
MOST Restrooms and drinking fountains are currently closed. If you will be visiting a park, be prepared to not have restroom access during your visit.
All facility rentals, including pavilion and wedding reservations, are cancelled. All reservation payments will be refunded.
All skate parks are closed. Due to the number of people utilizing skate parks at one time, skate parks are closed.
All playground equipment is closed, and use is prohibited.
Use of fitness equipment areas is prohibited.
Organized skill development and conditioning activities is allowed in City parks and at the Regional Athletic Complex, as long as participants are able to remain at least 10 feet away from one another. Field reservations are allowed starting Monday, May 18th. Organizers follow these updated guidelines.
The Cemetery Sexton House is closed. Burial arrangements can be made by phone.
Use of any other Park amenity that the Parks and Trails and Natural Lands Divisions determine cannot be used safely due to the risk of community spread of COVID-19 is prohibited.
Open Public Lands:
The Tracy Aviary is open with a new system to access and enjoy the Aviary. Visit https://tracyaviary.org/plan-your-visit/covid-19 for more information.
Liberty Park Tennis is open with new procedures and limited play. For more information visit www.libertyhillstennis.com
All parks, trails, and natural lands will remain open. Individuals may engage in outdoor activities (e.g., walking, hiking, running, biking, driving for pleasure, hunting, or fishing), and may visit available public parks, trails and natural lands, consistent with remaining at least six feet apart from individuals from other households.
All off-leash dog areas are open. Please exercise the six-foot distancing protocol in fenced off-leash dog areas. As always, outside of designated off leash areas, please keep dogs on-leash.
Sport courts and fields are open for individuals that reside in the same household. Residents are asked to responsibly enjoy recreational amenities by always maintaining six feet from people outside of their household.
Urban Forestry operations and service coordination is operational for public safety work only. To request service on a City tree, please go to https://www.slc.gov/parks/urban-forestry/urban-forestry-services/
These steps are being taken to discourage gatherings of people in smaller, confined areas of City parks. All areas within City parks not listed above remain open. Our parks are generally spacious, so please use that space to remain at least six feet away from other people.
Salt Lake City Public Lands staff appreciate your support and understanding as we adapt to these evolving conditions. We know that you rely on our public green spaces to get healthy and stay fit. We hope these extraordinary efforts will help with the local and global effort to stop the spread of COVID-19.
We are working closely with the Salt Lake County Health Department to ensure that our parks community receives credible information and guidance during this challenging time. We encourage you to visit the Salt Lake City Covid-19 Website for information on City closures and guidance, available in multiple languages, on COVID-19: https://www.slc.gov/mayor/covid-19/
If you have any questions or concerns, please contact (801) 972-7800 or visit our web page at www.slc.gov/parks
Sincerely,
Kristin Riker
PS Deputy Director; Director of Public Lands