---
Thank you for participating in the engagement process. The survey is now closed.
Parks, natural lands, trails and the urban forest are integral to Salt Lake City. They provide free access to diverse recreational opportunities and offer a connection to nature, which is increasingly important in an urbanizing city. In addition to offering critical environmental benefits, they contribute to the city's economic vibrancy.
In 2017, Salt Lake City Parks & Public Lands conducted an extensive needs assessment finding that, in general, residents prefer using parks and natural lands for more passive activities like hiking, walking, running and other "non-programmed" activities. This preference topped the responses to several survey questions, including why residents visit parks and natural lands, how they want facilities improved, and how they want their tax dollars spent. Read the Parks & Public Lands Needs Assessment.
The needs assessment also found that twenty-one percent of all Salt Lake City residents who use or visit city parks selected "other" when asked what improvements should be made to the park they visit most frequently. The word cloud on page 67 of the Parks & Public Lands Needs Assessment indicates the words most commonly mentioned in these "other" responses. Additionally, the Open City Hall survey and Public Scope meetings found common concerns among residents, including people experiencing homelessness living in parks, problems with dogs, and lack of maintenance and cleanliness. For more information on the Open City Hall survey and Public Scope meetings see Appendices 1 & 2 of the Parks and Public Lands Needs Assessment.
This survey's purpose is to focus more closely on two Parks in the Central City Community and determine if the needs assessment results are compatible with what the community would like to see in Taufer and Richmond Park. All responses are anonymous and will be used to determine future improvements in both parks.
TAUFER AND RICHMOND SURVEY REPORT
---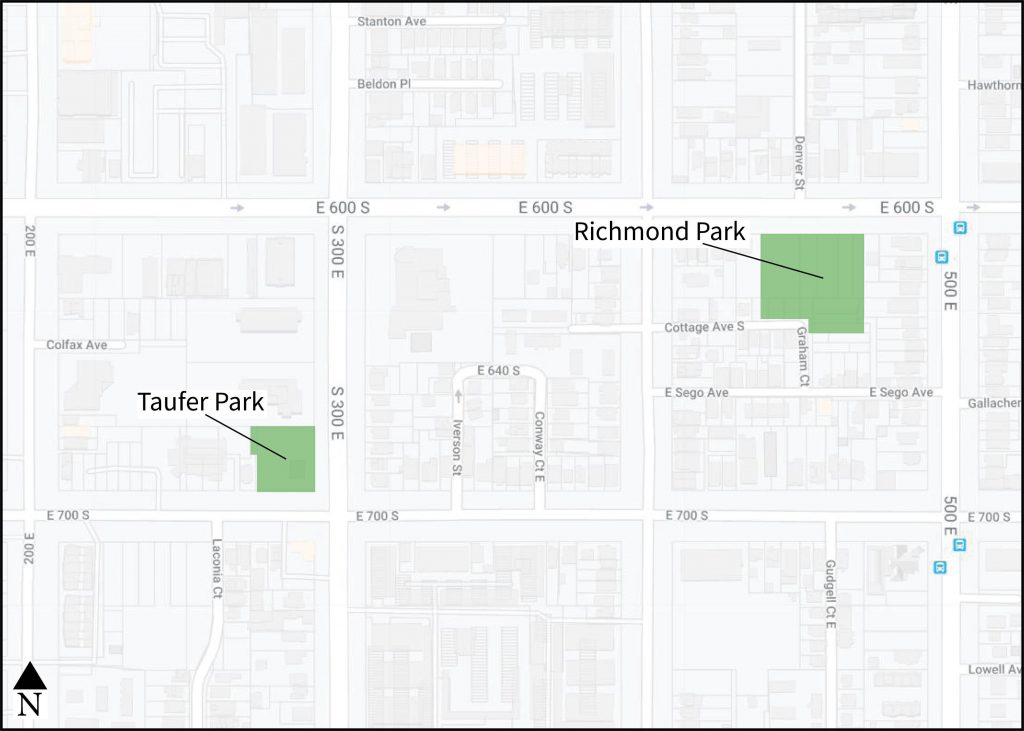 PARK CATEGORIES
Salt Lake City's range of parks create a robust and varied system. The 689.8 acres of existing park land are distributed throughout residential areas of the city and have been classified into several categories based on park characteristics and roles in the community—not just size.
NEIGHBORHOOD PARKS
Regional parks – 2 total
Community parks- 15 total
Special event parks- 3 total
Neighborhood parks- 19 total (Richmond Park is considered a neighborhood park)
Mini parks- 3 total (Taufer Park is considered a mini park)
Neighborhood parks are generally smaller than community parks and primarily serve neighborhood needs. They typically mix large and small amenities, such as open lawns and grass play areas, pavilions, playgrounds, sport courts and fields. Neighborhood parks range from less than one to over 24 acres in size and encompass a total of 148 acres. Specifically, Richmond Park encompasses 1.6 acres.
MINI PARKS
Mini parks are small sites that range from less than one to two acres in size. They are the most prevalent park type in the city and predominate in older, urbanized areas. Mini parks encompass 24 acres in total, with Taufer Park encompassing .6 of those acres.
---
If you have questions or comments about the survey please email: CivicEngagementTeam@slcgov.com