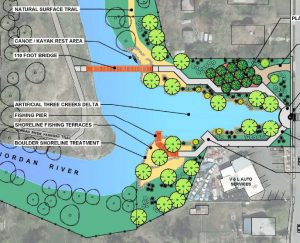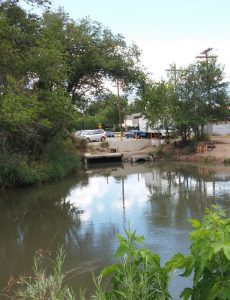 The Three Creeks Confluence project aims to restore, highlight and reactivate a unique location along the Jordan River in Salt Lake City. It is located at 1300 South 900 West. The location signifies where three major tributaries of the Jordan River join (Red Butte Creek, Emigration Creek, and Parleys Creek). The tributaries are currently paved over, and the site is heavily impacted by invasive species, garbage, and private property encroachments.
Through the development of the Three Creeks Confluence site, four main goals will be met:
Health: Improve and expand green infrastructure.
Transportation: Expand and improve multi-modal transportation infrastructure.
Environmental: Enhance the ecological value of the land and improve water quality.
Community: Create a place for the community to connect to the Jordan River and an opportunity to interpret environmental and social history of the site
The Salt Lake City Arts Council recently commissioned a team of local artists' to collaborate with the City's design consultant to develop a public art proposal for the site. The primary goal of the public art project will be to activate the site and provide context to the unique environmental significance of the area. The team of artists is currently working with several community organizations to develop a proposal. They will present the proposed art design in September 2018.