Walkability is understood as a walking experience that is functional, safe, comfortable, and interesting. Generally, all of these components must come together for a place to be walkable. Quite literally, functional means that the physical infrastructure is in place for people to navigate, typically sidewalks and crosswalks. Safe means that the sidewalks and crosswalks are designed to protect pedestrians from moving vehicles, are well-lit at night, and are visible from building interiors. This results in a feeling of safety (the perception of safety), which is harder to quantify. Comfortable appeals to our human senses: Is it too hot or cold? Windy or protected? Empty or full of people? Finally, an interesting place has many things that delight human senses: Are there variations in color, texture and building design? Do trees or other elements modulate light and shade? Can you see into the buildings? Do their uses spill out onto the sidewalk? What is the density of amenities (shops, restaurants, parks, markets, services)? Are there other people? Do you feel a sense of delight or discovery? Do you want to keep walking or are you bored? How does it smell? Walkable places activate all the senses. This is what makes them memorable and what encourages us to return again and again.
Salt Lake City is often criticized as not walkable due to our historic grid pattern of large blocks and wide streets. Through policies like the mid-block walkways program and design standards that require more glass at the ground level to support pedestrian activity, Salt Lake City Planning is encouraging the creation of a walkable city.
What qualities do you think make one place more inviting and walkable than another? Join the Salt Lake City Planning Division on Monday, August 27th at 7 pm on a walking tour of the 9th & 9th neighborhood as we discuss the urban design characteristics that contribute to a great street environment, and how the Planning Division encourages their use in new development projects. This is part three of a four-part Summer Planning Series where our Planning Division staff will share how our work is contributing to Salt Lake City's success. An RSVP is requested for each event.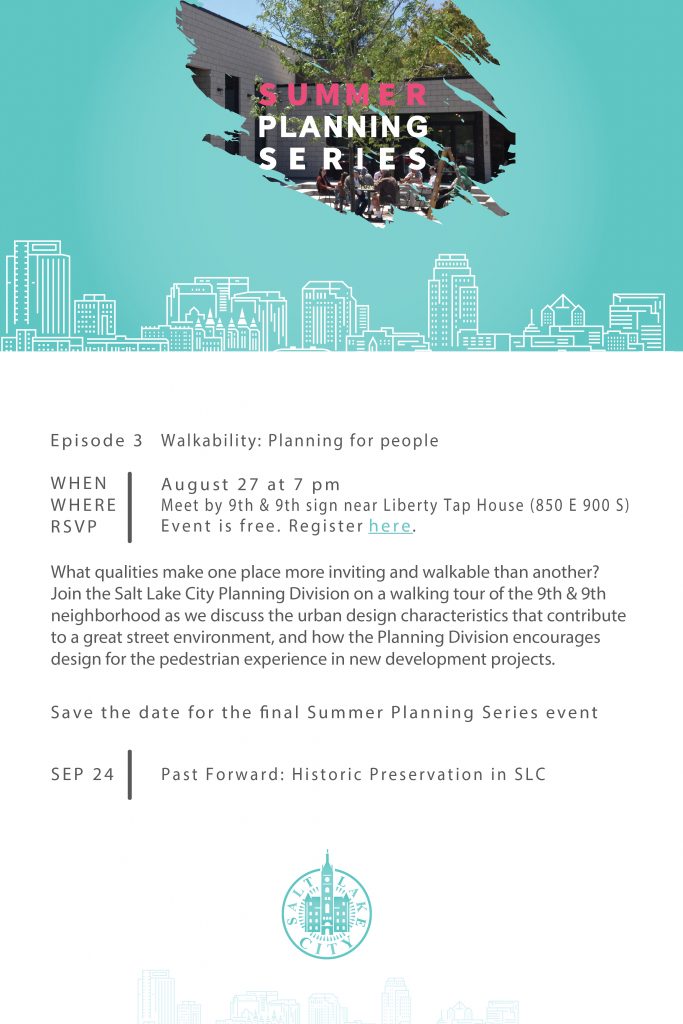 Tags: Meeting, Public Event, Summer Planning Series, Walkability, Walking Tour