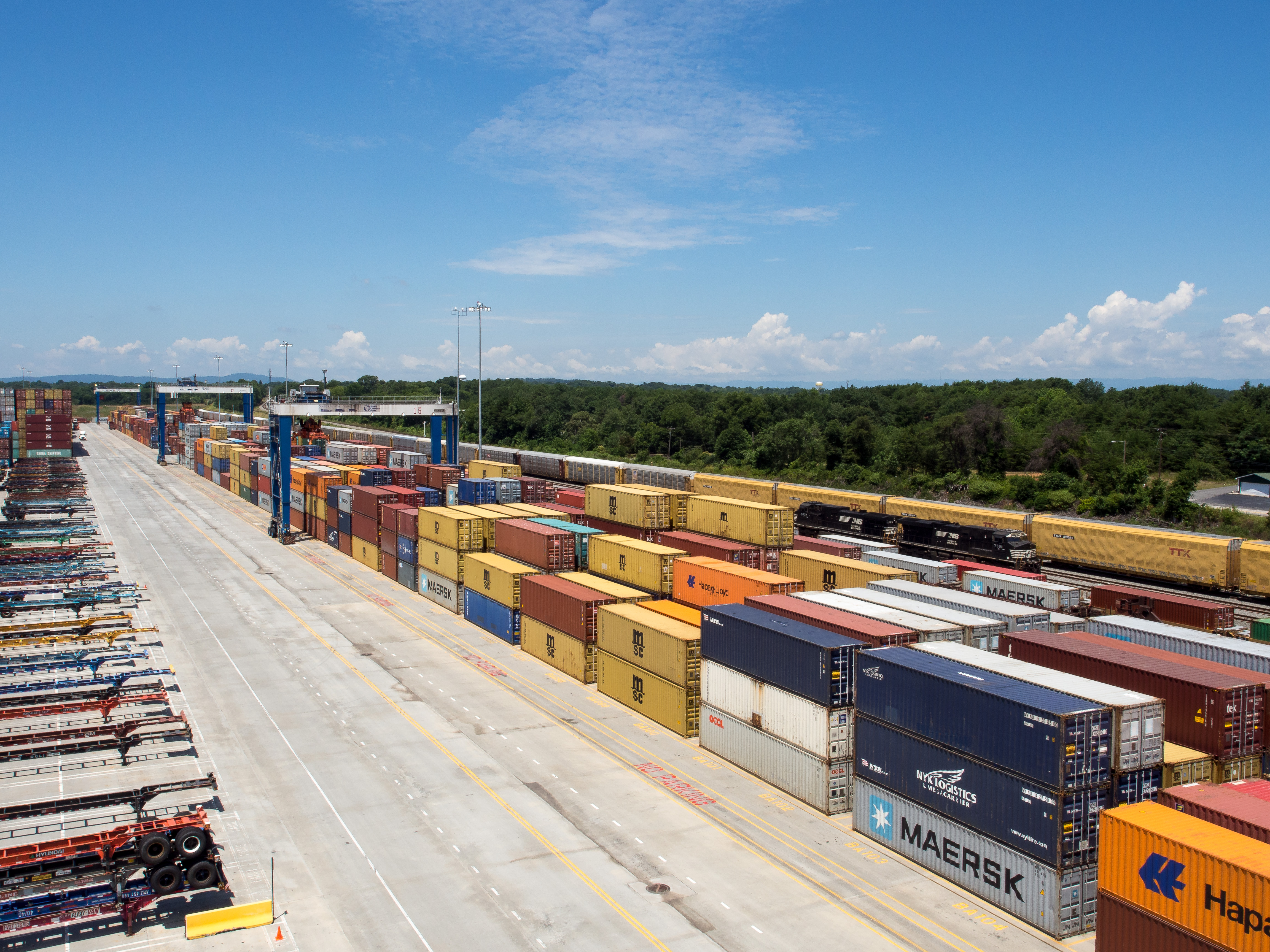 Inland Port Zoning Modifications
Source: South Carolina Ports Authority
The Salt Lake City Planning Division is working on modification to the zoning ordinance in response to State Bill HB2001.
The Utah State Legislature passed bill HB2001 – Utah Inland Port Authority Amendments in a special session and the bill was signed by the Governor on July 21, 2018. This bill requires Salt Lake City to adopt changes to our zoning ordinance to support inland port uses within the Inland Port Authority Jurisdictional Land by December 31, 2018. If changes are not completed by this date, inland port uses would become permitted uses and would not be subject to any additional requirements within the zoning ordinance that may regulate an inland port use.
The Planning staff presented the proposed zoning modifications to the Planning Commission on September 26, 2018, and the Planning Commission sent a positive recommendation to City Council to approve the proposed changes. The City Council will review the proposal, hold public hearings, and make a decision by the end of the year. Please scroll below to find upcoming meetings dates.
Our task
The majority of the Inland Port Authority Jurisdictional Land area is located in the Light Manufacturing (M-1) zoning district and typical inland port uses are already allowed in the M-1 zone. However, there are eight other zoning districts and six overlay districts located within the inland port area that may not currently allow uses associated with an inland port. The main focus of this project is to identify the types of uses associated with an inland port in Salt Lake City and develop regulations that support the City's sustainability and master plan goals. We must do this while complying with the requirements imposed on Salt Lake City under the recently adopted state legislation.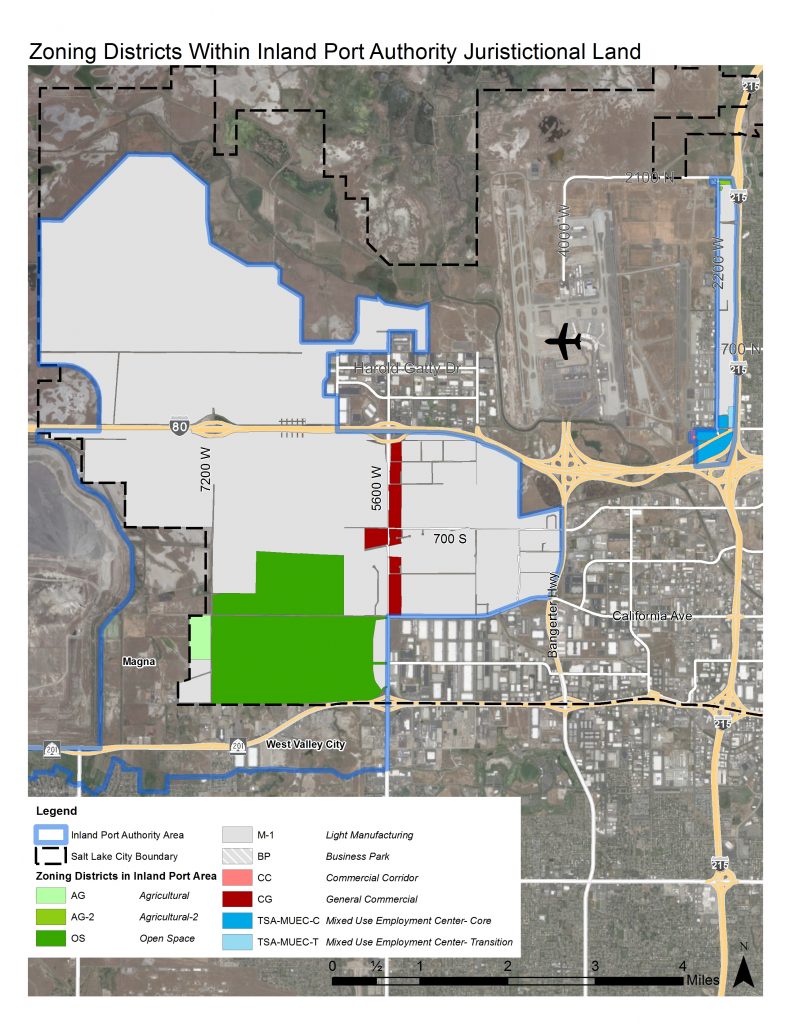 Proposed Draft Ordinance
Thank you to everyone who took the time to fill out the surveys! The Planning Division has completed a draft of the proposed ordinance (found below) that has taken into account the public comments related to the proposal.
Please check out the proposed draft ordinance and summary information below that respond to the new state legislation:
If you would like to provide any public comments, please contact Tracy Tran, Senior Planner at tracy.tran@slcgov.com or 801-535-7645.
Timeline
The engagement period occurred over 6 weeks and included a variety of community meetings, online engagement, planning commission presentations and hearings, and the city council adoption process. The city has a tight time frame to adopt updated regulations and the entire process needs to be condensed or the city will lose its ability to regulate inland port uses.
Below is a timeline of the process:

Past Events:
City Council has scheduled the following. Please check the City Council agendas for details.
Public Hearing: Tuesday, November 13, 2018, 7:00 PM – City and County Building
Public Hearing: Tuesday, November 27, 2018, 7:00 PM – City and County Building
Tentative Council Action: Tuesday, December 4, 2018, 7:00 PM – City and County Building
Please check back periodically for updates and more information about this process.
Background Information
The Inland Port Authority Jurisdictional Land is mapped below: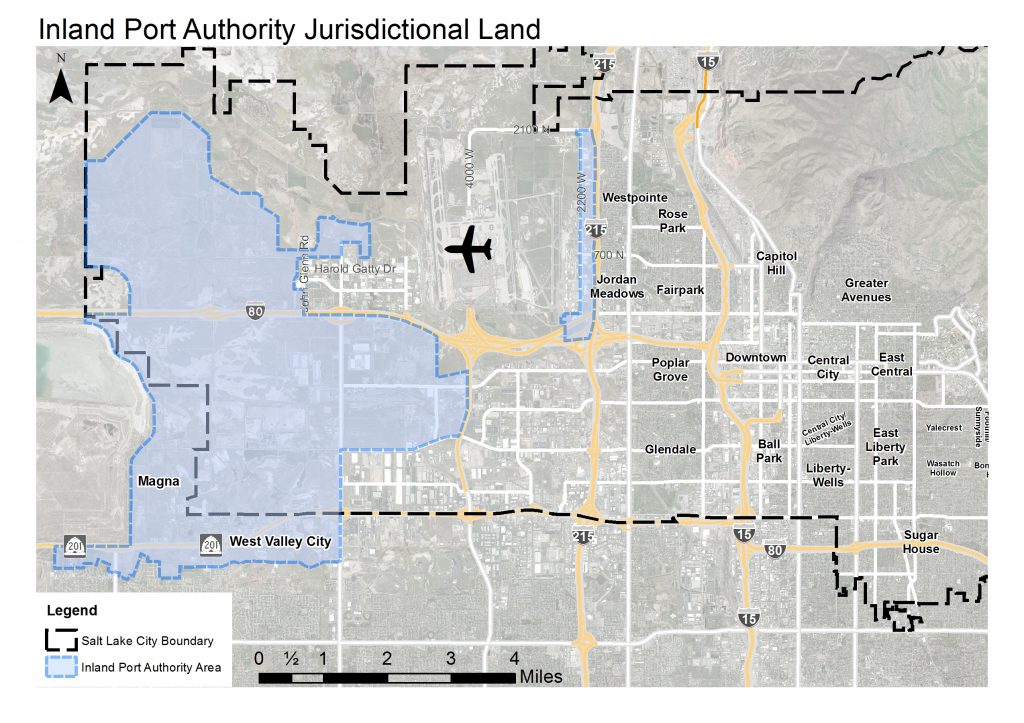 What is an inland port?
Other cities in the U.S. have inland ports. An inland port is typically defined as an intermodal (truck, train, plane) terminal located inland of traditional coastal borders that:
Moves goods in and out for distribution and warehousing
Moves international freight efficiently by providing a customs clearance terminal inland instead of solely relying on a coastal port.
An inland port is also commonly referred to as a dry port, global trade port, logistics park, or intermodal facility.
Some stated benefits and drawbacks of an inland port
Benefits:

Greater efficiency in amount of goods that can be distributed.
Time saved and a reduction in transportation costs as rail freight is not limited by the maximum number of hours a truck driver can drive.
The importance of freight terminals has grown with the expansion of globalization and e-commerce.

Drawbacks:

Environmental impacts such as air quality, water quality, habitat degradation
Demands on public utilities and municipal services (water, fire/emergency, electricity/energy)
Demands on road infrastructure and transportation (traffic, road repairs, noise pollution)
What functions does an inland port typically include?
Rail lines that transfer freight to another mode of transportation, such as to trucks for distribution to warehouses.
Large cranes that move freight from different transportation modes and temporarily stores them as they wait to be transported elsewhere.
Warehousing and distribution centers.
Temporary storage of materials as they await distribution.
Uses are not specifically identified in the state's legislation. Your input will be helpful in determining how city will regulate these uses.
Questions?
For more information, please contact Tracy Tran, Senior Planner at tracy.tran@slcgov.com or 801-535-7645.

Tags: Inland Port, Northwest Quadrant, Public Meeting, Zoning Text Amendments