Text Amendment
AFFORDABLE HOUSING OVERLAY
The City's Planning Division is developing zoning amendments to encourage the construction of additional affordable housing. Based on survey results from earlier this year, planning staff has developed draft options for an affordable housing overlay. It includes providing relief from zoning standards and allowing for additional housing types throughout the community. These options would enable additional affordable housing opportunities and are detailed in the Affordable Housing Overlay StoryMap. 
Planning staff held a virtual open house on July 9, 2020, watch the video below to learn more!
---
Learn about the project
What is the project?
An affordable housing overlay zoning district would provide incentives to developers who include affordable homes in their projects. An overlay would encourage the production of affordable homes rather than require it. This may be done through zoning code modifications such as: allowing additional height, reduced parking requirements, or through process waivers.
Rather than imposing restrictions, an affordable housing overlay aims to present developers with more choices by offering additional benefits to projects that increase the supply of homes that more people can afford. Ideally, the incentives would reduce development costs to allow the construction of more affordable homes.
Frequently Asked Questions
What is an overlay zoning district?
An overlay zone is a zoning district which is applied over one or more previously established zoning districts, establishing additional or stricter standards and criteria for included properties in addition to those of the underlying zoning district. Communities often use overlay zones to protect special features such as historic buildings, wetlands, steep slopes, and waterfronts. (Source: American Planning Association)
Why make these changes?
Affordable housing was ranked as a top priority in the 2019 Salt Lake City Resident Survey.
The city adopted Growing SLC: A Five-Year Housing in 2017 and has a number of efforts underway to assist with providing quality housing for its residents. The Planning Division's current efforts include zoning changes for accessory dwelling units (ADUs), changes to the RMF-30 zone, and amendments related to single room occupancy (SRO) dwellings.
Where would the overlay apply?
The affordable housing overlay would apply to all zoning districts that allow residential uses. That does not mean that apartment buildings will start popping up in mostly single-family neighborhoods. It means that some housing types that are similar in scale will start popping up in those neighborhoods. This is similar to the historic development patterns in the city; with duplexes, triplexes, basement apartments, and small lot single family homes found in most neighborhoods. The apartment buildings will still be restricted to those zones where that type of housing is allowed.
What is affordable housing?
A home is generally considered affordable if the household pays 30% or less of their gross income (before taxes are taken out) towards rent/mortgage payments. Households are considered cost burdened if they pay more than this amount.
HUD uses the following categories and area median income percentages to break incomes into segments so that specific housing needs can be met:
Extremely Low Income Affordable Units: Housing units accommodating 30% AMI
Very Low Income Affordable Units: Housing units accommodating 50% AMI
Low Income Affordable Units: Housing units accommodating 80% AMI
In 2020, a single person household in the Salt Lake Metro Area has an area median income of $60,600. For a single person household, 80% of the income limit is $49,250 (30% = $1,231/month), 50% is $30,800 (30% = $770/month), and 30% is $18,450 (30% = $461/month).
The area median income for a family of four is $87,900. For a four-person household, 80% of the income limit is $70,300 (30% = $1,757/month), 50% is $43,950 (30% = $1,099/month), and 30% is $26,350 (30% = $659/month). (Sources: Growing SLC and HUD)
In May 2020, the typical monthly rent for the Salt Lake Metro Area is $1,332. This is a nearly 23% increase from $1,085 in May 2015.
(Source: Zillow Observed Rent Index)
Why doesn't the city implement inclusionary zoning?
Growing SLC included a recommendation that the city consider this policy. Per Growing SLC, "inclusionary zoning programs refer to local land use ordinances that require or encourage developers to include affordable units in new residential developments, either applied to an entire city or focused on a distinct geographic area. Affordability is often achieved through an indirect subsidy to residential developers—including through increased development capacity or other accommodations during the development review process."
Inclusionary zoning is a possible outcome as another potential tool to help with affordable housing. The overlay could help support an inclusionary program by granting more development potential, which could lead to an increase in affordable dwelling units.
Why doesn't the city implement rent-control?
Utah Code prohibits rent control statewide. The city does not regulate the prices that private individuals and owners charge. The city's zoning ordinance does not address prices or ownership. These decisions are left to the market.
How much are Salt Lake City and Utah growing?
Salt Lake City has grown by 14,000 people since 2010. Utah had the second fastest housing unit growth in the country from 2010-2019 at 15.7%. Much of this growth was in Salt Lake and Utah counties with Herriman, South Jordan, and Lehi being some of the fastest growing cities. The population in the state is expected to nearly double in the next 50 years. (Source: Kem C. Gardner Policy Institute)
Accommodating a portion of this growth in Salt Lake allows for people to live and work in close proximity. This will allow for the growth of various businesses, reduce air pollution, and save commuting time.
What impact does population growth have on housing costs?
An increase in population may result in an increase in housing costs if the population grows faster than housing units are constructed. The construction of housing units slowed during and following the Great Recession and population growth increased at a faster rate than the construction of housing units. Salt Lake City is catching up with its growth. The city has grown by over 14,000 people since 2010 and constructed over 13,000 new units – nearly 4,000 of them in the past year. (Sources: Kem C. Gardner Policy Institute and Ivory-Boyer Construction Report).
Why are many new apartment units so expensive?
Many new apartments are expensive because the demand is being driven by higher paying jobs in certain employment sectors and the regional amenities that contribute to our quality of life. This means that households that have lower annual incomes are having a hard time finding housing that is affordable to their incomes.
Will this proposal result in the demolition of existing residential buildings?
Yes. It is anticipated that some residential buildings will be demolished and be replaced by additional units. If someone were to use the overlay, a percentage of the units would be required to remain affordable through a deed restriction or as required by the funding sources. There are a number of historic districts in the city and it is unlikely that a contributing building in a local historic district would be demolished.
Where will residents park?
The parking that would be required for affordable units is generally the same number of spaces as required for other units. In single-family zones, if the unit is near high-frequency transit, no more than one parking space would be required.
Will this proposal affect historic districts or historic properties?
The proposal does not waive requirements specific to local historic districts or local landmark properties. It is unlikely that contributing buildings would be demolished. Non-contributing or out-of-period buildings may be demolished and replaced. This would follow the existing process for demolition and new construction and would require a Certificate of Appropriateness.
Historic districts that are listed on the National Register of Historic Places, but are not locally designated are not subject to local historic regulations. Additionally, buildings and neighborhoods that are older, but not locally designated as historic landmarks or districts, are not subject to the city's historic preservation requirements.
---
Survey Results
We heard from over 2,100 people in December 2019 and January 2020 in our survey on an Affordable Housing Overlay. Review the responses by looking at the survey summary or a pdf document with the full responses to the questions.
Survey summary
Two-thirds of survey respondents own their homes and 1/3 rent. This is a higher percentage of owners than the city as a whole – 2018 American Community Survey data from the U.S. Census reported 48% of Salt Lake City residents owned their homes.
Do you rent or own your residence?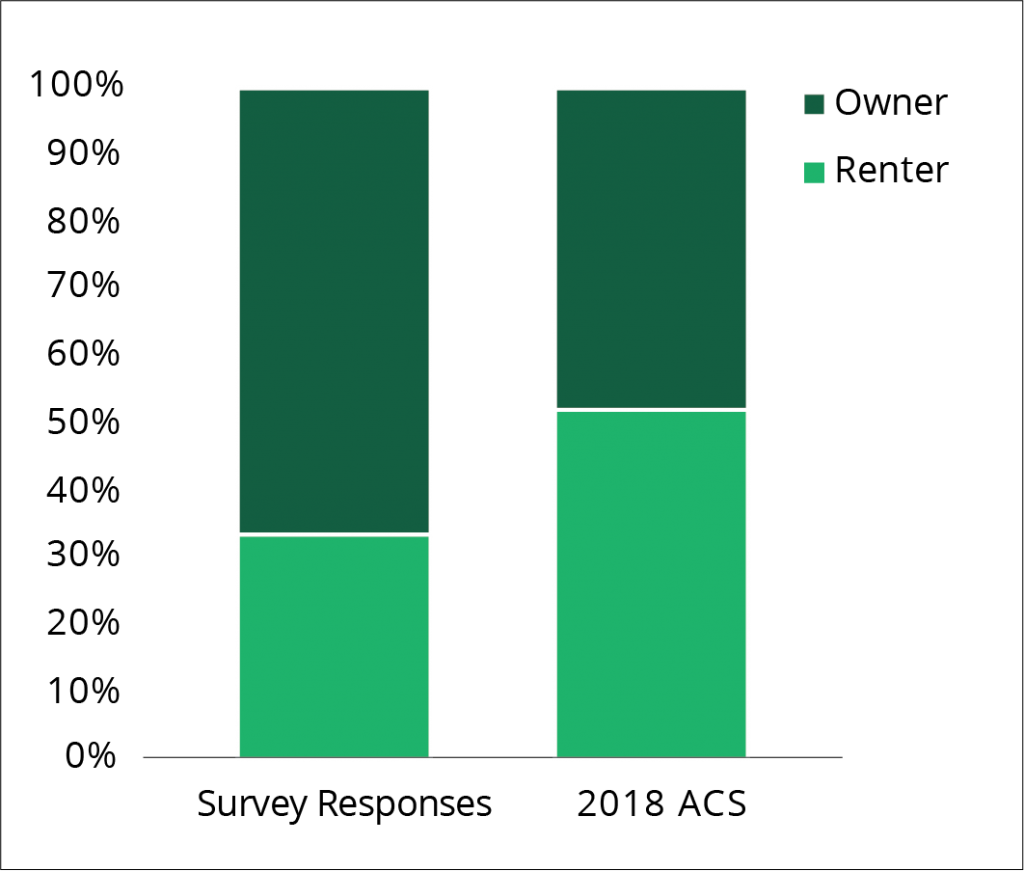 Many renters move frequently and expect to move in the next year or two. The two questions below are related to those that are renters:
How long have you lived at your current residence?

When do you anticipate moving to another residence?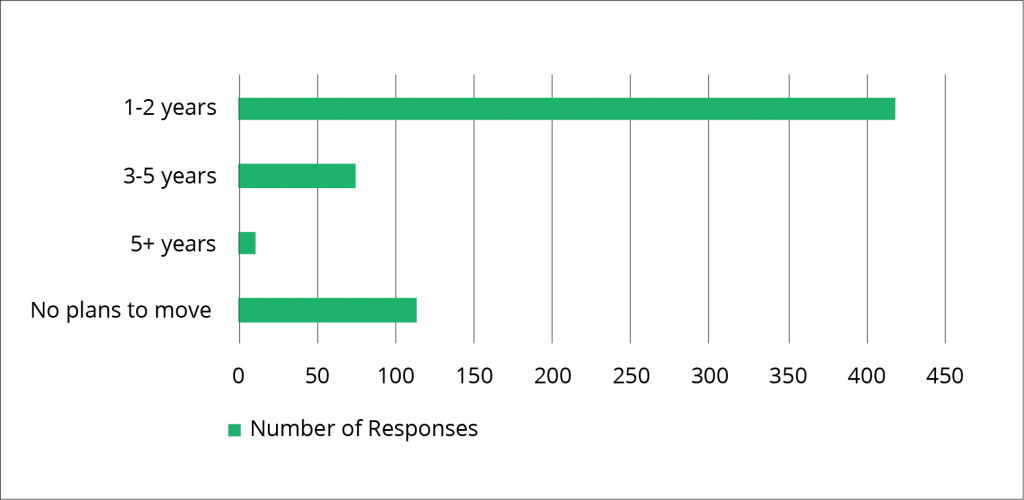 Nearly 10% of respondents spend more than 50% of their income on housing. This is considered extremely cost-burdened. 31% spend between 31-50% of their income on rent and are considered cost-burdened. Over half, 59%, spend less than 30% on housing, which is considered affordable. Compared to the city as a whole, Growing SLC reported that nearly half of renters in Salt Lake City were cost-burdened and nearly a quarter were extremely cost-burdened.
Despite this, 56% stated that housing in Salt Lake City was not affordable. 40% considered it somewhat affordable and 4% considered it very affordable.
86% of respondents felt that affordable housing benefited the community. Nearly 8% selected "I don't know" and 6% did not feel that it benefited the community.
Respondents were open to a variety of housing types in neighborhoods. Respondents were able to select multiple housing types they thought most appropriate for affordable housing in their neighborhood and single family homes were selected most often followed by duplexes, and townhouses.
What types of affordable housing do you think fits in your neighborhood?

80% of respondents stated that affordable housing should be in all neighborhoods. Nearly 83% of respondents felt there wasn't enough affordable housing in Salt Lake City. Approximately two-thirds of respondents felt there wasn't enough affordable housing in their neighborhood and 14% selected "I don't know". 20% of respondents thought their neighborhood had enough affordable housing.
When asked what areas had the biggest need for more affordable housing respondents were able to select multiple areas. Downtown was selected the greatest number of times followed by Sugar House, then Central Community.
What areas do you think have the biggest need for affordable housing?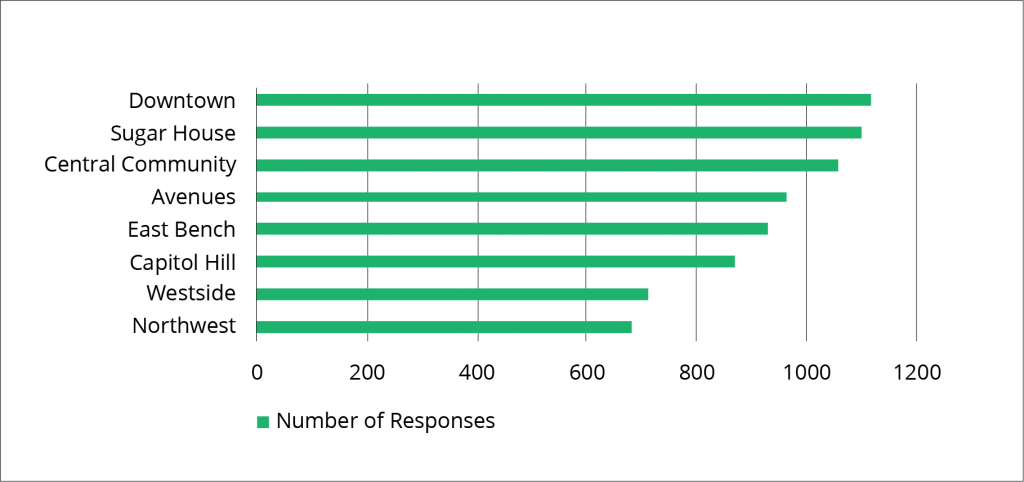 Zoning regulations can affect the supply and location of affordable housing. Respondents thought that focusing affordable housing near transit routes, permitting greater residential density than is currently allowed, and zoning more land in Salt Lake City for multifamily housing would be the most effective ways of addressing the supply and location.
What are the most and least effective ways to address supply and location of affordable housing?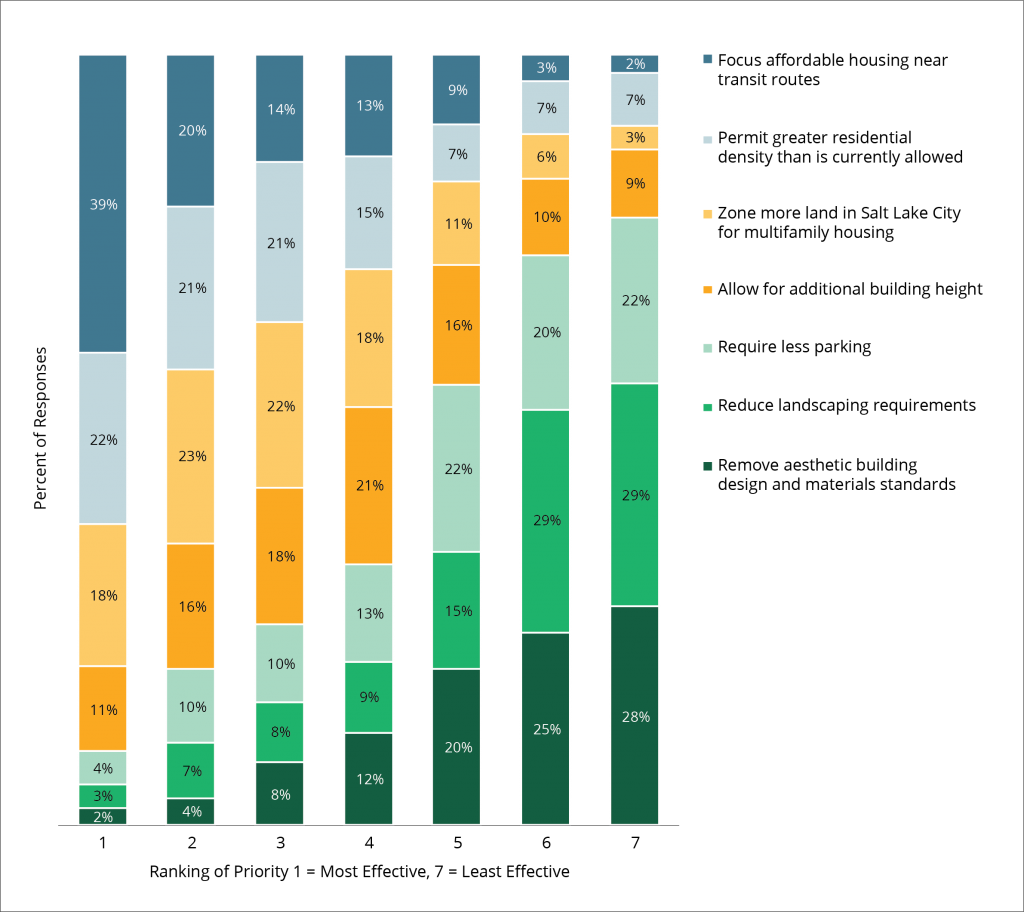 Respondents generally thought that amenities like light rail, grocery stores, schools, and parks should be within ¼ mile of affordable housing. Doctor's offices/hospitals and other retail were less important and could be located ½ mile or further away.
How close should these amenities be to affordable housing?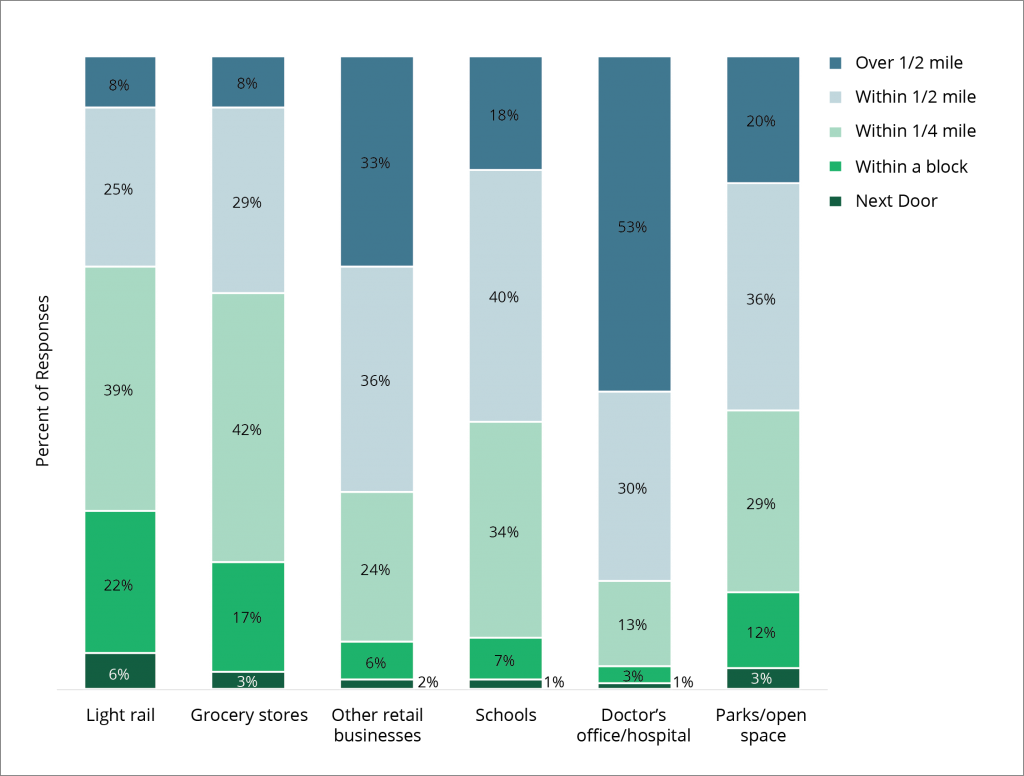 Survey respondents generally had higher incomes and more selected white as their ethnicity compared to the city as a whole. The household size and age of respondents were generally representative of the city as a whole.
View complete survey responses.
---
What's next?
Based on public feedback, planning staff will refine the options presented in the StoryMap and prepare draft amendments to the zoning ordinance. The proposed updates will be posted on this page; dates and times planning staff will host future virtual open houses and public meetings to review and discuss the proposal will be posted here.
The approval process will include public hearings at future Planning Commission and City Council meetings. The Planning Commission will make a recommendation to the City Council, who will make the final decision.
Public Hearing dates will be determined at a later date and will be posted online.
---
Timeline

---
If you have questions or comments regarding the proposal or you would like to be notified of future public meetings, please contact
Sara Javoronok
sara.javoronok@slcgov.com
801-535-7625.