This Online Open House will provide an opportunity for you to review information about the proposal and provide any questions or comments. This Open House meeting will be an electronic meeting pursuant to Salt Lake City Emergency Proclamation No. 2 of 2020 (2)(b).
Design Review & Special Exception
Twenty Ones
Petition Number: PLNPCM2019-01170 & PLNPCM2020-00200
The proposed project consists of two buildings, a north and a south building. The proposed north building is a 3-story residential building that includes studios, and 1 & 2 bedrooms totaling 77 units. The south building is a 2-story mixed-use commercial and residential building with 31 residential units including studios, and 1 & 2 bedroom units. The ground floor contains approximately 21,000 SF of commercial space. A total of 164 parking stalls are provided onsite (surface + underground parking), and 24 stalls are provided on street.
This project is required to go through Design Review due to building size limits in the CB: Community Business zoning district. Buildings in excess of seven thousand five hundred (7,500) gross square feet of floor area for a first-floor footprint are allowed only through the design review process.
Special Exception approval is required due to the requested additional height on the north building. The Planning Commission may approve, as a special exception, up to 3' of additional height. The maximum height in the CB zone is 30 feet (30') with an additional 5 feet (5') for parapet walls that screen mechanical equipment. This request is for an additional 3' on the north building totaling 33' to the roof deck. The total height, including the parapet walls, will not exceed the allowable 35' if it were approved by the Planning Commission.
Project Location
Approximately 2100 South and 2100 East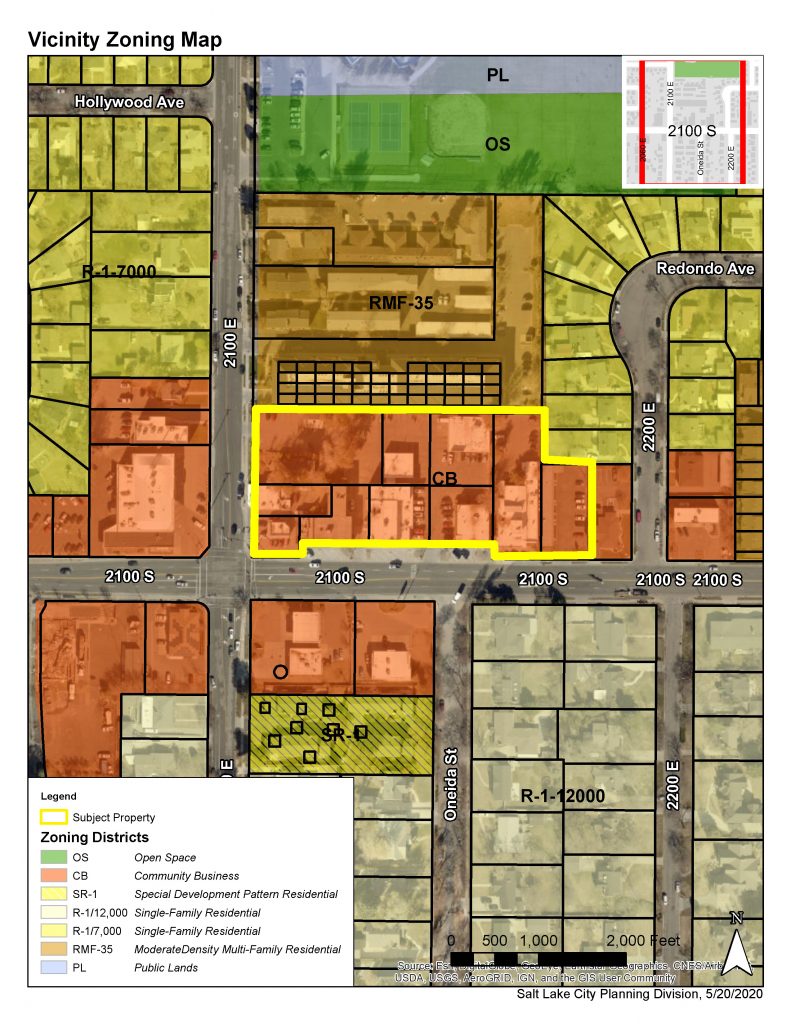 Additional Information
Next Steps
The project will be reviewed as a Design Review proposal by Staff and will be scheduled for a public hearing at an upcoming Planning Commission meeting.
Additional information including the date, agenda, and staff report will be posted as they are available.
Public Comments and Questions
We want to hear from you! Public comments and questions will be received within the public comment window. To submit a comment or question please contact the staff planner via email or leave a voicemail. Your questions will be answered within a week after the comment period has ended.
Start of Public Comment Period: May 22, 2020
End of the Public Comment Period: June 22, 2020
Krissy Gilmore // kristina.gilmore@slcgov.com // 801-535-7780
(phone numbers are currently available for voicemails only)
---
During and following this comment period, the Planning Division will evaluate the proposal against the applicable zoning standards, taking into consideration public comments as they relate to the standards, and develop a recommendation for the Planning Commission.