This Online Open House will provide an opportunity for you to review information about the proposal and provide any questions or comments. This Open House meeting will be an electronic meeting pursuant to the Salt Lake City Emergency Proclamation.
Conditional Use
Verizon Cellular Monopole Conditional Use at 5048 West 700 South
Petition Number: PLNPCM2020-00716
Zoning District: M-1- Light Manufacturing
City Council District: District Two (2) – Andrew Johnston
Dakota Hawks of Technology Associates, is seeking Conditional Use approval for a new Verizon Wireless telecommunications facility with a 66-foot tall monopole and associated equipment on the property located at 5048 West 700 South in the M-1 – Light Manufacturing zoning district. Per section 21A.40.090 (E) of the Zoning Ordinance, all monopoles taller than 60 feet in the M-1 zone require Conditional Use approval.
Project Location
Approximately 5048 West 700 South.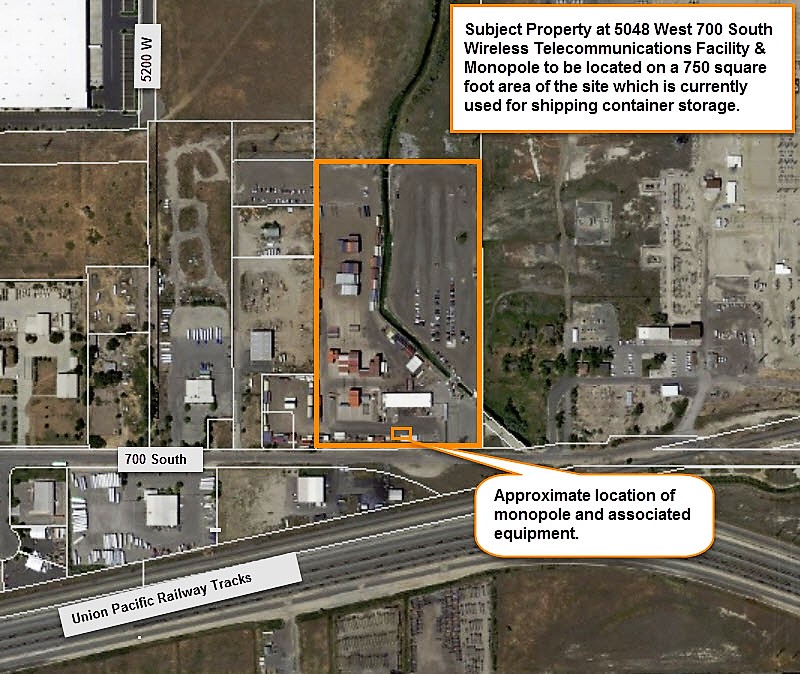 Additional Information
Next Steps
The Planning Division is in the process of obtaining public comment on this project to help identify concerns and issues from the public.
Notice has been sent to the Chair of the community organizations for this area.
The Administrative Hearing Officer will hold a public hearing to make a decision on the submitted proposal.
The Administrative public hearing will be scheduled at a future date.
Public Comments and Questions
The public comment period closed November 6, 2020. For additional information on this project please contact the staff planner.
David J. Gellner // david.gellner@slcgov.com // 801-535-6107
(phone numbers are currently available for voicemails only)
---
During and following this comment period, the Planning Division will evaluate the proposal against the applicable zoning standards, taking into consideration public comments as they relate to the standards, and develop a recommendation for the Planning Commission.