This Online Open House will provide an opportunity for you to review information about the proposal and provide any questions or comments. This Open House meeting will be an electronic meeting pursuant to Salt Lake City Emergency Proclamation No. 2 of 2020 (2)(b).
Zoning Map Amendment & Master Plan Amendment
CTAG/Green Haven Rezone & Master Plan Amendment
Petition Number: PLNPCM2021-00029 & PLNPCM2021-00104
Zoning District: RMF-45 Moderate/High Density Multi-Family Residential
Council District: Liberty Wells
Salt Lake City received a request from Christopher Lee, representing the property owners, to amend the Central Community Master Plan and the zoning map for the properties located at 203 E 2100 S, 1991 S 200 E & 221 E 2100 S. The proposal would rezone the property from RMF-45 (Moderate/High Density Multi-Family Residential) to FB-UN2 (Form Based Urban Neighborhood) and amend the Central Community Future Land Use Map from Medium High Residential to Form Based Residential Mixed Use.
The proposed amendments to the Master Plan Future Land Use Map and zoning map is to facilitate a future residential mixed-use development. Project specific plans for this development have not been provided by the applicant.
Project Location
Properties located at approximately 203 E 2100 S, 1991 S 200 E & 221 E 2100 S.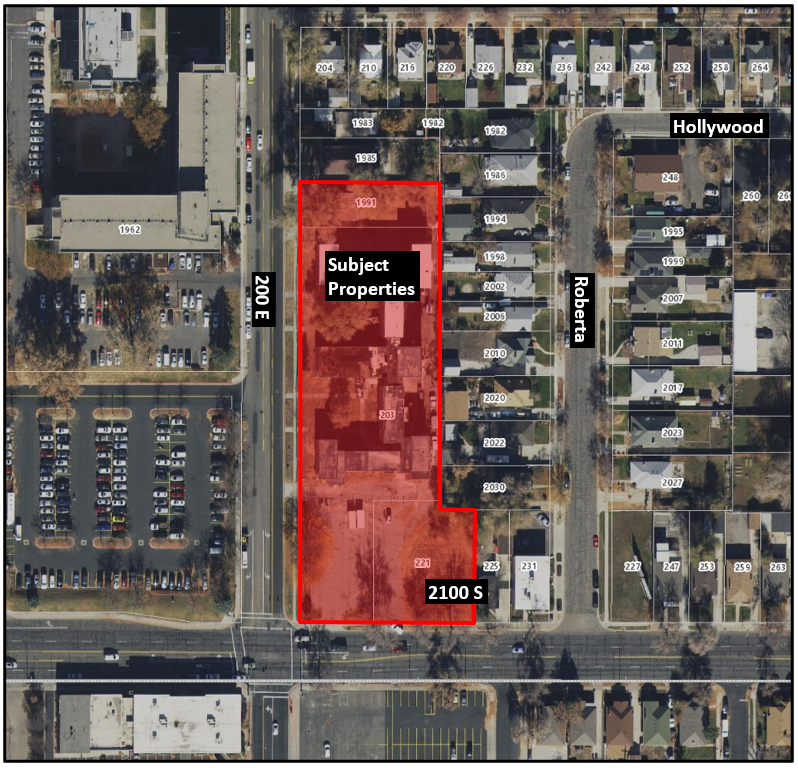 Additional Information
Next Steps
The Planning Division is in the process of obtaining public comments on this petition to help identify concerns and issues from the public. The process for a zoning amendment ("rezone") includes multiple steps and public hearings. The following additional public meetings will be held regarding this rezone. Nearby residents and property owners will receive mailed notice for each of the below public hearings.
Planning Commission: Will hold a public hearing and make a recommendation to the City Council (Date TBD)
City Council: Will hold a public hearing and make a decision (Dates TBD)
The City Council is the final decision maker on this rezone proposal.
Public Comments and Questions
We want to hear from you! To submit a comment or question please contact the staff planner via email or leave a voicemail, your questions will be answered within a week after the comment period has ended.
Start of Public Comment Period: February 22, 2021
End of the Public Comment Period: April 8, 2021
Chris Earl // christopher.earl@slcgov.com // 801-535-7932 or 385-386-2760
(phone number currently available for voicemails)
---
During and following this comment period, the Planning Division will evaluate the proposal against the applicable zoning standards, taking into consideration public comments as they relate to the standards, and develop a recommendation for the Planning Commission.