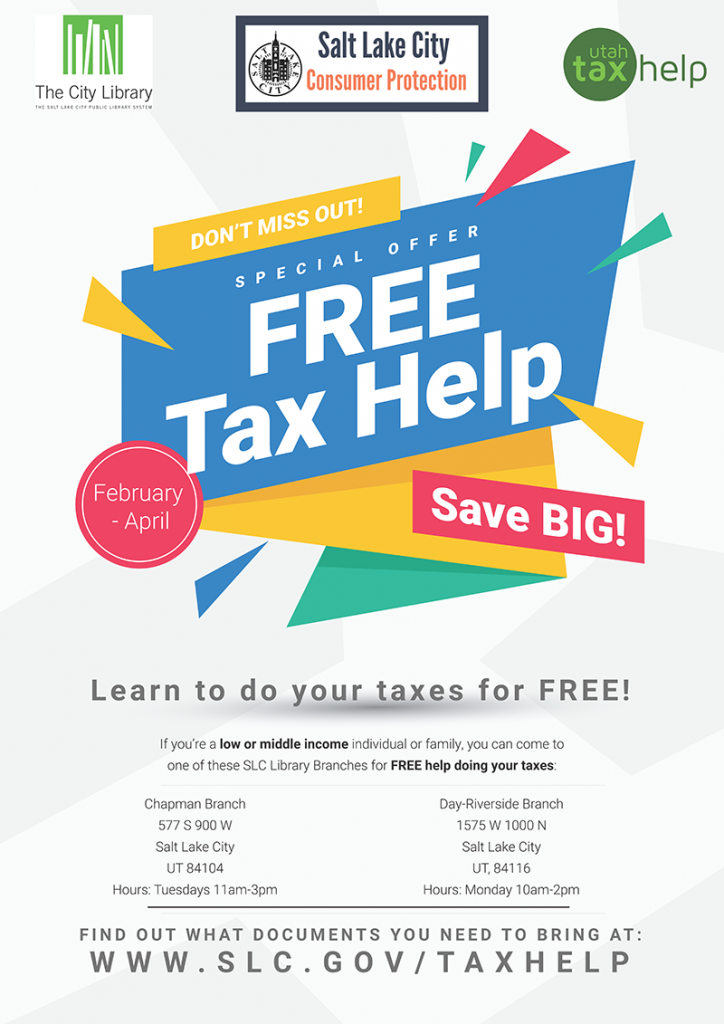 Free Tax Training
Salt Lake City is partnering with UtahTaxHelp.org to provide free tax training. You can learn how to do your taxes with an IRS approved tax trainer. The program, called facilitated self-assistance, will teach you all you need to know to do your taxes. Never pay for tax help again!
Training will be done on a first come first served basis at these Salt Lake City Library locations:

Chapman Branch
577 S 900 W
Salt Lake City, UT 84104
Hours: Tuesdays 11am-3pm

Day-Riverside Branch
1575 W 1000 N
Salt Lake City, UT 84116
Hours: Mondays 10am-2pm
What to bring
Photo Identification for them and their spouse, if any
Social Security Cards for everyone to be included on the return
W-2 (s), Interest / Dividend Statements and any other Income Forms (1099s)
1095-A Health Insurance form from the Marketplace (Obamacare)
Last Year's Tax Return (Form 1040)
Tuition Form (1098-T) and any expenses not covered by scholarship
Bank Information for direct deposit. If wanting to split refund bring information for all accounts
Avoid Fraud
Paid tax preparers do not have to be licensed or have any kind of certification to do your taxes. There are many paid tax preparers that will take advantage of you. If you feel like you have been taken advantage of by a tax preparer you can file a complaint at SLC.gov/ConsumerProtection. Here are some tips to avoid tax fraud.
Never use a tax preparer who will charge you a percentage of your return. They will file an incorrect return so that they get to charge you more.
File your taxes as early as possible!
Avoid tax preparers who claim they can give you an "Instant Tax Return". The IRS does not provide instant tax returns. An instant tax return is a loan that you will have to pay back with interest when your real tax return comes in. It may end up costing you a lot of money.
If you do use a paid tax preparer, try to use a reputable tax preparation company.
Always be cautious for hidden fees.
Never sign a blank or incomplete tax return.
Beware of calls claiming to be from the IRS. If you are contacted by someone claiming from the IRS, you should always confirm by calling (800) 829-1040.
Get IRS Approved Help
If you make less than $56,000/year you can get your taxes done for FREE at UtahTaxHelp.org. Their tax preparers are trained by an IRS certified trainer and their tax preparation sites are certified by the IRS. You can be sure you're getting the best possible tax help by avoiding paid tax preparers and using IRS approved free tax assistance.
If you make less than $66,000/year you can do your taxes online for free! Don't pay for expensive tax programs or go to paid tax preparers. If you go to UtahTaxHelp.org you can do your taxes online for FREE!
Get the Biggest Return as Fast as Possible
By using an IRS approved free tax service you can trust that the person helping you will know exactly how to get you the BIGGEST RETURN POSSIBLE! They go through extensive training to help people just like you. Not only that, but they can help you get your return as fast as possible by signing you up for e-file. If you e-file your return you can get your refund in about 10 days.
BEWARE "Instant Tax Returns"
Businesses who advertise instant tax returns are actually issuing loans for a tax return that will come later. The IRS will never provide an instant tax return. Fail to payback your loan and you could be in big trouble! These loans can have huge rates in the hundreds and even thousands of percentages. That means you could end up paying big time for that "instant tax return". Don't get taken advantage of by these bad businesses.
The Bottom Line
Life is complicated, but taxes don't have to be. There are a lot of reliable and free services out there that can help you get your taxes done. Don't make the mistake of paying for something you can do better yourself.