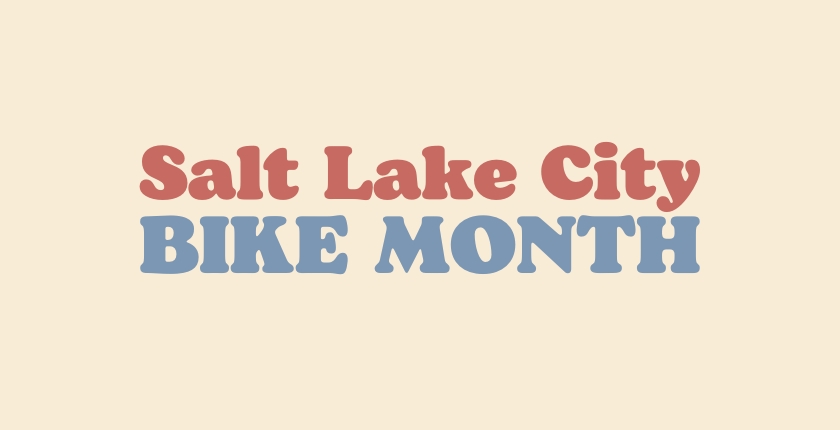 Overview
May is National Bike Month, celebrated in communities across the United States, including here in Salt Lake City! Established in 1956, National Bike Month is a chance to showcase the many benefits of bicycling—and encourage more folks to giving biking a try. In 2023, we'll be celebrating ways to #SLCBikeThere during National Bike Month and National Ride A Bike Day on May 1, 2023. There are so many ways to celebrate Bike Month and to #SLCBikeThere: riding on May 1st for #BikeDay, biking to coffee or around the block, and during Mayor Mendenhall's Bike to Work Day on May 11th! Check out bike routes and trails in Salt Lake City. And learn more about how to celebrate Bike Month from our friends at Move Utah and Bike Utah!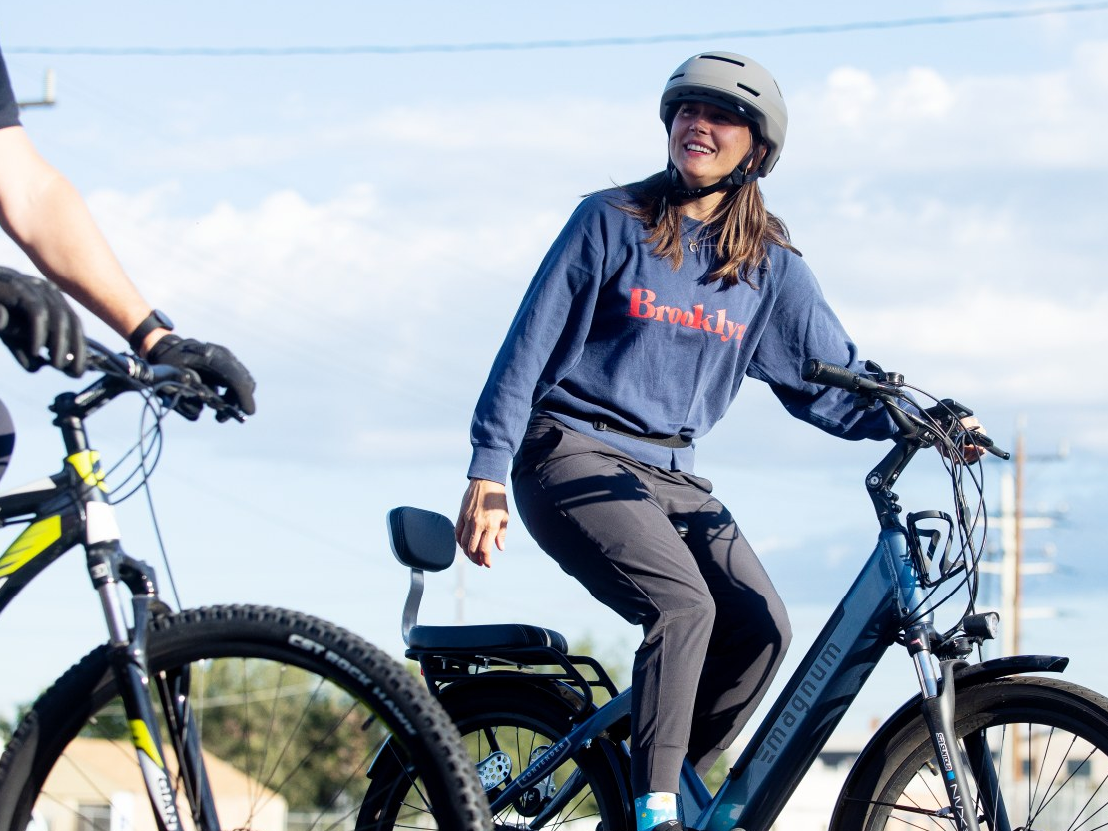 Are you hosting or sponsoring a Bike Month event? Contact BikeSLC@slcgov.com to include your event in our lineup!
Bike Month Events
"Gear Up: The Science of Bikes" Exhibit
Until May 12th, 2023 – Museum of Natural Curiosity @ Thanksgiving Point
Head to the Museum of Natural Curiosity at Thanksgiving Point through May 12th to experience "Gear Up: The Science of Bikes!" Learn how bikes work, the history and evolution of the bicycle, the science and technology behind these wonderful machines and their impact on our culture. With a dozen different exhibits, this is the perfect exhibit for folks of all ages and diverse interests, from STEM and art, to history and design.
Mayor Mendenhall's Bike to Work Day
May 11th, 2023 @ 7:30AM – Reservoir Park (42 S University St., SLC, Utah)
Join Salt Lake City Mayor Erin Mendenhall along with many other Salt Lake City employees as we bike to work! The event will start at Reservoir Park inside the Finch Lane Art Gallery at 7:30 AM on May 11 and will end at the Green Loop Project (200 East 350 South). The ride will begin at approximately 8:15 AM. We will have coffee and breakfast refreshments on hand to fuel the ride! The route will take approximately 10 minutes to complete.
No bike? No problem! SLC Bike Share has locations all over the city where you can rent a bike.
You can also join us by biking to your place of work on the same day. Take a photo on your route and use the hashtag #SLCBikeThere.
Looking for ways you can bike to your work? Visit our Bike Map to determine the best route.
Bike to Work Day Route
Beavers, Botany and Bikes
May 12th, 2023 @ 6PM – Riverside Park (1260 W 600 N, Provo, Utah)
Join BikeWalk Provo for a gentle 10 mile roundtrip bike ride along the Provo River Trail to Utah Lake! The ride will be joined by Dr. Michael Rotter, a professor of Biology at Utah Valley University and will be on the lookout for everyone's favorite aquatic rodent: the beaver! There will be conversations around how beavers shape our waterways and how people influence beavers in our urban environments. The ride starts at Riverside Park in Provo and will head toward the lake at 6 PM. Dressing up as a beaver is encouraged, but optional!
Golden Spoke Ride
May 13th, 2023: Ogden @ 10:00AM – Ogden Frontrunner Station | Provo @ 7:30AM – Riverside Park
The annual 2023 Golden Spoke cycling event is Saturday, May 13. Come ride with us across more than 100 miles of safe and connected multi-use trails across the Wasatch Front from Ogden to Provo. Three different routes, a longer 75-mile ride from Riverside Park in Provo, a 25-mile ride from Ogden Frontrunner station, and a short 2.5-mile ride from Farmington Pond, will all converge at Farmington Regional Park where we're celebrating 20 years since the creation of the Denver and Rio Grande Western Rail Trail in 2003. This family friendly event is free and everyone is invited.
Ride of Silence
May 17th, 2023 @ 7:00PM – Dixon Middle School (750 W 200 N, Provo)
On May 17th, join the Provo chapter of the Worldwide Ride of Silence for a ride to honor people who have been injured or killed while bicycling during the past year and beyond. The ride will be short, slow, and silent and make brief stops at the ghost bike memorials for Doug Crow and Mark Robinson. The ride will then loop back to Dixon Middle School.
Sweet Street's Bike/Walk Tour of Salt Lake City
May 20th, 2023 @ 10:00AM – International Peace Gardens (1060 S 900 W)
Come tour the city with Sweet Streets! The ride will start at the International Peace Gardens and highlight locations for a more connected bike network. Join for part or all of the fun!
600 East Neighborhood Byway Bicycle Tour
May 25th, 2023 @ 5:45PM – 575 E 2225 S (on the S-Line bike path near Peak State Fit)
Join the Salt Lake City Bicycle Advisory Committee on a bike tour of the 600 East Neighborhood Byway! Chat with Salt Lake City Transportation staff, learn about neighborhood byways, and have fun riding bikes. All are welcome!
10th Annual SLUG Cat Bike Race
May 27th, 2023 @ 5:00PM (Registration from 4:00 to 5:00PM) – Saturday Cycles (605 N 300 W)
This exciting alleycat event is based off the scavenger hunt-style bike races in San Francisco and New York and takes you all over the City. Bike with the coolest cats you know in town, make new friends and win awesome prizes from local sponsors! Registration is open between 4:00 and 5:00PM and the race will begin at 5:00PM. Cyclists will ride around the city to collect points for their manifest and at 7pm we will begin the award ceremony.
Bike Bingo
The entire month of May!
Are you looking for a fun way to explore the city on two wheels? Then join us for a game of Bicycle Bingo! Bicycle Bingo is a scavenger hunt on bicycles, where you will ride around Salt Lake City to cross off items on your bingo card. It's a great opportunity to discover new parts of the city while enjoying a fun and healthy activity. Tag us @slcmoves on Facebook and Twitter if you get a bingo!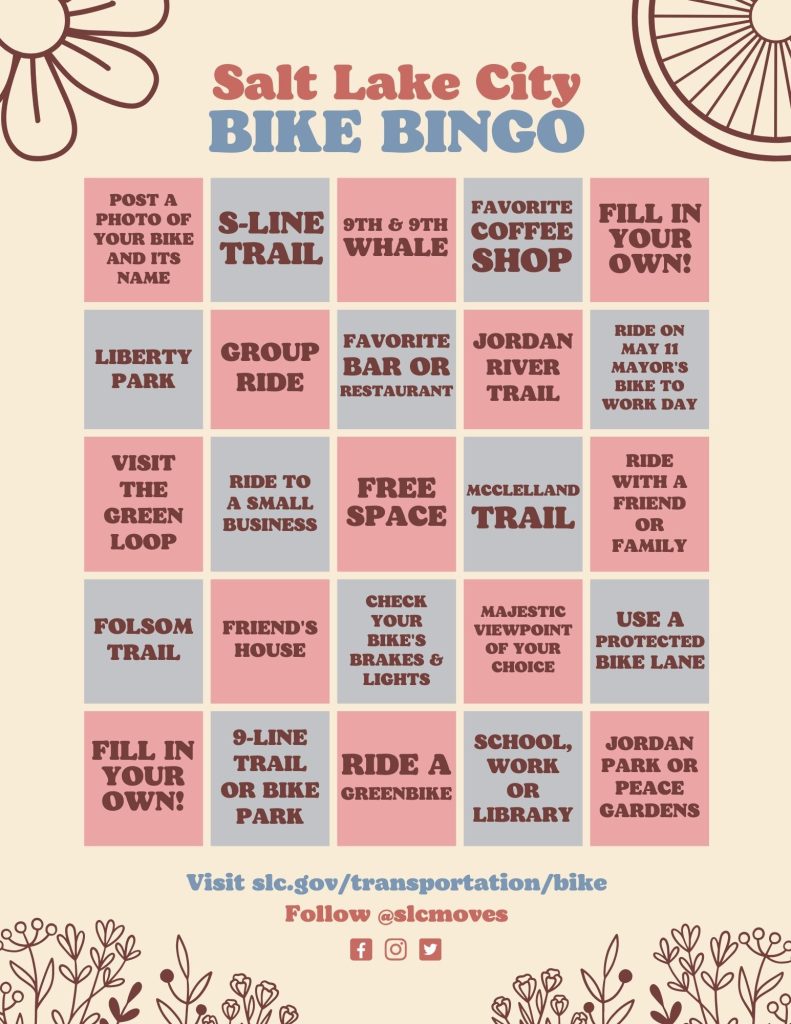 ---
Contact Us
Email | BikeSLC@slcgov.com
Phone | 801-535-6630
Social Media | @SLCmoves @SLCgov