---
What is the Poplar Grove Neighborhood Byway?
Recognized as key elements of the Salt Lake City Pedestrian & Bicycle Master Plan, a Community Development Block Grant (CDBG) was awarded for the neighborhood byway infrastructure improvements in this project. Neighborhood byways are traffic-calmed streets improved especially for walking and bicycling. They typically feature low volumes and speeds, crossing improvements, and some identity improvements.
Project Area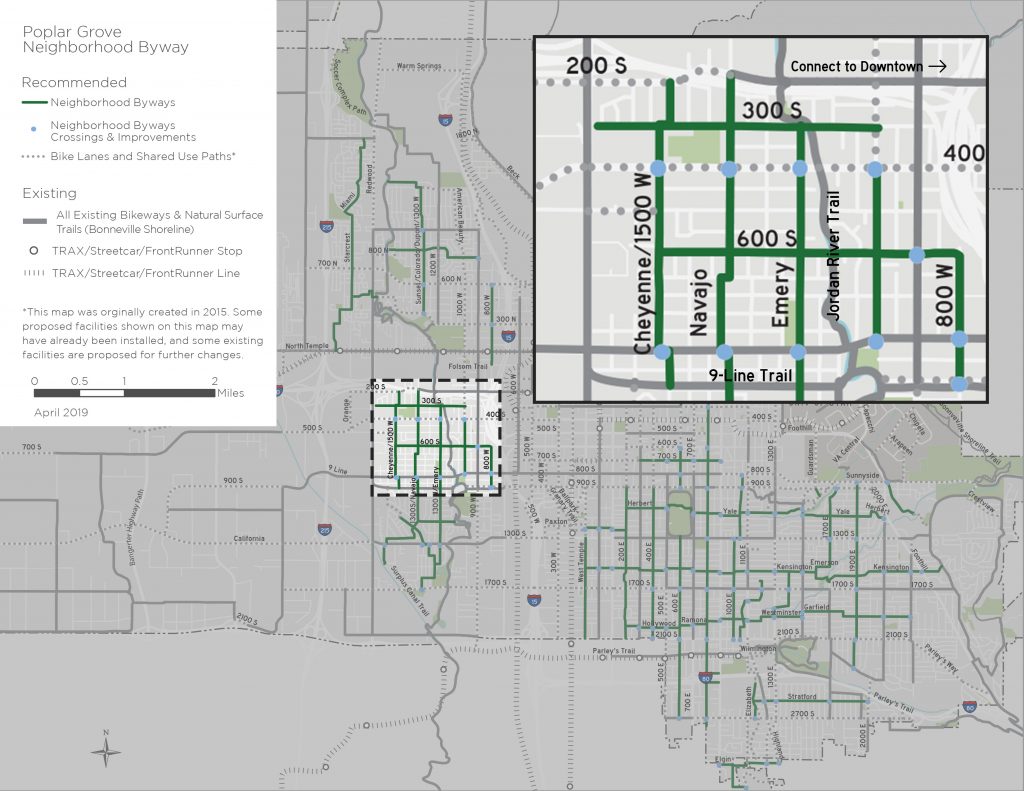 The Poplar Grove Neighborhood Byway will directly connect to parks, transportation, and recreational amenities (Jordan River Parkway Trail, the 9-Line Trail, Jordan Park and the International Peace Gardens, Poplar Grove Park, and Sherwood Park), schools (Edison, Parkview and Franklin elementary schools), churches, community resource centers, and neighborhood businesses. Changes needed to enhance bicycle and pedestrian connectivity in the neighborhood are: improved crossings along 400 S and Indiana St.; and median refuge islands on 800 W at the crossings of 800 S and 900 S. The project may also add wayfinding signs for active modes, transit stop improvements, pavement markings, and traffic calming.
---
Project Goals
To improve safety for all roadway users
To accommodate active transportation users linking to key destinations including neighborhood retail areas and corridors, parks, schools, and transit stations.
Implement the Pedestrian and Bicycle Master Plan
---
Draft Design
Questions?
Please contact the project manager for questions or more information on this project:
Will Becker
Transportation Planner II
(801)535-6569
Will.Becker@slcgov.com