COURT PARKING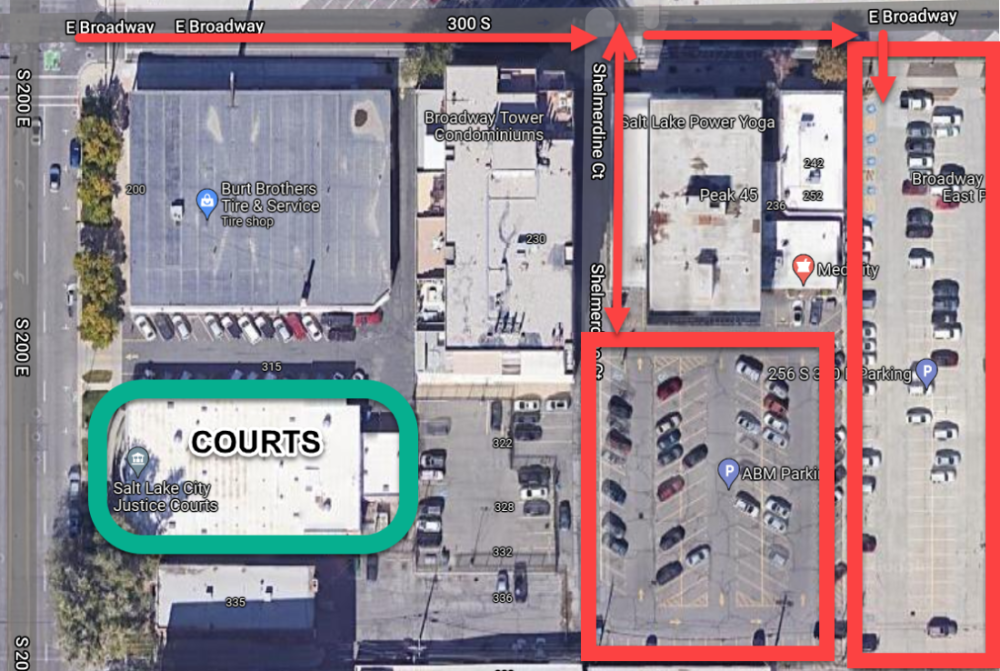 Location
Salt Lake City Justice Court is located downtown (333 S. 200 E.) where parking is limited. It is suggested that you take advantage of public transit. The closest TRAX station to the Justice Court is the Library stop located on 400 South. For Schedules & Info refer to www.rideuta.com. In addition, you may choose one of many public parking garages or parking lots involving a daily fee, for which you will be responsible. Click here for driving directions.
City Metered Parking – Private pay lots
There is City metered parking on 300 South. There are also two private pay lots located directly East of the courthouse. Parking lot entrances are on 230 East (Shelmerdine Ct) 300 South and 245 East 300 South. You will be responsible to pay for any fees involved with parking.
Do not park at Burt Brothers or at the apartments next to the courthouse. Your vehicle will be towed and you will be responsible for any fees related to towing.
COURT OBSERVED HOLIDAYS
The Court will be closed on the following observed holidays.
| | |
| --- | --- |
| November 23rd, 2023 | Thanksgiving Day |
| December 25th, 2023 | Christmas Day |
| January 1st, 2024 | New Years Day |
| January 15th, 2024 | Human Rights Day |
| February 19th, 2024 | President's Day |
| May 27th, 2024 | Memorial Day |
| June 17th, 2024 | Juneteenth Observation |
| July 4th, 2024 | Independence Day |
| July 24th, 2024 | Pioneer Day |
| September 2nd, 2024 | Labor Day |
| November 11th, 2024 | Veterans Day |
| November 28th, 2024 | Thanksgiving Day |
| December 25th, 2024 | Christmas Day |