Overview of Internships for Salt Lake City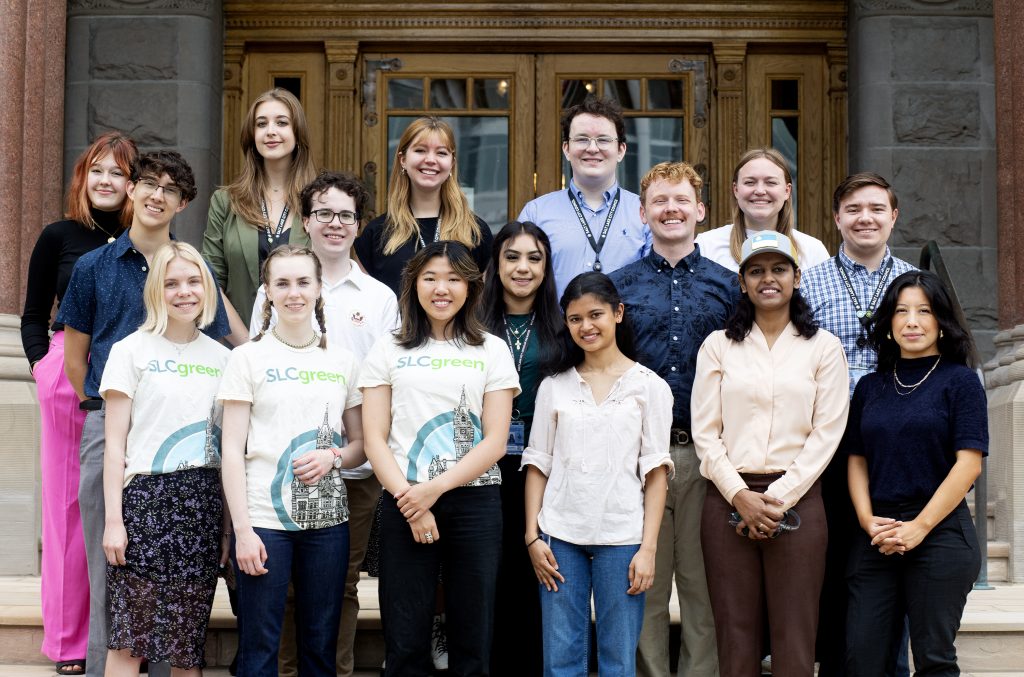 Salt Lake City offers a unique and exciting opportunity for students to be introduced to the functions of City government. The Salt Lake City Internship Program gives interns an insider's view of local government and stimulates future interest in a possible career in the public sector. This program works closely with academic internship coordinators at local colleges, universities and professional schools.
The goal of the program is to introduce students to the many aspects of municipal government through public policy and management. The intern position is designed to provide students with a real life experience to enhance their academic and professional pursuits. Interns serve as a vital piece in the overall effort to articulate the Mayor's vision for Salt Lake City. Upon appointment, interns will develop learning objectives in partnership with the internship coordinator, administrative staff supervisor and academic intern advisor.
---
Available intern positions are posted to our Human Resources site. Please click here to APPLY.
---
Internships Need-to-Know
Interns must be enrolled in an academic program and able to provide proof of enrollment upon request
Hourly paid interns may only work 29 hours or less per week (129 hours per month or less)
Academic credit internships are available
Internships are voluntary positions which terminate upon completion of internship/academic term
Each intern retained by City departments will work under the supervision of an administrative staff member
Each intern will be involved in ongoing projects and programs
Professional and educational interests will be considered upon intern assignments
---
Frequently Asked Questions
What is the length of the internship program?
The length of an internship varies and is dependent on the hiring department's needs and budget.
How will you decide which department is the best fit for me?
To determine the placement of each candidate, an interview is scheduled with an internship coordinator. The coordinator will review background information, previous jobs, as well as majors, to see what environment would work best. There may also be a request from a department director to choose a specific student.
What qualifications are required to be an intern in the Mayor's Office?
The Mayor's Office provides internship opportunities to various students including high school, college level, Master's candidates, international students and even young professionals.
How many hours are required?
The Internship Program is flexible to students' needs, promising to work around various schedules. Interns make up their own schedule depending on the hours required for their program. Past interns have usually come in with an hour requirement per term or per week, but because of class schedules, students usually pick out days and times that work best with academic and personal schedules.
Hourly paid interns may only work 29 hours or less per week (129 hours or less per month).
What will I be doing as an intern?
Internship opportunities are available across many city departments. The job responsibilities vary according to the needs of each department director. However, the internship coordinator will review each candidate's background information, major, and skills to assure each candidate is placed where their needs will be met and their skills will be best utilized.
---
Opportunities
Salt Lake City Mayor's Office
Salt Lake City Mayor's Office provides internships to students for the purpose of professional development, career advancement, and networking. Internships within our office focus on community outreach, development of legislative policies, communication strategies and messaging, diversity and human rights initiatives, ADA compliance, refugee assistance, and administration support. We collaborate with Westminster College, Salt Lake Community College, the University of Utah Hinckley Institute of Politics, and other colleges and local organizations. Our ultimate goal is to ensure that we are offering quality learning experiences and growth opportunities that are of personal benefit to the student. We recently implemented a City policy that all interns must either be paid or receive academic credit. We want to ensure that interns citywide are receiving livable wages and equitable pay, or appropriate credit through their educational institution for the amazing work that they perform throughout the City. Interns have been instrumental in helping the Mayor's Office successfully complete research, track legislative policies during the Legislative Session, upgrade department social media accounts, and design graphic materials for community outreach efforts such as the 2020 Census. We strive to provide quality and transformative opportunities so that our interns know that they are valued and appreciated, and so that they feel empowered to continue to excel to higher heights in their personal, academic and professional lives.
When available, all Mayor's Office intern positions will be posted to the Salt Lake City Human Resources website. Only those who apply directly through the job posting on the Human Resources website will be considered for internship opportunities. Following this process will ensure that your application is reviewed and considered in a timely manner.
---
City Attorney's Office
The City Attorney's Office takes internship requests only from current law students. For inquiries regarding a legal internship, please email your interest and resume to slcattorney@slcgov.com.
---
Airport
The internship position with the Salt Lake City Department of Airports provides an all-around introduction to airport management and operations at a commercial service airport. The successful candidate will get a behind the scenes look and participate in programs or projects involving FAR 139 and airfield operations, wildlife management, terminal and landside operations, communications, or emergency programs to name a few. The ideal candidate for the position is an undergraduate student at a four-year college or university, or a master's program student majoring in aviation management, public administration, or closely aviation-related program; or graduated within the past 2 years. The successful candidate will be required to pass the TSA background check requirements and must be able to obtain clearance to work within airport secured areas. For inquiries regarding an airport internship, please email your interest and resume to Brett.Christensen@slcgov.com.
---
Department of Human Resources
The Department of Human Resources includes Benefits, Compensation, Recruitment, Training & Development, HRIS, EEO Compliance, Employee Relations, and the Civilian Review Board.
To learn more about current internship opportunities with our Human Resources Team, email us at careers@slcgov.com – our Recruitment team would be excited to discuss current opportunities for both paid and academic internships.
---
Salt Lake City Police Department
SLCPD is always looking for energetic and community-minded people to assist with public awareness campaigns, writing case studies for industry publications, community outreach, and other programs. To learn more about SLCPD, click here.
---
Department of Public Services
The Department of Public Services provides many of the direct services that make Salt Lake City a great place to live and play. The department includes Administrative Services, Compliance, Facilities, Fleet, Golf, Parks, Streets, Trails & Natural Lands, Urban Forestry, and Youth & Family divisions. Public Services welcomes conscientious and enthusiastic interns who are eager to gain experience in local government and learn from seasoned professionals. Interns will assist with information gathering, report writing, social media, meeting facilitation, graphic design, and special projects as needs arise. To inquire about available opportunities, please send a resume and cover letter to publicservicesinfo@slcgov.com.
---
Department of Public Utilities
The Department of Public Utilities includes Wastewater, Water Quality and Treatment, Engineering, Maintenance, and Operations.
---
Department of Sustainability
Salt Lake City offers a unique and exciting opportunity for selected students looking to gain experience in sustainability. Interns will assist in researching, facilitating, and promoting City-wide sustainability initiatives, and support sustainability education and outreach for residents, businesses, and City employees.
Please note: In general, Sustainability posts internship opportunities in the spring on the SLC job board for summer internships. Interested students can also follow SLCgreen on Instagram, X, Facebook, or sign up for our newsletter to stay in the loop.
Questions? Email: slcgreen@slcgov.com
---
Justice Court
At this time, the Justice Court does not have any available intern positions.
---
Youth City
Youth & Family Division's YouthCity Teen Summer Internship program coordinates experiential learning opportunities for high school students through paid, hands-on internships. Youth & Family, the Mayor's Office and Salt Lake City Corporation provide opportunities for youth to participate with City staff to gain essential workforce experience and 21st century learning skills
---
Stay Connected
Maria Romero
Executive Assistant to the Chief Equity Officer & Intern Coordinator
Email Internships@slcgov.com | Phone (801) 535-6496
---