Salt Lake City
Ballpark NEXT
How to Get Started 
Welcome to the Ballpark NEXT Design Competition! We're so glad you're here! To get started, please review the information below, including how the competition works and what elements should be included in your concept proposal. Please also review the toolbar tabs above for important information such as rules and regulations. Finally, you can click on the Application Material Requirements document at the bottom of this page for a full list of details and an outline of the application process.
Once you're ready to submit your concept proposal, you will find the "Submit Your Concept Proposal Application" button at the bottom of this page. Thank you for your participation and best of luck in the competition!
Purpose
Salt Lake City is excited to announce the Ballpark NEXT Design Competition – an opportunity for residents, post-secondary students, and development professionals to tell us what they envision for the future of Smith's Ballpark site. After 100+ years of baseball on the site, we're excited to get input from you on what's next, and for you to provide your ideas to help the City reimagine uses for the site that will serve the neighborhood, City, and our residents for decades to come!
The ballpark site and surrounding City-owned properties provide an extraordinary opportunity for the community and City to rethink the area and ultimately create its bright, new future through thoughtful development, activation, and programming.
Identified by the community in the recently completed Ballpark Station Area Plan as the heart of the neighborhood, the ballpark site is ready to be reimagined. We invite YOU to get inspired, dream big, dig deep, and show us your long-term vision for the area!
The Ballpark NEXT Design Competition will accept concept proposals from residents, post-secondary students, and development professionals. Submitted ideas may inform and inspire the next steps of the City's development of these properties, and you might even win a prize!
Prizes & Winner Selection 
One concept proposal from each of the three submission categories – residents, post-secondary students, and development professionals – may be selected to take home a cash prize! That's right, up to $5,000 will be awarded for one resident's concept proposal, up to $10,000 will be awarded for one post-secondary student's concept proposal, and up to $15,000 will be awarded for one development professional's concept proposal.
To determine the final selection, each submitted concept proposal will go through two rounds of review and a final vote. Let's break it down:
Round 1: A selection committee made up of City staff will review all concept proposals and may select up to ten semi-finalists in each category to continue to the next round.
Round 2: A selection committee made up of members of the community, public, and private sector will review all semi-final concept proposals and may select up to three finalists in each category to move on to the final round.
Final Round: While the final selection committee will review the concept proposals submitted by the finalists, the final round will include a twist! The public-at-large will be invited to vote, alongside the final selection committee, on the concept proposals they think are best! A final winner will be announced in each category.
Parameters 
The Ballpark NEXT Design Competition is calling for applicants to submit concept proposals for what they would like to see in the redevelopment and activation of the ballpark site and specified surrounding City-owned properties as indicated in the map below. We encourage you to wholly re-imagine the heart of the Ballpark area and what's next. The submitted concept proposals may be used to inform and inspire the City's next steps in the redevelopment of the properties.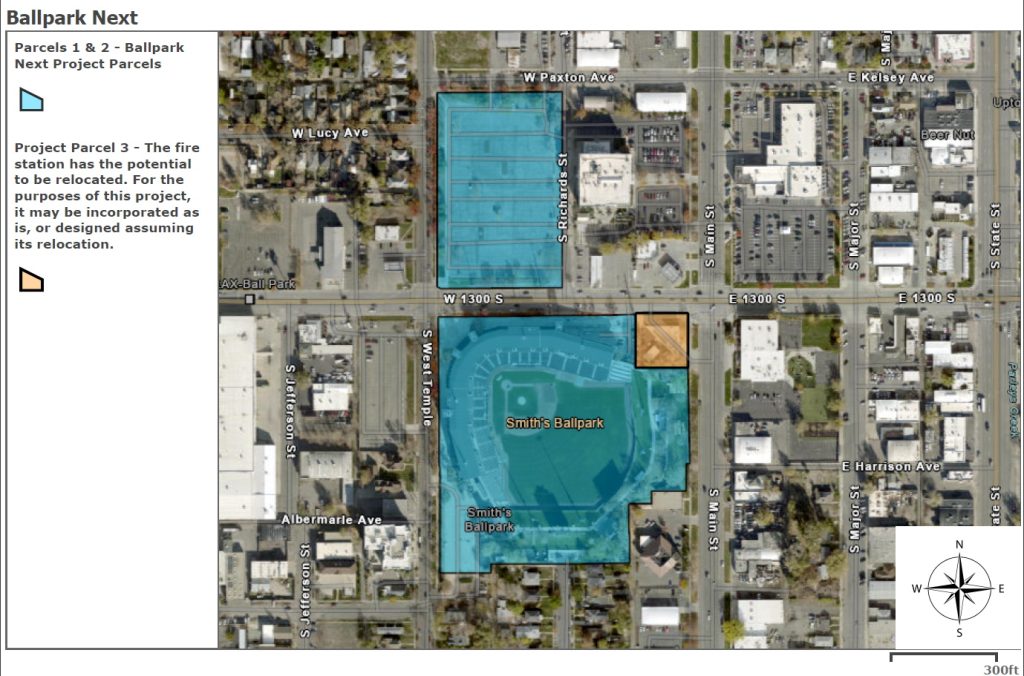 There are a whopping 13.5 acres of opportunity to consider, and the above highlighted properties must be incorporated into your concept proposal. Of note: The fire station has the potential to be relocated, so for the purposes of this competition it may either be incorporated in your concept proposal as a fire station or designed assuming its relocation.
The Ballpark NEXT Design Competition application window will begin on Tuesday, January 17, 2023 and will be open for 60 days, closing on Friday, March 17, 2023 at midnight MST. No application submissions will be accepted after this date and time. Winners may be announced in May.
Concept Proposal Requirements
Your submission must include, and will be judged on, a succinct description of your concept proposal and thoroughness and thoughtfulness of the applicant to address the 5 essential pillars detailed below. Application material requirements (such as visuals) vary by applicant type. Please see below for a downloadable document that lists material submission requirements by applicant type.
Concept Proposal Description: Ballpark NEXT
What should become of the Smith's Ballpark site and specified surrounding City-owned properties? Whether you propose adaptively reusing the stadium itself or start with a completely blank canvas, your concept proposal should focus on uses for the properties that will activate the heart of the neighborhood.  The 5 pillars provided below guide inclusive, well-integrated, and innovative concept proposals.
Pillar 1: Community Goals
Input from residents and area stakeholders drove the development of the goals and guideposts for neighborhood growth identified in the recently completed Ballpark Station Area Plan. Concept proposals should align their concept with community goals and incorporate applicable elements into the overall concept.
Extra: Show how your personal or professional experience in the Ballpark area contributes to your understanding of the community's goals and how that experience inspired your ideas.
Pillar 2: Connect the Dots
There are a lot of opportunities to enhance connectivity in the neighborhood, with many priorities identified in the Ballpark Station Area Plan, including ideas around crosswalks, public space, TRAX, and more. Your concept proposal should include general ideas on how your proposed uses will connect to, and enhance, the transit and pedestrian-experience.
Extra: Show how your concept proposal's specific ideas inspire transit alternatives and supports the transit and pedestrian-experience.
Pillar 3: Invest in People
The opportunity to reimagine the ballpark area is about much more than brick and mortar buildings or generic uses. Don't stop at "street fronting retail" or "mixed use" to explain your square footage. What uses, programming, or resources would you incorporate to support an inclusive community with economic opportunities for all? From daycare services to job training centers to subsidized space for local businesses or artists, your imagination is the limit on how your concept can invest in our residents and their future.
Extra: Provide examples of potential partners that could provide programming or operate within your concept.
Pillar 4: Partner Near and Far
The specified properties are important puzzle pieces within the neighborhood, City, and community. Which nearby property owners may be willing to collaborate? What types of local or national organizations might want to invest in this community and call this development home? From nonprofit groups to service providers to corporate headquarters, get creative on what general types of partnerships could bring your proposed uses to life.
Extra: Show how your concept contemplates specific partnerships, such as names of organizations or groups, to further enhance activation, connectivity, and opportunity for the neighborhood and City.
Pillar 5: Creative Yet Feasible 
Don't let existing zoning regulations or other current site constraints limit your imagination, but make sure your concept proposal is feasible (i.e., follows the laws of gravity). As a guiding point, the following plans were shaped by community input and applicants should use these plans to inspire their concept proposal.
Extra: If you know what current limitations need to be changed as part of your concept proposal, include what recommended changes would be needed to make your concept proposal feasible.
How to Submit a Concept Proposal
Salt Lake City is home to some of the nation's most innovative and creative minds, which is why we want to hear from you. Here's how each applicant may submit their concept proposal:
Resident Concept Proposals: Residents will provide their concept proposal through a series of prompted questions and answers where the applicant can provide concept details. There will be an option to submit up to two supporting PDF or JPG documents.
Post-Secondary Students and Development Professionals Concept Proposals: Post-secondary students and development professionals will submit a design concept, which includes a cover letter describing their concept and visual representation of their concept in the form of up to five PDF or JPG documents.
All Applicants: It is required that each concept proposal clearly connects to the 5 pillars:
Community Goals
Connect the Dots
Invest in People
Partner Near and Far
Creative Yet Feasible
For more details regarding the specifics of each pillar, please visit the Concept Proposal Requirements section above.
Please click here for the full list of Application Material Requirements by applicant type, including an outline of the online application process.
Submit Your Concept Proposal Application