Contact Information
We're currently in the study phase of the project, which will provide opportunities to share ideas and comments. To stay informed, send us an email with the word "Updates" in the subject line or give us a call anytime.
Email: 300west@slcgov.com
Hotline: 888-966-6624
Social Media: @SLCGOV & @SLCMoves | #300WestSLC
Overview
The Funding Our Future street reconstruction projects will build safer, more accessible and more welcoming streets that accommodate all ages and abilities. These transformative projects will allow for future growth and changes in transportation while focusing on moving people – not just cars. With input from the community at every stage, Funding Our Future projects are designed to not only solve transportation problems, but also beautify the communities they serve, promote public health, and create a more sustainable environment.

In 2021 and 2022, we'll be reconstructing 300 West, from 900 South to 2100 South. The project limits may extend farther north up to 500 South, but this possibility is dependent upon additional available funding at the time of construction.
Project improvements will include upgrades to curb and gutter to improve drainage, upgrades to sidewalks and bus stops to increase safety and access for people walking and taking transit, in addition to other street enhancements to increase mobility, transportation options, and air quality.
As part of the decision-making process for the redesign of the new street, we'll incorporate the results obtained from the project survey, along with public comments, technical analysis, safety data, and we'll also follow the city's Complete Streets Ordinance, Transportation Plans, Climate 2040 Plan, in addition to Crime Prevention Through Environmental Design (CPTED) guidelines.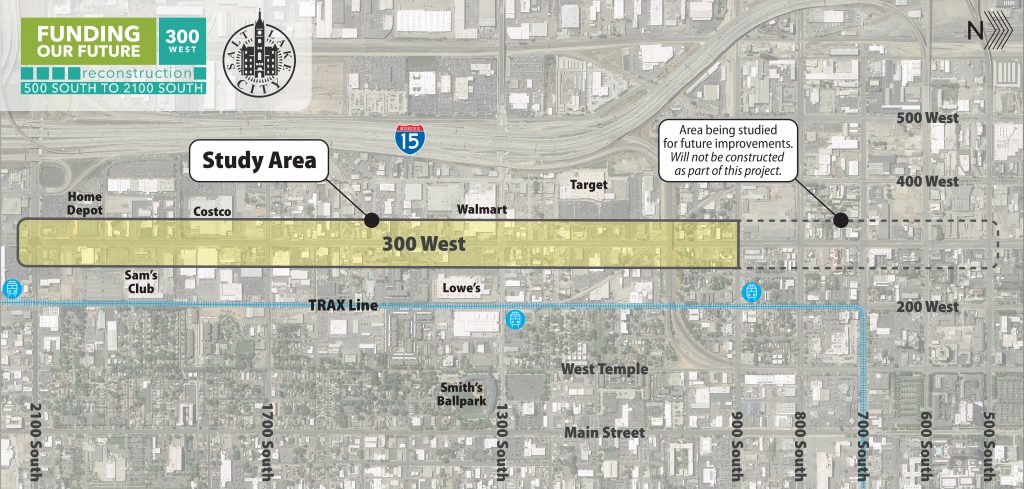 Community Report
The Community Report is a report of how the community uses 300 West and their opinions of how to best improve conditions and usability based.
Click here to review the full Community Report (PDF).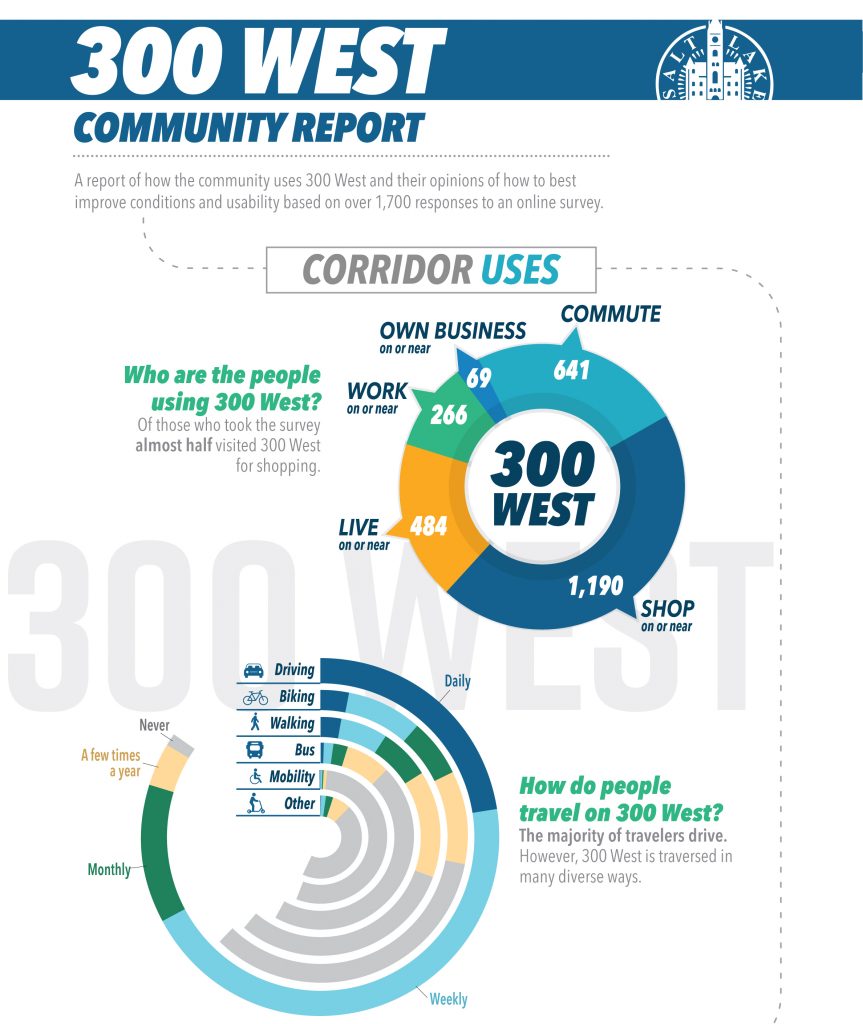 Investment
This $17 million project will be funded via the Funding our Future streets reconstruction Bond approved by voters in November 2018.

Project Goals
· Safer and more accessible roadway for bicycle, pedestrian, and alternative modes of movement
· Reduced barriers to access and promote accessibility and active transportation
· Welcoming and attractive corridor that provides infrastructure to support future growth and economic development
Schedule
Current Pavement and Travel Conditions
Need to Improve Connectivity to Transit Services
Need to Enhance and Increase Active Transportation
Informational Resources
Additional Materials
Fox 13 News Story on Accessibility -|February 20, 2020