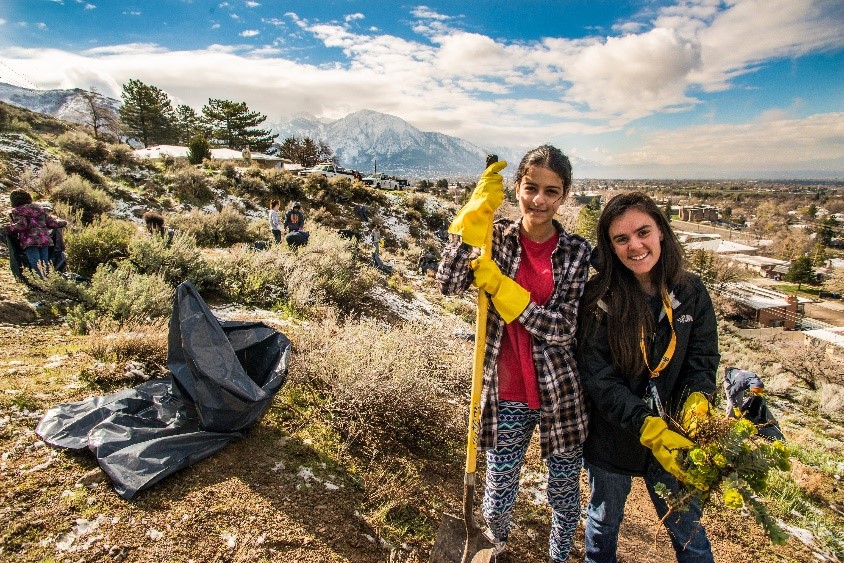 VOLUNTEER TO CARE FOR SALT LAKE CITY
Registration is open for April, May, and June Projects
Your safety continues to be our #1 priority this volunteer season. Please be prepared for the following safety protocols:
You must bring a face mask and work gloves.
Each volunteer must register individually in order to sign required digital waivers.
If you are experiencing any flu or cold like symptoms, cancel your registration and do not arrive at the event
Projects are subject to change according to local, state, and federal guidelines. We may be able to add more projects; increase project sizes; or we may need to cancel projects. We encourage you to join the waitlist for your favorite project(s) and continue to check this webpage for additional opportunities.
Questions? Please see our Volunteer FAQ or contact publiclandsvolunteer@slcgov.com or 801-514-5059.
Frequently Asked Questions
Who can volunteer?
There is no minimum age to volunteer with Trails & Natural Lands, however not all volunteer opportunities are appropriate for younger children. All volunteers under 16 must be accompanied by a parent, guardian or group leader.
How much does it cost to volunteer?
It's FREE!
When are projects held?
Stewardship projects are held from March to October. Custom volunteer projects can be coordinated for your group or business year-round. To learn more, contact our volunteer coordinator at
publiclandsvolunteer@slcgov.com
.
I've never done this type of work, will I receive training?
There is no prior experience necessary to participate in these projects. In fact, one of the primary goals of this program is to teach visitors the many aspects of maintaining the trails and natural spaces around us. Division staff and volunteer crew leaders provide all project instructions and training (including safety).
When are TNL Community Stewardship days available for signup?
Projects are posted year-round, view our calendar regularly or subscribe to our newsletter to be sent upcoming volunteer opportunities.
What do I need to bring to the volunteer project?
Dress in seasonal layers (long pants & long sleeve shirt are encouraged), wear sturdy shoes for walking on uneven ground. Water bottles, a hat, insect repellent, and sunscreen are all suggested.
What will Trails and Natural Lands provide during volunteer projects?
Gloves, tools and equipment necessary for each project. We will also provide a first aid kit, water cooler to refill your water bottles, and all technical leadership from TNL crew members.
Can I bring my dog?
Dogs and any other furry friends are not allowed at project work sites for safety reasons and concerns for the animal(s) and others involved in the project.
What happens when the weather is bad?
Heavy rain conditions will cancel the event; however, most projects can proceed under occasional light rain/overcast conditions. Safety is, as always, the deciding factor. If weather conditions are marginal, TNL staff will decide on the status of the project and contact all attendees the morning of the event.
Once I sign up for a project, how do I know where to meet, what to bring, etc.?
Each attendee will receive an Activity Details Email 7-10 days prior to the event, which will provide all the details regarding your activity.
Can my friends and I volunteer together?
Yes! Adventure seekers who aren't afraid to get dirty can share their love of trails by giving back either as an individual or a group. Our community stewardship days, annual clean-ups and special trail projects are great for a group of friends or a corporate outing.
What if I can't make a project I have signed up for and must cancel?
We realize things come up at the last minute. If you are unable to make a project you have signed up for, please try to give us at least 24 hours' notice as there are often people on a waiting list. Contact the Volunteer Coordinator as soon as you know you will be unable to attend a project.
Can I volunteer to fulfill my court ordered community service requirements?
You can fulfill your court ordered community service by attending events on the volunteer calendar. Bring the letter from the court to use as a sign-in sheet for each event and obtain a site lead signature for proof of volunteer hours.